Trans Person Shares Experience With the TSA
August 2nd 2016
By:
Facebook posts about positive TSA experiences are pretty rare, and posts about trans people being treated with dignity and respect in public can feel even less common. With that in mind, it's not hard to understand why Amanda Sapir's story has captured the internet's imagination.
Sapir, who identifies as gender nonconforming and trans masculine, shared a powerful Facebook post on Saturday about getting the most "socially conscious TSA pat down ever" from Bradley International Airport agent Darlene Thi Lac.
Sapir, who was wearing boxer shorts at the time of the scan, wrote that it was not surprising when the TSA scanner was triggered by the underwear. That's because the scanners register the shorts as male, but identified Sapir's breasts as female.
When a passenger has body parts that are inconsistent with their selected gender, the machine alerts TSA agents, because the program contains "software that looks at the anatomy of men and women differently," according to the TSA website. The system is set up this way to detect potential threats, but it can create potentially embarrassing and uncomfortable situations for trans passengers.
The scanner could have triggered an awkward process, but Sapir said Thi Lac made made things comfortable.
"[Thi Lac] asks me how I identify so that she may pat me down accordingly," Sapir continued. "'You get to decide how you are identified,' she says. After the screening and pat down, which confirmed I pose no harm and I am not hiding anything anywhere, I let her know, 'Thank you. That was the kindest and most socially aware TSA experience I have ever had. Your thoughtfulness really means the world.'"
Sapir wrote that Thi Lac responded, "I love people. We should be kind to everyone."
Sapir's post has gotten a lot of love on social media, with nearly 18,000 reactions and 3,500 shares: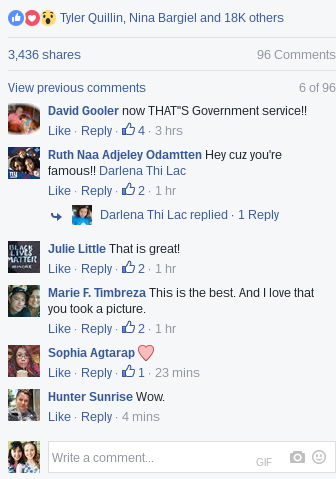 Facebook - facebook.com
Thi Lac also showed Sapir love on her own Facebook page:
The TSA writes in its section for trans passengers that trans people may undergo a pat-down in lieu of the TSA scanner:
"If a pat-down is performed, it will be conducted by an officer of the same gender as you present yourself. Screening can be conducted in a private screening area with a witness or companion of the traveler's choosing."
The TSA hasn't always been particularly accommodating to all trans people.
Last year, trans writer Shadi Petosky made headlines after a TSA machine detected an "anomaly" in her scan and she was forced to undergo a pat-down that lasted 40 minutes, causing her to miss her flight. She shared a tearful photo from her experience on Twitter:
In a piece about Petosky's experience, The New York Times interviewed a 45-year-old transgender man named Gunner Scott about his own humiliating experience with the TSA in 2011. He told the publication that he was almost forced to take off his shirt for a scan and reveal the bra-like binder he was wearing.
"I'm in front of everyone having to explain this," Scott said. "Finally, they just let me go. I filed a complaint with T.S.A. and got a phone call from somebody, and nothing ever happened."
ATTN: has reached out to Sapir for further comment and will update this story when we receive a response.
Share your opinion
Have you ever had an exceptionally positive TSA experience?