Lindsay Lohan Exposes a Sad Reality About Abuse
August 8th 2016
By:
Lindsay Lohan is using her latest brush with intense tabloid coverage to start an important conversation about abusive relationships.
Lohan, who was recently filmed and photographed in apparent altercations with her fiancé Russian heir Egor Tarabasov, told the Daily Mail that she sees parallels between her own troubled relationship and that of her parents, who divorced in 2007. Her father Michael Lohan has spent time behind bars for insider trading and was arrested for alleged domestic abuse last year.
"I've become my mother," Lohan told the Daily Mail, adding that she witnessed her dad cheating on her mother Dina Lohan and that living with him was "like walking on eggshells."
Earlier this year, Dina told Page Six that while she and Michael have made peace since their breakup, she stayed silent about the alleged abuse she faced for a very long time.
Like her mother, Lohan claims she stayed silent about the abuse she allegedly faced from her partner:
"I've kept quiet for so long, but now I'm scared of what Egor might do to me and to himself," Lohan told the Daily Mail, adding that she wanted to do the interview to set the record straight regarding gossip site reports on her relationship.
Lohan's story points to a sad reality facing many people who were abused as children or witnessed abuse as children: Some repeat the cycle, winding up with abusive partners.
In 2014, clinical psychologist Craig Malkin told TIME that many people in abusive relationships faced domestic abuse as children or watched one of their parents suffer in an abusive relationship.
"They don't have a model for anything different," Malkin said. "They accept it as the price of intimacy."
A year earlier, therapist Dr. Laura Berman wrote in an Everyday Health article that some abused people may try to correct their past by having a successful relationship with an abusive person:
"For example, a young girl who was physically abused by her father might find herself constantly seeking out abusive and unavailable men. Although she might not realize the reason behind her string of bad boyfriends, subconsciously, she is choosing these mates because she wants to recreate her trauma and 'fix' the situation. She tries to be 'good enough' for her partners, to be sweet enough, pretty enough, smart enough, obedient enough — anything to earn this partner's love and hence rewrite history. She figures that if she can find a partner who is similar to her father and find that unconditional, supportive love he never offered her, it would almost be as if the pain of her childhood never happened."
Dr. Berman wrote that anyone who would abuse a partner is unlikely to offer the kind of love and respect the abuse victim seeks.
"Hence, she gets caught up in a cycle of unhealthy relationships, constantly choosing partners who are disrespectful and violent with her," Dr. Berman wrote.
Clinical psychologist Lisa Firestone wrote in a 2013 piece for Psychology Today that some children who are abused make excuses for their parents' behavior later in life. She cited football player Adrian Peterson, who has claimed that facing child abuse from his own dad helped him succeed as an adult.
"Such statements, excusing or even condoning, the violent 'disciplining' techniques of one's parents are common among abuse victims," Firestone wrote. "What they fail to realize is that the moments in which a parent 'lost it' with them very likely had almost nothing to do with discipline and everything to do with unresolved traumas from the parent's own childhood."
Lohan's well-documented troubled history with her father.
In 2010, Lohan unleashed a series of now-deleted tweets claiming that her father abused her, her siblings, and her mother growing up: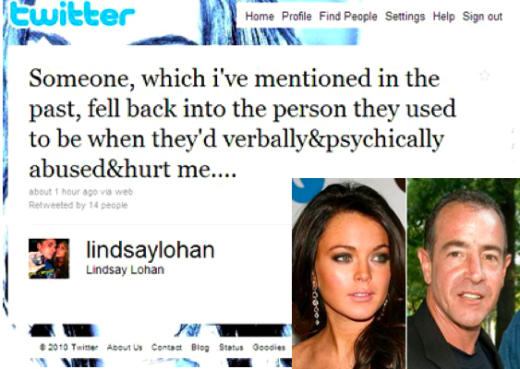 The Hollywood Gossip - thehollywoodgossip.com
"[He] verbally/literally HURT my mother, brothers, sister Aliana ... why, [I] ask u?" she wrote at the time. "My father just sent me this as I was leaving my gym 'I told you to stop Linds this is the last time... and take down the tweet about me HURTING MOM.. U will be getting a call from SOMEBODY today to end you.'"
Read Lohan's full interview with the Daily Mail here.
If you are the victim of domestic abuse and are looking for help you can reach the National Domestic Violence Hotline at 1-800-799-7233.
Share your opinion
Do you know anyone who was abused as a child and chose an abusive partner?