Woman Responds to a Subway Masturbator
August 16th 2016
By:
Facing sexual harassment from a stranger is a horrible experience for women, and some ignore the attention out of fear of what their harassers might do. New Yorker Deanna G. Carter, however, was not afraid to confront a harasser for his disgusting behavior.
Carter is currently gaining a lot of attention for an expletive-heavy Facebook video she shared on Monday of her going off on a man for touching his genitals on the subway. She responds by shaming him, swearing at him, and threatening him on the train:
"You want to do that freaky shit, you do that shit off the motherfucking train," she says in the video. "Do it again and I'm getting up out this chair and I'm going to bust your fucking ass on this train."
Most people on the train stay silent as she berates the man, who obeys her order to leave the train.
The video has been viewed more than 680,000 times and it has received nearly 17,000 shares as of writing this post: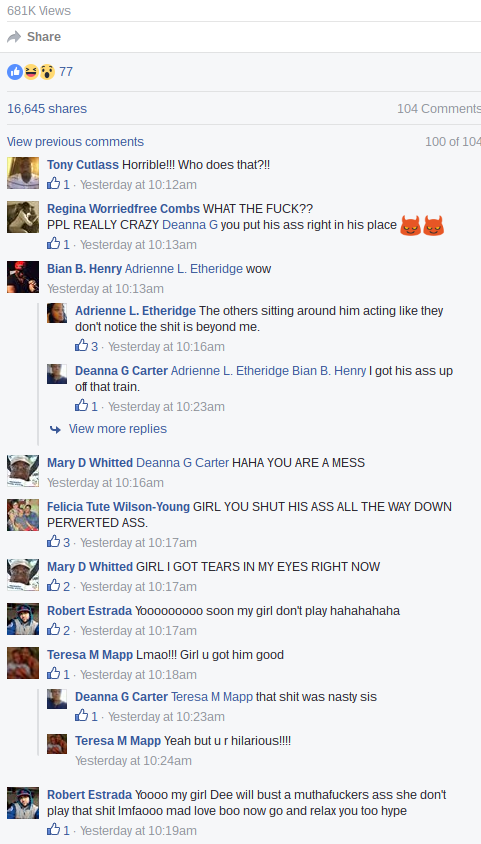 Facebook - facebook.com
More women are starting to aggressively call out their harassers on camera, in turn drawing greater attention to the issue of harassment against women.
Nearly six years ago, a woman went viral after she shamed a man for taking his penis out on the subway. Another train passenger posted the exchange on YouTube:
"You're getting fucking arrested," the woman said. "I'm not leaving your side. My plans are done for tonight. I'm escorting you to the police station."
Though videos of this nature are often championed on social media, it is also important to remember that not all women feel safe calling out their harassers.
A 2015 study conducted by anti-street harassment organization Hollaback! and Cornell University found that 72 percent of women all over the world reported taking a different mode of transportation because of harassment. A year earlier, writer Holly Kearl noted in a piece for Ms. Magazine that three individual women in three cities had reportedly faced varying degrees of violence after denying the advances of men, and that this is something many women worry about experiencing themselves:
"Many believe silence is the best strategy, but the answer is that there's no one 'right' way. Whether you pretend to ignore a harasser or stand up to him, the situation may escalate to violence, as happened in Seattle, New York and Detroit."
Share your opinion
Have you ever witnessed public masturbation?