Ingrid De Oliveira Shamed for Tryst in Rio
August 17th 2016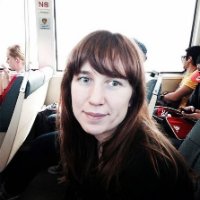 By:
Can't a gal enjoy a(n alleged) one-night-stand without having to face a mob of sexist tabloid headlines and Twitter trolls the morning after? Not if she's an Olympic athlete, apparently.
Over the past few days, various tabloids including the New York Post have published salacious, demeaning stories about an alleged sexual encounter between Brazilian Olympic diver Ingrid Oliveira and Brazilian canoeist Pedro Goncalves.
The tryst allegedly created a schism between Oliveira, 20, and her diving partner, 17-year-old Giovanna Pedroso, who complained about being 'sexiled' during the night in question to the Brazilian ;news site O Globo.
What is far more problematic, however, is the way in which these media outlets have slut-shamed Oliveira, while portraying Goncalves in a flattering light.
The Daily Mail, for its part, linked the incident to Oliveira's alleged history of sharing photos of herself in swimsuits on social media.
Here's the Daily Mail's headline: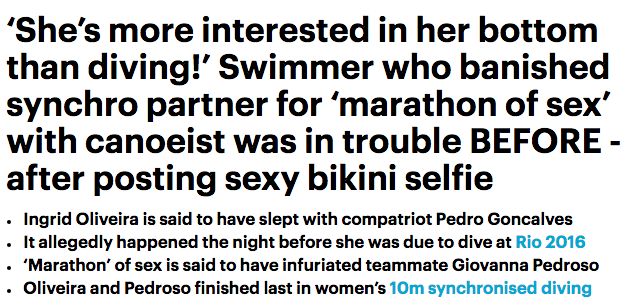 The Daily Mail - co.uk

sportsrageous.com - sportsrageous.com
This headline from BET also manages to slut-shame the diver. It's also important to note that neither the phrase "sex crazed" nor the word "sleep" appears in this story or is attributed to any source.

BET - bet.com
Here are a few other sexist ways these events have been described.
The coverage of this rather natural act illustrates the fundamental difference between how men and women's choices to have casual sex are characterized.
This is also apparent on social media, where Oliveira was egregiously slut-shamed and demeaned as Goncalves was congratulated — all as a result of an alleged sex act they were equal participants in.
This tweet translates to "Pedro Goncalves already won."
Instagram/ingrid.oliveira96 - instagram.com
Oliveira has deleted some of the most inflammatory Instagram comments, BET notes.
It also seems unfair to frame the diving pair's split as the result of a juicy sex scandal alone.
Oliveira and Pedroso reportedly had a rocky relationship long before the incident and weren't on speaking terms for several weeks leading up to the Rio Games, according to the Daily Mail.
"The fight started in training because I wanted to do one type of dive and she wanted to do another," Pedroso told O Globo.
It's pretty clear that Oliveira has nothing to be ashamed of. The same cannot be said for many of the publications that have reported on her this week.
Share your opinion
Does the media treat women who have casual sex unfairly?