Laura Perlongo and Nev Schulman Respond to Criticism for Going Shirtless at the VMAs
Women experience a lot of fears during pregnancy. And in the public eye, it feels like pregnant women can be shamed for just about everything — even being sexy.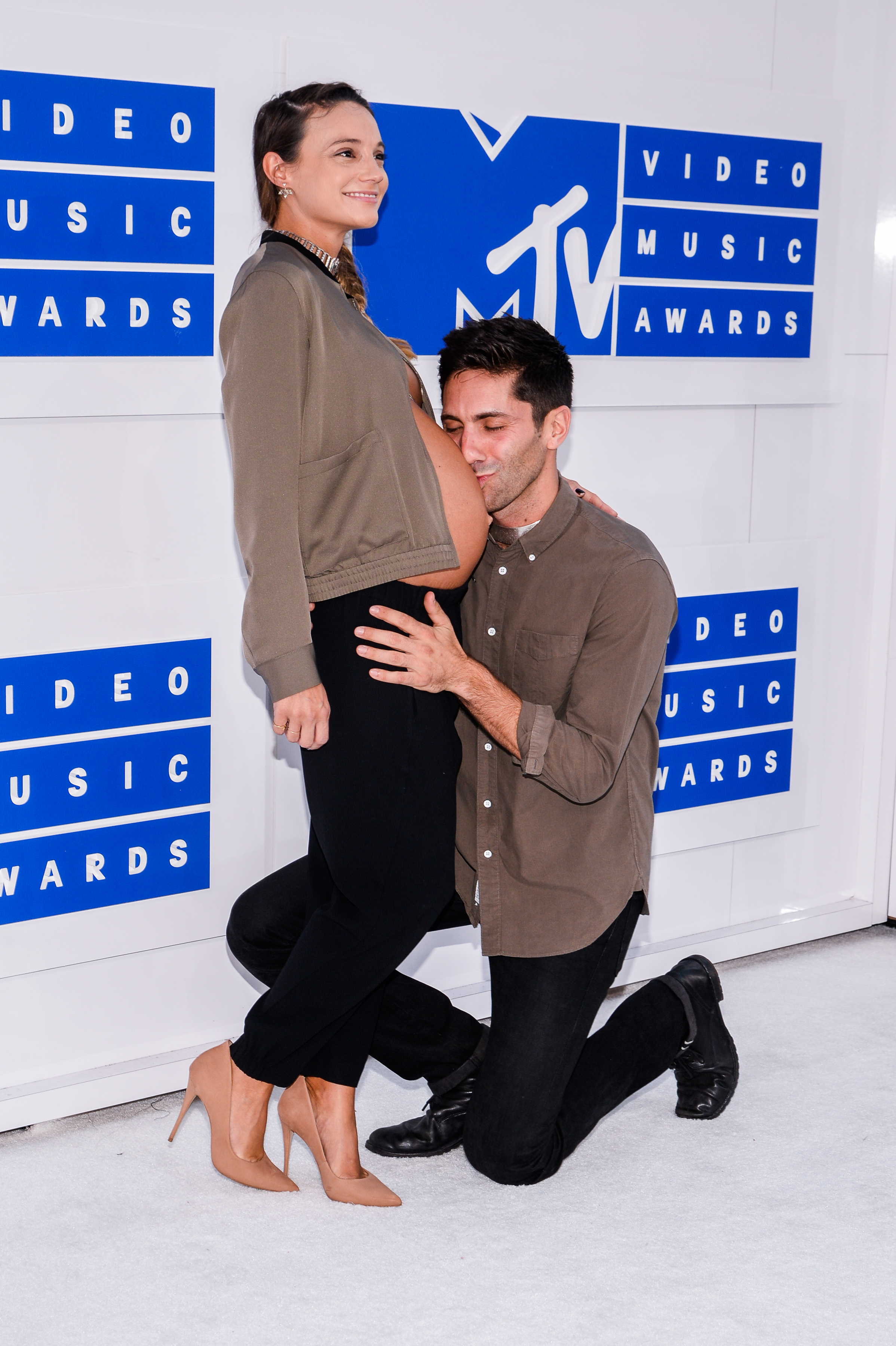 Associated Press - apimages.com
Laura Perlongo ditched her shirt at the MTV Video Music Awards on Sunday night, which she attended with her fiancé, Nev Schulman, the host of MTV's Catfish. Instead of maternity wear, she chose a sexy look, featuring her baby bump and little else (except a pretty intricate looking body chain).
And now, the internet has some opinions about it.
We talked to Perlongo and Schulman about the internet's reaction and society's overall treatment of pregnant women who want to feel comfortable in their own skin.
This interview has been lightly edited for the purposes of clarity.
ATTN: What do you think about the reaction to your VMA look? Was it mostly positive?
Laura Perlongo: It was overwhelmingly positive and supportive. Kim Kardashian loved it. Other pregnant women and women with children came up to me with praise and congratulations throughout the night. Good vibes all around. I don't regret the decision at all.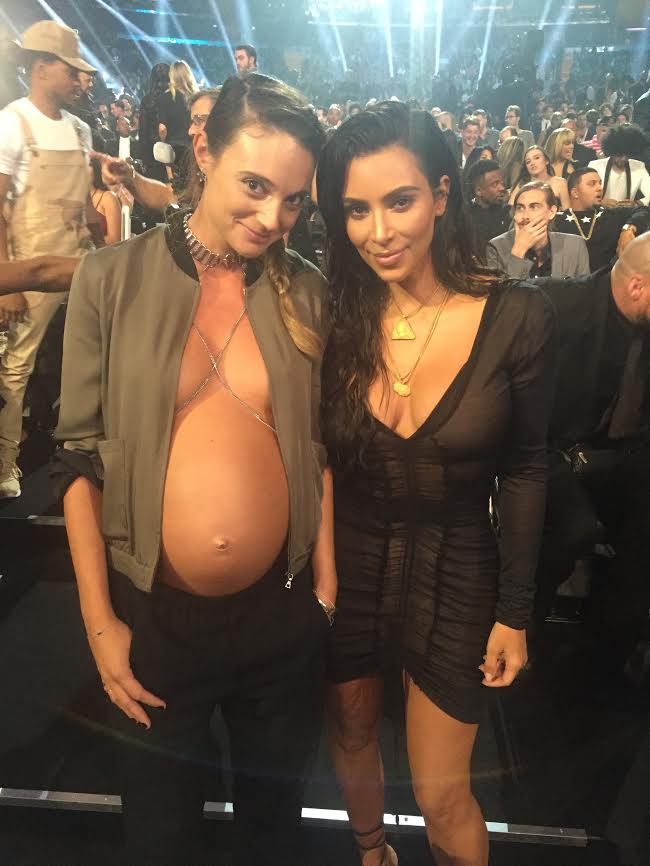 Laura Perlongo and Kim Kardashian
ATTN: As a pregnant woman, what kind of challenges do you face when you try to be yourself?
LP: There is so much pressure on women to look a certain way. That 'way' is hard to achieve even when you're not pregnant. Be sexy, but not too sexy. Be confident, but wear something that fits our current standard of acceptable. When it came to choosing an outfit for last night, I wasn't feeling the pregnancy options that were out there — they made me feel like a big blob or were tight and constricting. That is, they made me feel more self-conscious than just being myself and wearing my skin. And yeah, I wanted to rep my fellow pregnant ladies (s/o to the baby bumps).
ATTN: Why is it important for women to stay confident both before and after their pregnancies?
LP: I think a lot of women are afraid of pregnancy because society makes it seem like the end of youthful exuberance and sexual independence. Women are so judged about how they look, so pregnancy can be a scary thing. How will my body change? Will I lose the weight? Will my partner still find me attractive? I believe staying confident and accepting pregnant bodies for what they are is good for mental health, the health of our relationships and the overall health of our babies.
ATTN: And at the VMAs, did you have a message that you wanted to send?
LP: I've found pregnancy to be such an incredible shared experience — one where you really learn how smart the human body is, it just knows what to do. And in the case of the VMAs, always a very skin-forward event, I thought I'd just be myself and wear something I felt good in. Something that expressed a little optimism. I like my pregnant body and felt hot. I hoped other pregnant women would relate to the feeling.
Really it was all about having fun.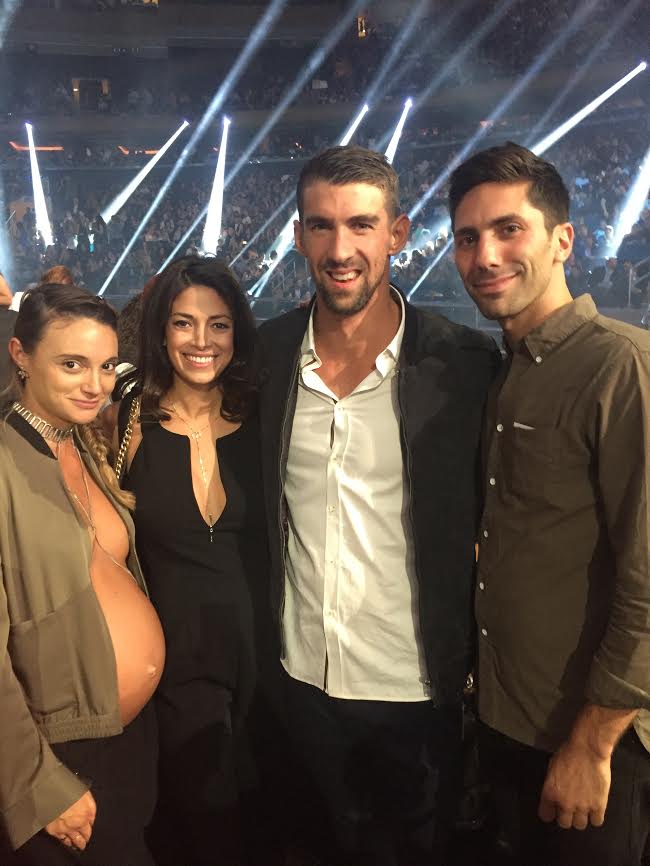 Laura Perlongo, Nicole Johnson, Michael Phelps, and Nev Schulman
ATTN: Nev, what's your reaction to the response to Laura's outfit?
Nev Schulman: Whoever says pregnant and sexy can't go together, you're wrong! Over the past eight months I've watched my fiancée carry and care for our child and transform into the magical goddess​ she is now and to me this is the most beautiful she has ever been. I couldn't be more proud of and inspired by her.
Share your opinion
Do you think pregnant women are discouraged from being sexy?