Why the Internet Turned on Lena Dunham
September 3rd 2016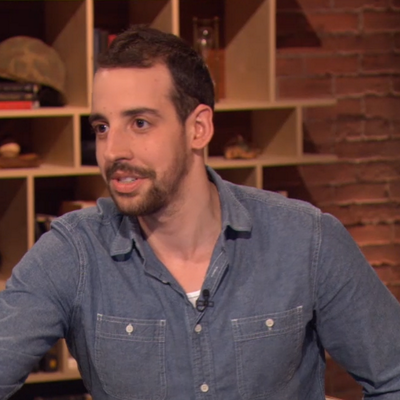 By:
On Monday, internet commenters unloaded their rage on a years-old advice column for men seeking to earn the affection of women who were wearing headphones. The response to the article was clear; women don't exist solely as objects of male desire, so stop bothering them.
But because life moves exceptionally quickly on the internet, a new debate regarding the norms of male/female interaction had already supplanted the headphones affair by Friday afternoon. Specifically, Lena Dunham's Lenny Letter published an interview in which the Girls star confessed to feeling personally wounded because NFL player Odell Beckham Jr. didn't hit on her during the Met Ball.
Here's Dunham, who is speaking to friend and comedian Amy Schumer:
"I was sitting next to Odell Beckham Jr., and it was so amazing because it was like he looked at me and he determined I was not the shape of a woman by his standards. He was like, 'That's a marshmallow. That's a child. That's a dog.' It wasn't mean — he just seemed confused.

"The vibe was very much like, 'Do I want to fuck it? Is it wearing a … yep, it's wearing a tuxedo. I'm going to go back to my cell phone.' It was like we were forced to be together, and he literally was scrolling Instagram rather than have to look at a woman in a bow tie. I was like, 'This should be called the Metropolitan Museum of Getting Rejected by Athletes.'"
Because disdain for Dunham persists at an ambient level on the internet, it's important to break down why, specifically, people are rustled over these comments.
1. It's Unfair to Beckham Jr.
As more than a few Twitter users pointed out, Dunham ascribed motives to Beckham Jr., despite not actually talking to him. For all Dunham knew, the 23-year-old wide receiver was scrolling through his timeline to avoid the awkwardness of being seated next to total strangers at the Met Ball, one of the stuffiest events in American culture. Maybe Beckham Jr. was reading the abundance of tweets detailing how women prefer not to be hit on by men they don't know? Dunham used her massive platform to depict Beckham Jr. as simultaneously sex-crazed and superficial, despite not actually haven spoken to the man.
2. It misrepresents how most women want to be treated.
As we learned from fierce and public roasting of Dan Bacon's "How to Talk to a Woman Who is Wearing Headphones," women have been trying to make it apparent that they appreciate when they're not forced to endure the romantic advances of strangers in public.
What both Dunham and the headphones advice column have in common is a sense of entitlement to the romantic gestures of others. In Dunham's case, those gestures are owed, while Bacon argues that flirting is owed a response. If there's one thing people of all political affiliations seem to agree to it's this: that sense of entitlement is grating.
3. The comments flirt with some gross assumptions about black men.
This tweet by progressive talk show host Benjamin Dixon neatly sums up the argument that Dunham's comments have a racial sub-text.
Dixon wasn't alone in accusing Dunham of, at the very least, operating on some shaky assumptions about the sexual aggressiveness of black men.
Of course, Dunham is a human being, and she's entitled to the same feelings of anxiety and inadequacy as the rest of us. And just as it was unfair for Dunham to ascribe malicious motives to Beckham Jr., it would likewise be unfair for us to assume that Dunham's comments were racially motivated, subconsciously or not. However, Dunham seems to be paying the price of publicly drawing Beckham Jr. into a conversation about her own insecurities. Had Dunham reserved her feelings about her Met Ball experience to friends and loved ones, she wouldn't be forced to answer for the implications of what she said.
Instead, Dunham was forced to tweet the following explanation on Friday afternoon.
Given the reaction, it's tempting to call Dunham's comments divisive, but they may be the most unifying thing we've got going for us right now.
Share your opinion
Do you think there was a racial sub-text to Dunham's comments?