The Top 5 Political Issues People Are Googling
September 12th 2016
By:
The one thing that voters from both political parties can agree on is that this election is contentious. Beyond the breathless coverage of everything from health issues to inflammatory comments, there political issues at stake in this campaign — and voters are turning to Google to see where Democratic presidential nominee Hillary Clinton and Republican presidential nominee Donald Trump stand.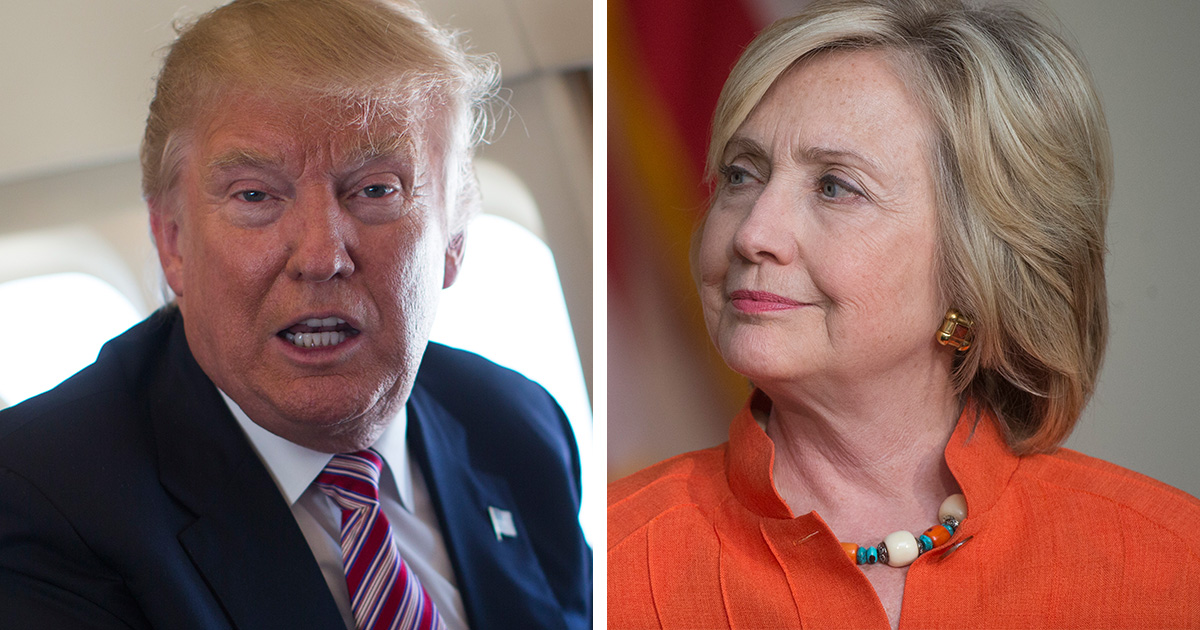 AP/Evan Vucci, AP/Jae C. Hong - apimages.com
There are some drastic differences between the candidates' ideology and political rhetoric, and voters are using Google to better understand the policy issues that are the most important to them. The top Googled political issues on September 9 were as follows:
Here is where the presidential candidates stand on last week's top five political Google searches.
1. Immigration
Trump has made immigration the focus of his campaign. One of his signature proposals is building a border wall on the U.S.-Mexico border and having Mexico to pay for it.
He has also proposed an "ideological certification" that would somehow reveal whether new immigrants held American values, according to the Washington Post.
He also spoke about banning immigration from countries where the screening is not "adequate" in his estimation.
"A Trump Administration will establish a clear principle that will govern all decisions pertaining to immigration: we should only admit into this country those who share our values and respect our people," he said at Youngstown State University in Ohio, according to the Washington Post. "In the Cold War, we had an ideological screening test."
Clinton has pushed for "comprehensive immigration reform" as a part of her campaign, promising a path to citizenship "within her first 100 days in office." She's also said that she will support President Barack Obama's executive actions DACA and DAPA and the DREAM Act, which would protect undocumented imnigrants brought to this country illegally as a child and protect undocumented workers who have been in the U.S for a certain amount of time.
2. Gun Control
The National Rifle Association has picked Trump as their candidate and denounced Clinton for her pro-gun control positions, often calling Clinton "anti-gun."
At a NRA Convention in May, Trump echoed the NRA position that people carrying guns in public could prevent mass shootings. He talked about the Islamic State's attack in Paris that killed 130 people.
"It might not have happened, because if they knew guns were in the room, it might not have happened," said Trump.
Clinton's campaign website says that she will expand background checks (and close the loopholes that currently exist) and put policies in place to limit gun access to domestic abusers and the mentally ill.
3. Abortion
During her presidential campaign Clinton has repeatedly supported the right to an abortion and supported funding for Planned Parenthood. The National Association for the Repeal of Abortion Laws has endorsed her calling her a "champion" for abortion rights and women's health; Planned Parenthood and Emily's List have also endorsed Clinton. Clinton has also vocally supported the repeal of the Hyde Amendment, which forbade the use of Medicaid to pay for abortions.
However in 1994 when she was First Lady, Clinton told Newsweek that abortion was "morally wrong." Also, last year on NBC's "Meet the Press" she described a fetus as an "unborn person," but said that this "unborn person" does not have constitutional rights.
Trump by his own admission was previously pro-choice, until running for president. He now says that Planned Parenthood should lose federal funding until it stops administering abortions.
"We're not going to allow, and we're not going to fund, as long as you have the abortion going on at Planned Parenthood," Trump said, according to The Washington Post. "We understand that, and I've said it loud and clear."
In March at a town hall meeting, Trump told MSNBC host Chris Matthews that abortion has to be banned, and if women continued to get them illegally after a hypothetical ban they should be punished.
"You go back to a position like they had where they would perhaps go to illegal places, but you have to ban it." He said according to The New York Times. "There has to be some form of punishment."
He late the took the comments back.
He also said that abortions should only be provided in cases of rape, incest, and life-threatening pregnancies. However, by current law, federal money can only be used for abortion in those cases anyway. No federal money goes to other kinds of abortions.
4. Economy
An analysis of the candidate's economic plans by the Wall Street Journal characterizes Trump's rhetoric about the economy as alarmist and less specific than Clinton's rhetoric.
Trump has heavily relied on his experience as a businessman to give him credibility on economic policy.
He's called for more spending on infrastructure and said he will keep Social Security and Medicare in tact. He's also said that he wants to be tougher on trade with China.
Clinton wants to spend more money on education, infrastructure and clean energy, and also raise the minimum wage, according to the Wall Street Journal.
Trump has made various oftentimes conflicting statements about the minimum wage, but he's said that he would support a $10 minimum wage but also allow state's to decide their own minimum wage, according to the Washington Post.
5. ISIS
Last week Clinton released a new plan to fight the Islamic State.
Her plan says that her strategy to fight the terror group would be to attack it's strongholds in Iraq and Syria by expanding the controversial air strikes the Obama administration is already carrying out in Syria. Her campaign also emphasizes diplomacy and the need for cooperation from European countries to fight the Islamic State.
Much of Trump's plan to fight the Islamic State focuses on banning Muslim immigration to prevent domestic terror. His campaign website does not list the Islamic State as an issue, but he includes terrorism in his immigration plan.
Last month he blamed the Islamic State's rise as successors of al-Queda on the Obama administration and Clinton's tenure as secretary of state, according to CNN.
"The rise of ISIS is the direct result of policy decisions made by President Obama and Secretary of State Clinton," said Trump, according to CNN.
Share your opinion
Is gun control one of the most important issues to you this election season?