New 'Consent' App Could Miss the Point of Consent
September 16th 2016
By:
A new app called Sasie aims to document consent before college students have a sexual encounter but, not everyone thinks it's a good idea. Could the app protect rapists rather than simply clarify consent?
The top executive at Sasie said that the app is meant to be a legally binding contract between two adults who are agreeing to have a sexual encounter. Sasie users sign a contract with their pictures agreeing to a sexual encounter.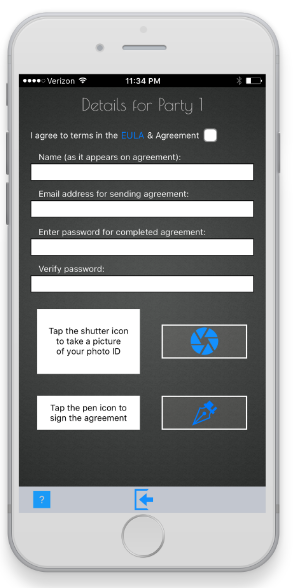 Sasie - sasie.date
"Our affirmative consent app complies with campus consent policies in most states, and provides a legally binding modicum of evidence for students, and adjudicators, too," said Sasie CEO Sam Hornreich in a press release. "This evidence is often not there at all in sexual assault hearings on college campuses. It can be the critical difference in a situation where it's often just one student's word against another."
However, as critics of the app have pointed out, a person's decision to consent can change at any point during a sexual encounter. It's possible that someone could consent to sex through the app and then change their mind afterwards. Lux Alptraum from Motherboard wrote that the apps could be used to protect future rapists, who rape after they have recorded consent.
"Sure, SaSie users sign a binding agreement that indicates they understand consent—including that consent can be revoked—but no one's prevented from breaching that contract, and it's unclear what recourse a user might have if their partner ends up raping them after signing a contract that promises they won't."
Michael Lissack, who created the "We Consent" suite of apps, through which people can consent or decline to consent to a sexual encounter, said critics are missing a key point about the technology. He said the apps aim to encourage a conversation about sexual encounters before something bad happens.
"The real importance of yes apps is not that anyone uses them, it's just that they discuss them." he said "The entire purpose of the yes apps and the no apps is to get people to have a discussion before they engage."
"You should not be consenting to sex you should be engaging with it," he added. "You should be giving something mutual."
Although apps like We Consent and Sasie aim to create a discussion about sex beforehand, Sasie is also being presented as a legal contract, even though there are several ways for consent to change after the fact.
"Does our app and some of the other apps create something that can be used in the space of an investigation. Is any of it good evidence in a proper legal proceeding? Maybe, but that hasn't shown itself yet, Lissack said.
Update 9/16 10:30 a.m.
Sasie CEO Sam Horneich sent a statement about revoked consent to ATTN: 
"Specifically, we address the concern for changing one's mind in a very particular way. Using a combination of email termination, as well as an invitation (and legal obligation per the wording in our app) to acknowledge that response, we can provide a chain of legal evidence bearing clues for an adjudicator as to the nature of what happened. If either student chooses to introduce it as evidence."
Share your opinion
Do you think colleges should encourage consent apps for their students?