1,000,000 People Fell for This Mark Zuckerberg Hoax, Here's Why It Could Never Actually Happen
September 19th 2016
By:
A new Facebook post claims that users can boot Republican presidential nominee Donald Trump from the social network site through the simple act of user engagement, and millions have fallen for what Facebook confirmed to ATTN: is a hoax.
Over the weekend, a user named Gavin Mccaster posted what he claimed to be a Facebook Messenger exchange between himself and Facebook founder Mark Zuckerberg. The image shows Mccaster asking what it would take for Trump's Facebook page to be deleted: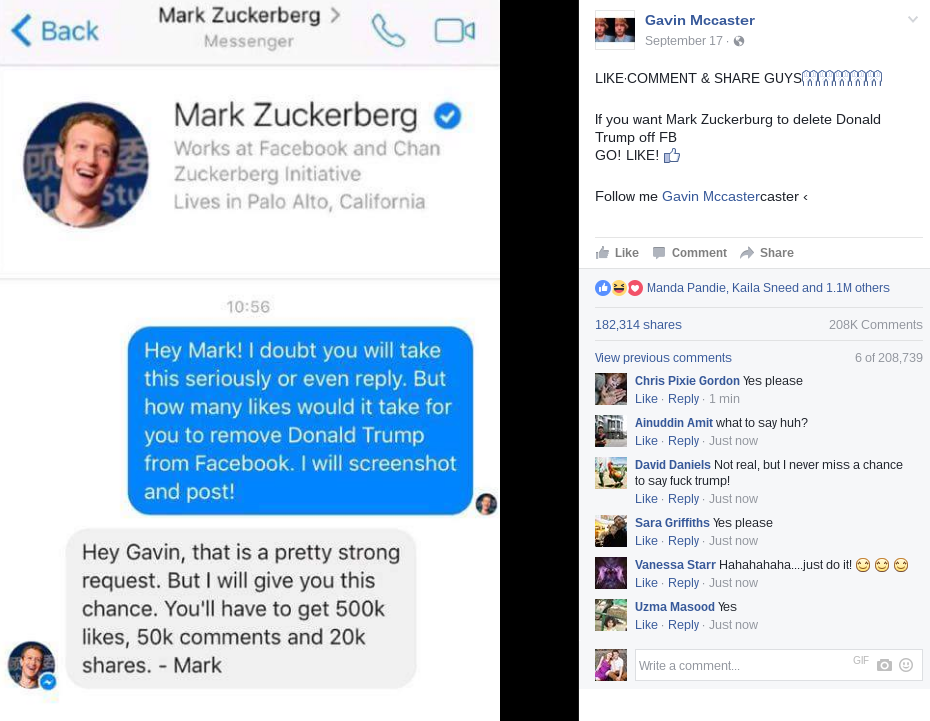 Facebook - facebook.com
ATTN: confirmed with Facebook that this post is indeed a hoax. And so despite the fact that Mccaster has already exceeded the requirements for engagement, Trump's Facebook page remains active:

Facebook - facebook.com

Facebook - facebook.com

Facebook - facebook.com
Unsurprisingly, another recent post from Mccaster raised suspicion from others.
As Indy 100's Joe Vesey-Byrne noted, Mccaster recently shared a different Facebook Messenger exchange post, which Mccaster claimed was between him and Trump:
Another user by the name of Callan Brown posted this identical exchange around the same time that Mccaster did: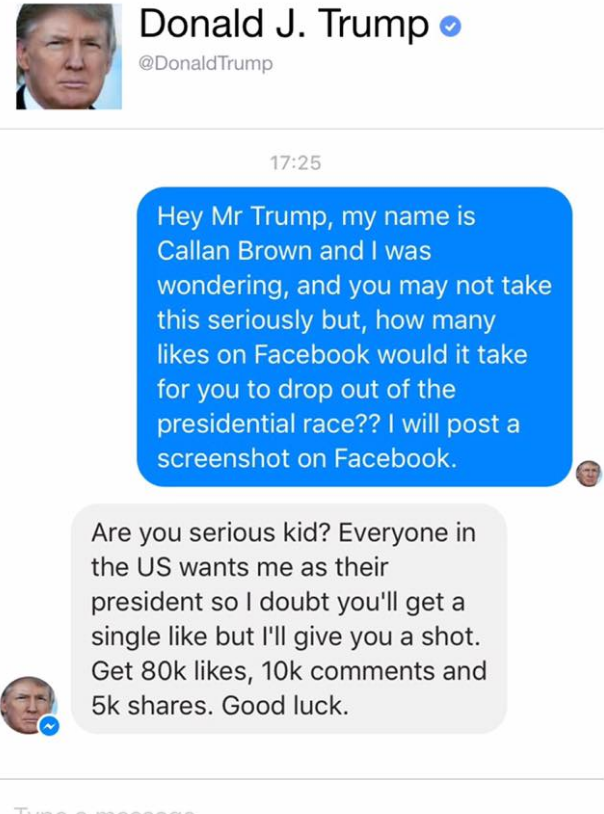 Facebook - facebook.com
This strange viral hoax highlights an important truth about freedom of speech on social media.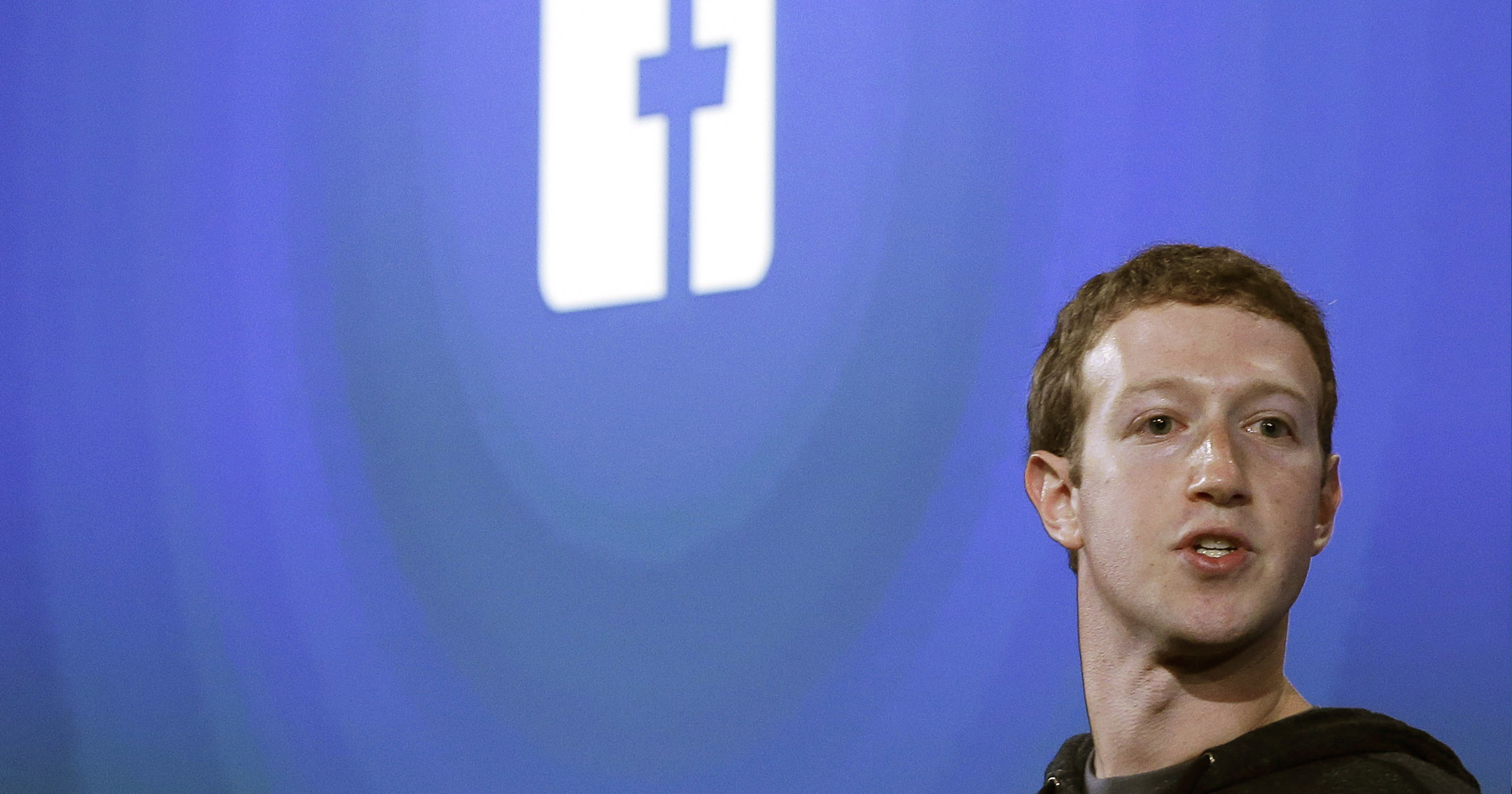 AP/Marcio Jose Sanchez - apimages.com
While millions of people may want Trump banned from Facebook and out of the presidential race at that, this doesn't mean he should be removed from the platform.
As Vesey-Byrne noted in his Indy 100 post, it would be shocking for someone of Zuckerberg's prominence to respond to such a message request. Zuckerberg may have spoken out against Trump in the past, but he is "highly unlikely to use his awesome power over Facebook audiences to sway a presidential election in such an overt manner," Vesey-Byrne wrote.
Even if Zuckerberg did create such terms for ousting Trump from the website, this could set a dangerous precedent on a platform whose algorithm already asserts an uncommon amount of influence on what we do or do not see on the site. It could mean that users would have to watch what they say on the platform, lest they be silenced by the powerful social media site.
Facebook does remove posts sometimes — and has been critiqued for it.
Facebook has come under fire for removing certain posts. Earlier this year, Facebook received ample criticism after barring feminist talk show, Cherchez la Femme from posting an ad of plus-size model Tess Holliday, arguing that the image did not fit with its "health and fitness" standards.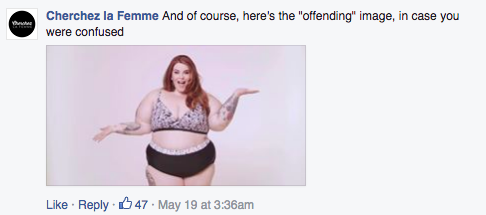 Facebook - facebook.com
The platform has also repeatedly deleted a woman's post showing her husband and her sick son in the shower several months ago. The image shows a father comforting his son, who had been suffering from severe diarrhea and vomiting: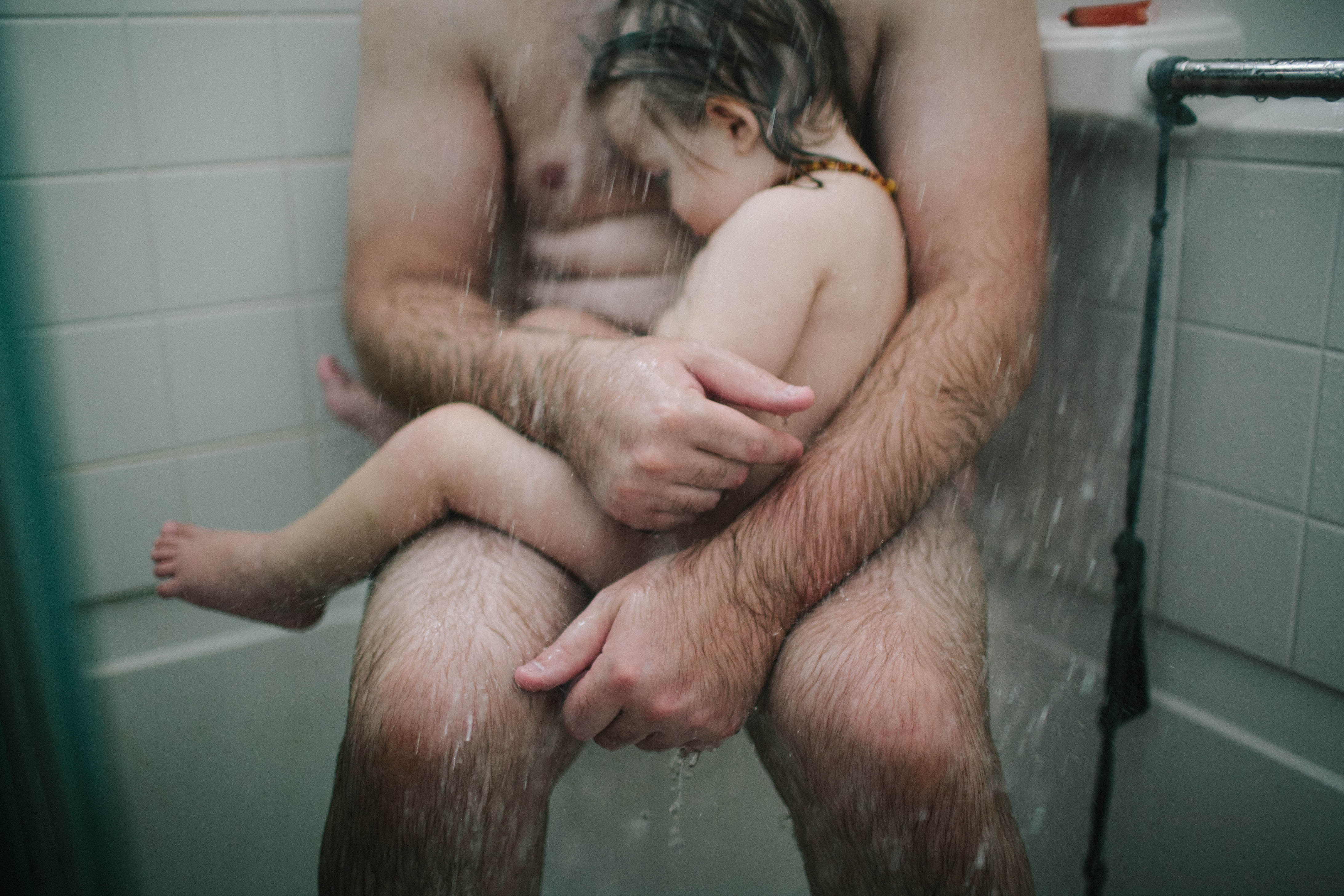 Facebook - attn.com
At the time, a Facebook spokesperson told The Huffington Post UK that the post was wrongfully removed and had since been reinstated, but it is currently unavailable on Facebook at this posting.
After changing its Trending News section following reports that it buried stories from conservative outlets, a fake news story about Fox News host Megyn Kelly skyrocketed to the top of Facebook's Trending News slots. This recently led the company to remove the story from Facebook feeds.
Facebook's community standards pages states that it will "remove content, disable accounts, and work with law enforcement when [the company believes] there is a genuine risk of physical harm or direct threats to public safety."
"People use Facebook to share their experiences and to raise awareness about issues that are important to them," the community standards page continues. "This means that you may encounter opinions that are different from yours, which we believe can lead to important conversations about difficult topics. To help balance the needs, safety, and interests of a diverse community, however, we may remove certain kinds of sensitive content or limit the audience that sees it. Learn more about how we do that here."
[H/T Indy 100]
Share your opinion
Do you know anyone who has fallen for a Facebook hoax?