Pregnant Mother's Open Letter to the Drunk Driver Who Almost Killed Her
September 21st 2016
By:
A Texas woman's recent Facebook post puts some of the devastating realities of drunk driving on display, and it offers up advice on how to prevent loved ones from getting behind the wheel under the influence of alcohol.
Kristian Guerrero, who got married in November, shared a Facebook photo on Sunday showing a totaled vehicle above a battered image of her in a hospital bed. Guerrero has bruises on her face and is holding her deceased infant son. She reportedly had to go into an induced labor to give birth to her son, following the crash which killed the baby and her husband. Guerrero survived the accident.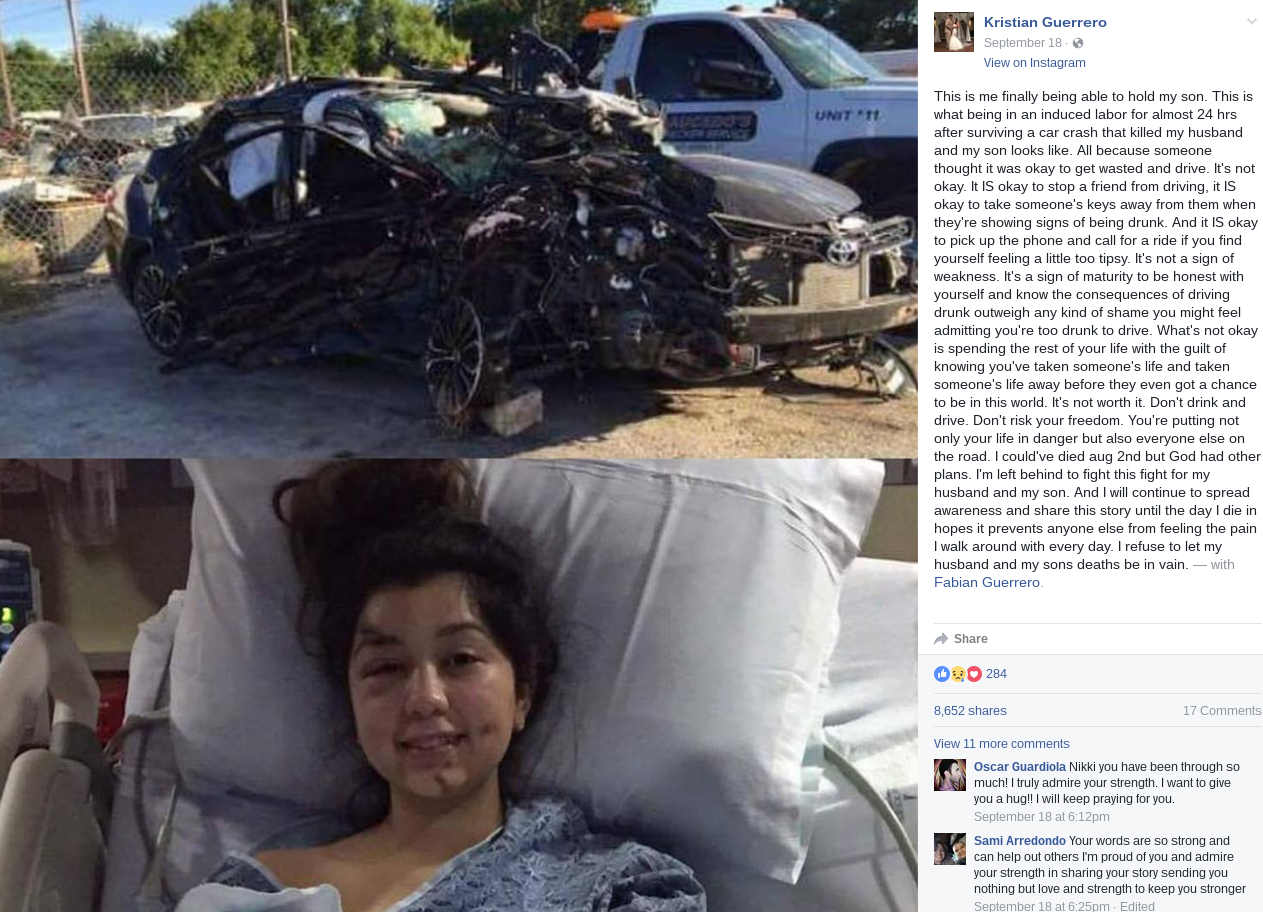 Facebook - facebook.com
"This is me finally being able to hold my son," she wrote. "This is what being in an induced labor for almost 24 [hours] after surviving a car crash that killed my husband and my son looks like. All because someone thought it was okay to get wasted and drive."
The San Antonio Express-News confirmed that the accident took place after obtaining an affidavit on the incident. The Express-News reported that the drunk driver was a 21-year-old college student whose car crossed a highway center line and hit Guerrero.
Guerrero added in her post that drunk driving is unacceptable, but that it is OK to try and stop people from driving drunk:
"It IS okay to stop a friend from driving, it IS okay to take someone's keys away from them when they're showing signs of being drunk. And it IS okay to pick up the phone and call for a ride if you find yourself feeling a little too tipsy. It's not a sign of weakness. It's a sign of maturity to be honest with yourself and know the consequences of driving drunk outweigh any kind of shame you might feel admitting you're too drunk to drive."
Her post has garnered a lot of touching messages on Facebook: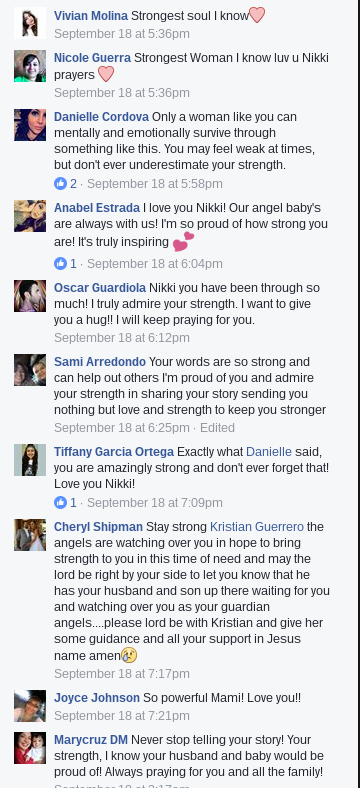 Facebook - facebook.com
"I've received many responses from condolences to people sharing their own personal drunk driving tragedies," Guerrero told ATTN: via email. "I've also received messages from people telling me that because of my post they will no longer drive under the influence or allow any of their friends or family to do so either. And that was the whole point of the post, to prevent these tragedies."
In 2014, nearly 10,000 people were killed in alcohol-impaired car accidents, making up 31 percent of traffic-related deaths in our country, according to statistics pulled by the Centers for Disease Prevention and Control. The organization Mothers Against Drunk Driving (MADD) has a list of tips on preventing drunk driving on its site, stating that "best way to prevent someone from driving drunk is to make a plan for a sober designated driver." If this isn't an option, MADD recommends having a non-confrontational conversation with the person who wants to drive under the influence, calling a cab or using public transportation, asking the person to sleep over, taking the person's car keys, and alerting law enforcement if absolutely necessary.
Read Guerrero's full post below:
Update September 21, 2016 at 5:30 PST: This article has been updated to include a comment from Guerrero.
Share your opinion
Do you know any victims of drunk driving?