Here's the Tweet Donald Trump Denied Saying at Tonight's Debate
September 27th 2016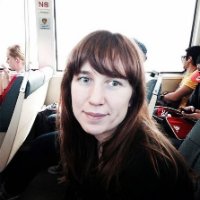 By:
Update: Due to a reporting error, ATTN: initially reported that the Donald Trump campaign had deleted his 2012 tweet about climate change being a hoax fabricated by the Chinese government. As of 11:00 p.m. EDT on Monday evening, the tweet had not been deleted. We apologize for the error.
Republican presidential nominee Donald Trump denied tweeting in 2012 that climate change was as hoax created by the Chinese government during a heated exchange over the economy, jobs, and climate change during Monday's debate.
The tweet in question asserts that "the concept of global warming" is a hoax created by the Chinese to hurt American manufacturing.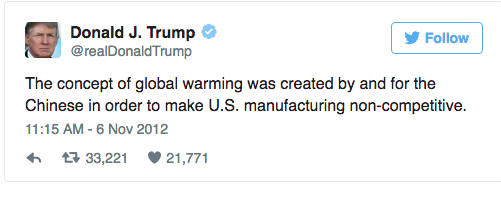 Twitter/realdonaldtrump
When Clinton mentioned this position of Trump's, he quickly denied attributing climate change to China.
Various news outlets, including ATTN:, erroneously reported that Trump's campaign deleted this tweeted during the debate after a screenshot circulated on social media indicating the tweet no longer existed. However, as of 11 p.m. EDT, the tweet was still live on Trump's account.  
This tweet is only one among many statements Trump has made denying the vast scientific evidence illustrating the impacts of climate change and our role contributing to it. Here are a few more.

twitter/realdonaldtrump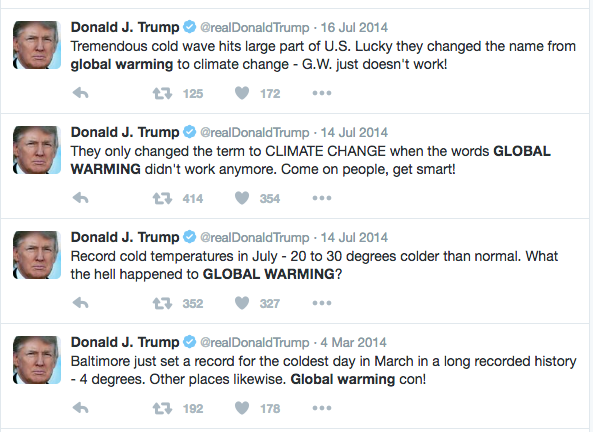 twitter/realdonaldtrump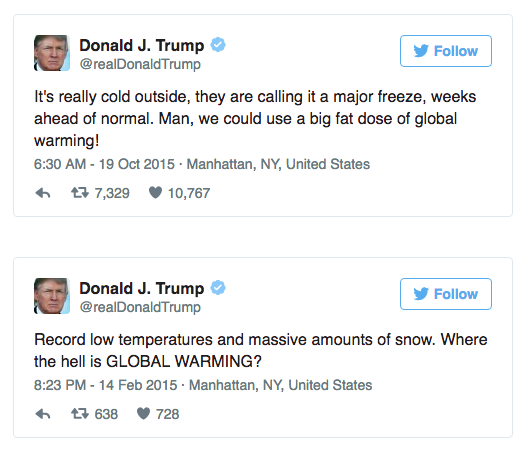 twitter/realdonaldtrump
In a previous interview with ATTN: Jonathan Koomey, Ph.D., a research fellow at Stanford University's Steyer-Taylor Center for Energy Policy and Finance addressed Trump's history addressing the issue.
"If I was trying to evaluate a candidate and how they were dealing with the climate issue, I would want to make sure they understood the reality of the issue, the nature of the issue, the complexity of the issue, and the urgency of the issue," Koomey said. "Trump has no idea about the reality of the issue."
Trump has also claimed that he would renegotiate the Paris Agreement, a global agreement on reducing the greenhouse emissions that have been overwhelmingly scientifically proven to contribute to climate change.
Share your opinion
Do you think the U.S. should do more to combat climate change?