This Writer's Battle With Amazon Reveals a Bigger Issue With How Sexual Assault Is Presented in Media
October 2nd 2016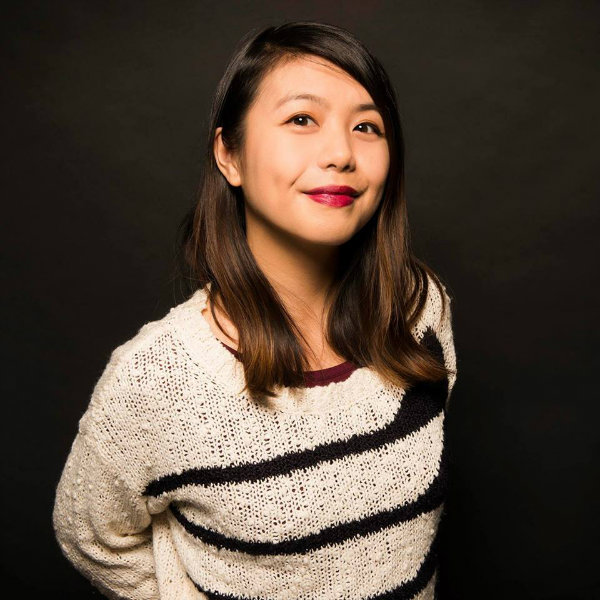 By:
When author Kristina Brooks found out Amazon had categorized her story as "erotica" without her approval, she was not only flummoxed but deeply disturbed. There was no titillating sex in the story, but there was a scene in which a 13-year-old girl is raped along with a content warning about it.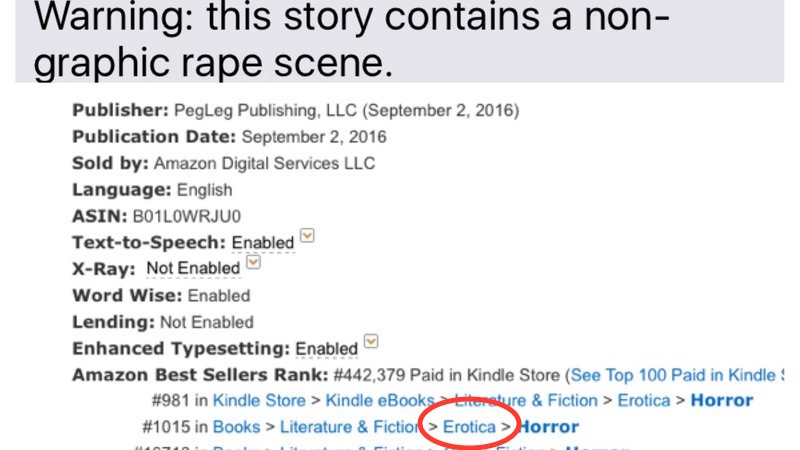 Kristina Brooks - change.org
Last month, Brooks started an online petition calling on Amazon to change the policy that led the publisher to classify her work as "erotica." By definition, the genre of erotica intends to arouse sexual desire through literature or art. However, Brooks is clear that was far from her aim in writing this particular story.
"I'm not one to judge those who read rape fantasy erotica, but that was not the intent of this piece," Brooks told ATTN:.
The horror-fantasy story she wrote involves two female friends who encounter a haunted house, and at one point, one girl is raped, Brooks said. But, according to her, the scene is non-explicit with no graphic details. In fact, she said the rest of the story explores the negative "ripple effects" the incident of sexual violence has on the victim and her friend.
The petition followed a failed attempt by Brooks to get Amazon to remove the "erotica" label from her story. According to the author, she was told over the phone by an Amazon representative that the only way to remove the story from the erotica category was to unpublish it entirely, which she has done.
It appears Brooks is not the only one who has experienced this before. In a Kindle Direct Publishing community thread, another author with the username "Kim" asks for help on how to convince Amazon her novel is not erotica. In the post, Kim admits her book has "mature content," however she describes it as "a story about a marriage that turns violent and abusive," including two rape scenes.
Both she and Brooks said their works were labeled as erotica before they were available to download by readers. Kim concludes in her post: "I'm guessing they've maybe crawled the text and picked up words or phrases that they deemed objectionable... But objectionable doesn't equal erotic, and no one has told me WHY my book has been categorized this way." Brooks echoed that sentiment, surmising that an "Amazon bot" used some type of algorithm set to detect the trigger warning or the word "rape" in order to add the genre category to her story.
While Amazon does not currently provide any details about how they categorize erotica on their website, in 2013, the Daily Mail reported erotica authors were claiming Amazon had been "flagging and filtering adult titles so they don't show up in a basic search on Amazon.com," because, as one author put it, the online retailer "doesn't want to be seen as 'supporting' erotica."
Immediately conflating rape with sex indicates a much bigger problem.
"To blindly put rape into the erotica category, without it being the author's intention, speaks to the issue of rape culture. [They're] feeding into the idea of rape as sex," said Brooks. "But it's not – real rape is a power struggle...and it has repercussions that last a lifetime for survivors." In a blog post on the importance of how we talk about rape, Zerlina Maxwell wrote for Feministing.com that "rape is not sex...sex requires consent."
After citing the high rates at which women and girls experience sexual assault, Brooks said, "My whole reason for putting [the rape scene] in there was because I knew girls at that age who had similar things happen. They never were the same afterwards, and I wanted to talk about that."
Due to the high volume of content on Amazon, Brooks said she could see the difficulty in having actual people on staff to read, review, and accurately categorize books with rape scenes in them, but this doesn't necessarily admonish them of all responsibility. "I can see they're attempting to be neutral, but in their very act of labeling rape in erotica and only in that category, that has put them on one side of the line."
The issue of people perceiving rape scenes not intended to arouse as erotic extends beyond fiction novels into the realms of television and film, which have an additional layer of visuals. In an article for the journal Invisible Culture, Christopher Patrello tackles why reducing the graphic rape scene of Lisabeth Salander (Rooney Mara) in the American film adaptation of "The Girl with the Dragon Tattoo" into a "sex scene" is problematic.
He wrote:
"[W]hen scenes are decontextualized and removed from the film, it becomes all too easy for the scenes to be reduced to their most base attributes – namely nudity and eroticism. What disturbs me most about the recontextualization of the scenes online is the way in which viewers are able to subject Rooney Mara to the same reductions suffered by her character in the film."
ATTN: reached out to Amazon for comment, but the company has yet to respond. We will update with their comments.
Share your opinion
Do you think automatically categorizing books with rape scenes as erotica feeds into rape culture?