There's a New Racist Code Being Used by Trump Supporters on Twitter
The alt-right is using a new form of coded racist language on social media platforms, and it uses words such as "Google," "Skittle," and "Yahoo" to avoid censorship.
Racist online communities like the internet site /pol/ — described as a "message board for the alt-right, a digital movement of neo-Nazis, anti-Semites and white supremacists newly emboldened by the success of Trump's rhetoric" — have been putting out racist, homophobic, and bigoted memes to attack those they dislike, often in support of Republican presidential nominee Donald Trump. (Remember this anti-Hillary Clinton "sheriff's star" meme that appeared on Trump's official Twitter account, which critics found to be anti-Semitic?)
That's become more difficult with the rise of machine-learning projects like Google's Conversation AI, which use computers to spot the language of online harassment that targets religious minorities, communities of color, and the LGBTQ community. And that's where the new coded language comes in.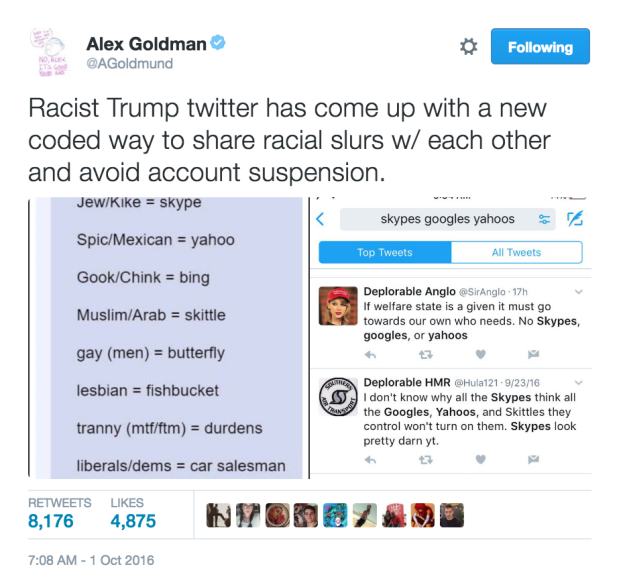 Alex Goldman/Twitter - buzzfeed.com
Buzzfeed reported on Saturday that bigoted online communities have started using terms such as "Google," "fishbucket," and "Skype" as substitutes for offensive slurs to refer to Blacks, Muslims, Jews, Mexicans, and others. The code substitutes innocent words for problematic terminology on Twitter and other social media platforms, enabling users to avoid censorship of their posts and possible account suspension.
A quick search on Twitter yields a number of immediate hits that show the word substitution in action, with many dealing with the recent Cascade Mall shooting in Burlington, Washington.
Many people using the codes are doing so in tweets that support Trump's campaign.
Unfortunately, this isn't new.
This isn't the first time that the racist alt-right and pro-Trump communities have overlapped.
"Trump has me at 'build a wall,'" Andrew Anglin, editor of the white supremacy website Daily Stormer, told the Los Angeles Times. "Virtually every alt-right Nazi I know is volunteering for the Trump campaign."
The Trump campaign has retweeted white supremacists, and the real estate mogul has picked up strong endorsements from many leaders in the neo-Nazi movement, including Klan leaders and many white nationalist publications. Trump has only infrequently disavowed their support, as some have noted, and much of it has come too late.
Alt-right Trump supporters have gone on the attack on Trump's behalf against publications proponents feel are too critical of the Republican candidate and against individual journalists themselves. Such was the case for Julia Ioffee, a reporter who profiled Melania Trump for GQ and was targeted online and via phone with anti-Semitic attacks.
Why the code words "Google," "Skype," and "Bing"?
The idea originated on the online message board 4chan, Buzzfeed reported. Dubbed "Operation Google," the suggestion was that using the word "Google" as a replacement for a derogatory term for Black people would force the search engine giant to filter out its own name.
Buzzfeed - buzzfeed.com
ATTN: has reached out to Twitter and Google for comment and will update this post if we hear back.
[h/t Buzzfeed]
Share your opinion
Are you worried about the overlap between white supremacists and Donald Trump supporters?