Rapper Responds to Upset Mother's Viral Rant Against His Music
October 6th 2016
By:
A young mother went viral for her 11-minute video rant about a song by rapper Vince Staples, which she did not think was appropriate for her children to hear on the radio.
The unidentified woman received a lot of backlash for her criticism. Staples fans felt she demonstrated ignorance of Staples' experiences as a young Black man.
Staples himself responded with understanding and even sympathy on social media.
The woman's YouTube video dealt with Staples' song "Norf Norf," which the woman said she heard on the radio while she was in the car with her child. The song "[paints] a violent picture of Mr. Staples' adolescent years in Long Beach," where he was also part of a gang, The New York Times reported.
The mother, with tears in her eyes, said that she could not believe that today's youth are exposed to a song like "Norf Norf," which includes lyrics about gun violence, running from the police, and gang life, among other things.
"Let's just encourage kids to run from the police because that's OK, right?" she said. "We wonder why this society is so messed up. Just listen to the music."
The video was heavily mocked on YouTube and social media.
Staples did not take part in the mockery. Rather, he said it was clear that this woman was not looking at his music from his world view and that he didn't want to judge her opinion of his work:
Staples used the woman's embarrassing viral moment to start a dialogue about misunderstandings regarding rap music and the Black community at large.
Staples tweeted after saying that The Independent misquoted him about the video:
Staples said earlier this year on ESPN's "Highly Questionable" that his mother sent him to Georgia for a few months during his childhood in hopes of putting him on the right track. He talked about being exposed to gang culture at a young age in Long Beach, which had 17 gang-related murders last year.
"If you're familiar with the music of Snoop Dogg, that kind of directed our path, along with other things," Staples said. "So getting into the gang stuff and the trouble stuff. All the things that kids fall into just being in the wrong place at the wrong time."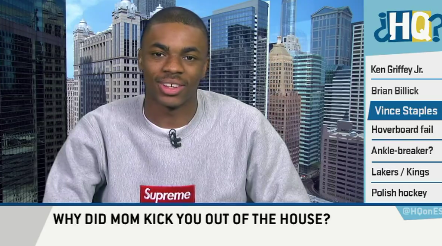 Facebook - facebook.com
"Gang life is just, you know, something that's a part of our community where we come from," Staples said. "If you think about the history of Black people and Hispanic people in Los Angeles County and Southern California in general, that's one of the only things we have culturally."
"It's just part of our culture, and with idle time and immaturity, which come from being a child, you kind of fall into the wrong things, and especially with the wrong guidance, things sort of get deluded the longer they've been separated from their origin," Staples added. "So it's just something that's already there. If you have nothing better to do, you often find time to do the wrong things." Staples said that the only way to move on from gang life is to leave the community or try to improve it.
Several months after his "Highly Questionable" sit-down, Staples and the city of Long Beach announced plans to launch a YCMA program to help enrich the lives of young people living in the area.
Watch Staples' "Highly Questionable" interview below:
You can watch the full video of the woman's rant below:
Share your opinion
Do you agree with the way Staples responded to this woman?