Former Ivanka Trump Executive Shares Her Fight for Paid Maternity Leave on Facebook
October 11th 2016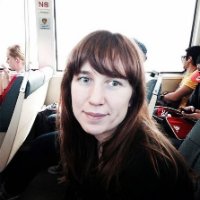 By:
Marissa Velez Kraxberger, the former Chief Marketing Officer at Ivanka Trump's clothing company, shared a powerful Facebook post chronicling her fight to get maternity leave after accepting her job offer. Kraxberger says she saw an ad for Republican presidential nominee Donald Trump's maternity leave plan and decided to her to share her own experience.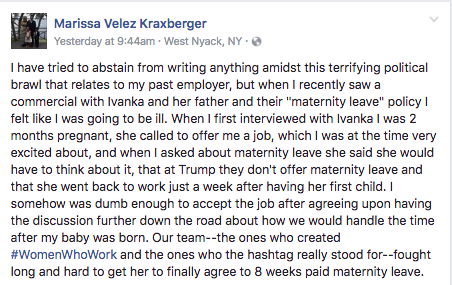 Facebook/Marissa Kraxberger - facebook.com
Kraxberger — who was allegedly two months pregnant when she hired — claimed in the post that she inquired about maternity leave during her initial interview with Ivanka Trump, who reportedly said she "would have to think about it."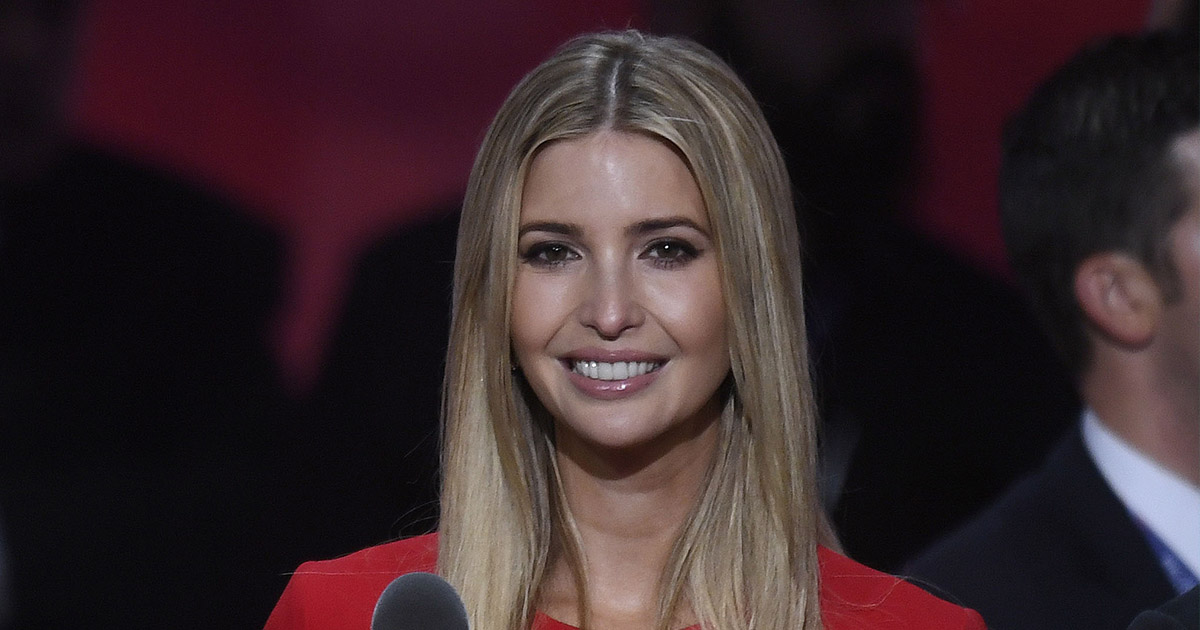 AP/Olivier Douliery - apimages.com
The company only agreed to provide eight weeks of paid leave after she and her fellow-employees "fought long and hard," Kraxberger claimed in her post. The former CMO alleged that while she doesn't think Ivanka Trump is "a bad person," the candidate's daughter might not have been privy to the experiences of working mothers who don't have a lot of childcare support at home.
Kraxberger goes on to criticize Donald Trump's maternity leave plan for failing to provide paid leave to fathers.
(Though Kraxberger alleges that Trump's plan excludes adoptive parents, this is a false claim, according to the Atlantic.)

Facebook/Marissa Kraxberger - facebook.com
As ATTN: has reported previously, Trump's maternity leave plan has been widely criticized for not providing paternity leave or offering leave to LGBT parents.
Trump's plan also not provide much help to low-income families because it is structured as a tax-deduction. The plan offers only a $1,200 yearly rebate to the 44 percent of parents who don't make enough to pay income taxes, Vivien Labaton, the co-founder and co-director of Make It Work Action — a group that advocates for women's economic security — pointed out in a CNBC op-ed.
Ivanka Trump's recent appearance in an ad for Trump's maternity leave plan ignited massive backlash due to her assertion that, "The most important job any woman can have is being a mother."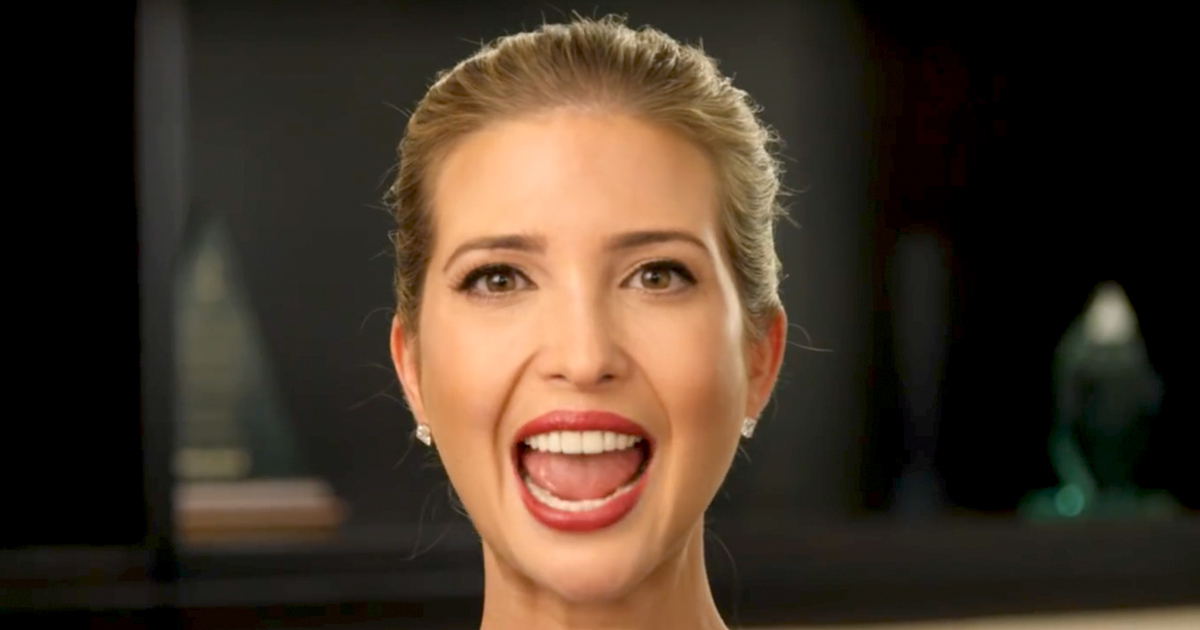 YouTube/Team Trump - youtube.com
On social media, many women pointed out that the video seemed to reinforce archaic gender-stereotypes.
A spokesperson for the Ivanka Trump brand provided ATTN: with this statement.
"The team at Ivanka Trump is saddened by this mischaracterization of how our company developed its industry leading culture and benefits package. In addition to paid leave, we also offer all employees flexible work schedules and unlimited vacation and sick days.

"As a company for women, run by women, we spent a considerable amount of time in the early days of building our business developing a unique corporate culture and engaged in meaningful dialogue about the benefits that would be most impactful to the people working at Ivanka Trump.

"While we respect differing political views from employees, past and present, we are steadfast in our belief that we have built a culture and a brand to be proud of and are deeply committed to supporting and empowering women."
ATTN: has reached out to the Trump campaign for comment and will update this post when we receive a response.
You can read Kraxberger's full post below and on Facebook.
Share your opinion
Should the presidential candidates' child care plan include paternity leave as well?