The Domestic Abuse Issue That Doesn't Get Enough Attention
October 13th 2016
By:
It wasn't until he cut off contact with his former partner that he realized that she had abused him for nearly a decade.
"I didn't put the word abuse on it until the relationship was dissolved," the man — who asked not to be identified — told ATTN: in an email. "She always made me feel like I was the weak link in [the] relationship. So I took blame for a lot. Didn't realize until after what had been happening."
The man ATTN: spoke with is part of a large, oftentimes overlooked group of people who have experienced partner abuse.
One in four men will experience some form of partner violence during his lifetime, according to the National Coalition Against Domestic Violence. ATTN: has reported before that abuse comes in many forms: physical, verbal, emotional, and psychological, to name a few.
The person ATTN: spoke with said that his partner primarily abused him mentally and verbally, though she also frequently physically abused him as well. She also broke his stuff any time he attempted to leave the relationship:
"When I tried to defend myself against an accusation, things would quickly move to a full on argument. The argument wouldn't end until I was broken down, admitting to [things] I didn't do. The times I wouldn't admit to a fabrication, I'd get hit or have ... things thrown at me. If I talked back or tried to leave, I could count on my personal property being destroyed. Of course there were times of peace between fights, but I was always waiting for the other shoe to drop. Everything revolved around control. I was scared a lot of the time, but always under her thumb. It was a strange time, can't believe I let it happen."
It's hard for men to come forward about their experiences with abuse.
The man acknowledged that there's a taboo surrounding male victims of abuse. "I believe there is a stigma against men openly discussing problems like this," he said. "It might be partially self-imposed. But I always felt pretty ashamed about what was happening, enough to not feel free to talk. It was assumed that I was the only one that could fix things."
The cultural stigma around abused men may stem from the common male tendency to avoid asking for help, Randy Flood, the co-founder of the Men's Resource Center of West Michigan, told ATTN:. Men in general are less likely to seek counseling for mental health issues, according to the American Psychological Association.
"It's not so much that men have [fewer] problems," Flood told ATTN:. "It's just there's more permission in our culture for females to ask for help. For a man to say, 'I need help' and go in to talk to a therapist, that's one step. But to then say, 'I need help because I'm being abused by a woman' [is even more challenging]."
Societal expectations of masculinity also play a role in discouraging men from getting help as victims of abuse, Flood added:
"There is a history of men, if they are experiencing some type of abuse from the power above them, to not complain about it and suck it up. When you get bullied, you're not supposed to whine. You're not supposed whine about an authoritarian, difficult coach. There's a lot about being male that is taking pain and not complaining about it."
There's also an idea that it's funny to be a male victim of abuse.
A man abused by a woman is often cast as the butt of a joke in pop culture. Several years ago, "Saturday Night Live" came under fire for a skit making light of reports that Tiger Woods' ex-wife had chased him outside with a golf club after she learned he had been cheating on her: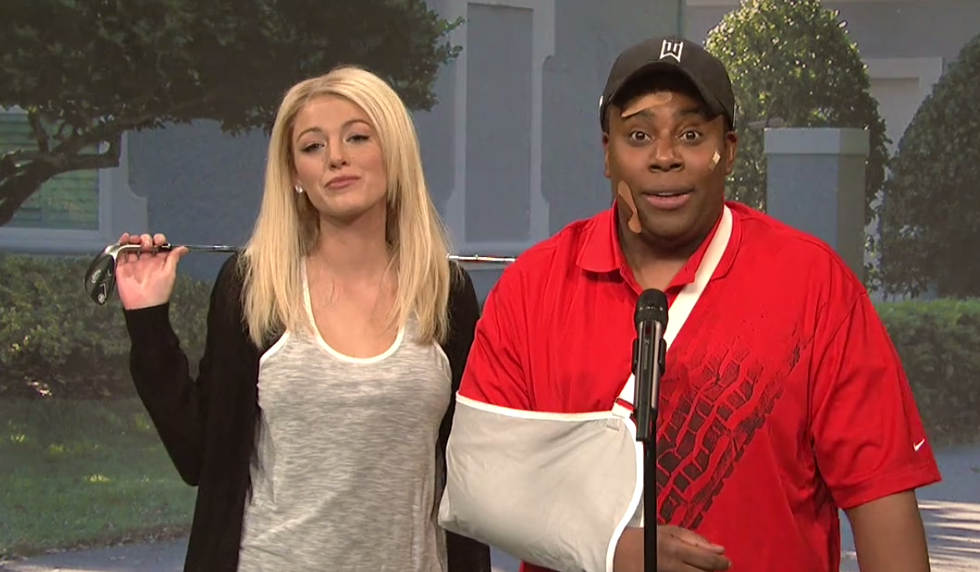 Hulu - hulu.com
This theme also comes through in the 2009 comedy film "The Hangover," in which a controlling woman belittles her boyfriend in a subplot that is supposed to be humorous.
But a comical depiction of domestic abuse is not amusing, Latoya Peterson wrote in a Jezebel piece:
"[With] skits like the one shown on SNL, the message being sent is that it is OK to joke about punishing men with force. That it's understandable for women to react to allegations of infidelity with violence. Such demonstrations tell us that men bearing the brunt of a woman's rage should be the subject of laughter, not concern."
A teen named Dylan Salanitri reposted a bloody photo of himself on Facebook in September to reveal that he had previously been abused by a girlfriend. People initially found it hilarious, even though it was not funny at all:
"Being the dopey boy I am I found humor out of the matter, I thought that it was funny and had never really given it another thought, until now. The first time I posted this many of my friends and people ... found it humorous just like I did, but that is what's wrong with it all."
How men can get help when they're being abused.
There is no shame in being abused, and it's important for victims to realize that so they can leave harmful relationships. The Mayo Clinic has a number of suggestions for male victims of domestic abuse who are looking to get help:
"Start by telling someone about the abuse, whether it's a friend, relative, health care provider or other close contact," the Mayo Clinic advised. "At first, you might find it hard to talk about the abuse. However, you'll also likely feel relief and receive much-needed support."
The man who came to ATTN: with his story of abuse ultimately moved on to someone else. He advises other male victims of abuse to watch for red flags at the beginning of a relationship and to take them seriously:
"If it's happening to you, trust your instincts, watch for red flags, and get out. If it's happening to a friend, be supportive and don't assume they are weak or just a pushover."
Go to NCADV's website for more information on what to do when you or someone you know is experiencing abuse.
Share your opinion
Do you know any male victims of domestic abuse?