Donald Trump's 2013 Lawsuit Against Bill Maher Reveals a Lot About His Campaign
November 6th 2016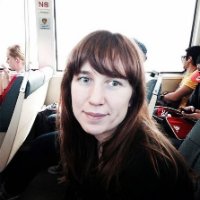 By:
Republican presidential nominee Donald Trump sued comedian Bill Maher in February 2013 over a joke, and it eerily foreshadows Trump's presidential campaign.
A review of the lawsuit reveals clues to what would become well-known about Trump as he faced off with Democratic rival Hillary Clinton: His thin skin, his inflated sense of his own charitable impulses, his love of (favorable) polling data and his vindictiveness toward critics.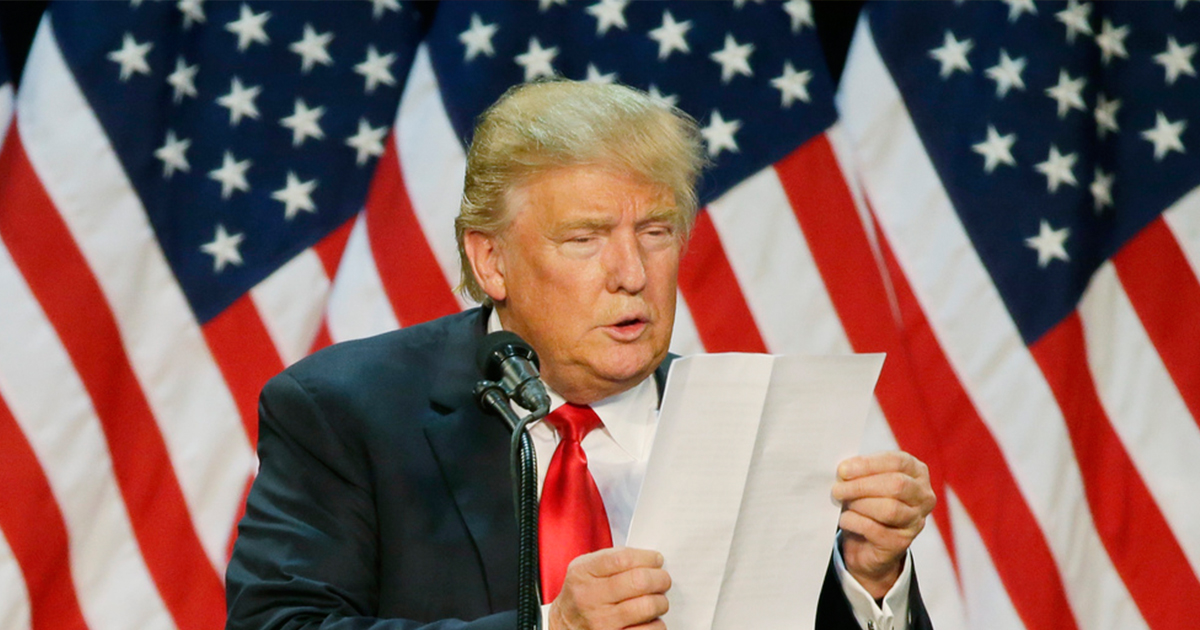 Ted S. Warren/AP Images - apimages.com
The lawsuit was prompted by a joke Maher made in a Jan. 7, 2013, appearance on "The Tonight Show With Jay Leno."
Maher joked that he would donate $5 million to Trump's chosen charity if he released a birth certificate proving his father was not an orangutan.
Maher was parodying Trump's October 2012 proposal in which the reality star offered an identical donation amount in exchange for President Barack Obama's college transcripts as proof that the president was born in the United States. Trump was a vocal proponent of the birther movement's conspiracy theories that Obama was not born in the United States. Trump admitted that Obama was born in the U.S. only in September of this year.
"Now public figures of course don't always like everything that's said about them, but that's how we roll here in America," Maher said in a 2013 episode of "Real Time With Bill Maher" about the lawsuit. "Just like we're the gun country, we're the joke country. We love our free speech, and we love our celebrities getting taken down a peg. So Don, just suck it up like everybody else."
"They seem to be trying to set a bold new precedent that jokes on late night talk shows are now legally binding agreements between the comedian and the person they're making fun of," he continued.
The controversy is recapped below.
Trump wasn't laughing.
Scott Balber, a New York-based attorney representing Trump, responded to Maher's joke by sending Maher a photocopy of Trump's short-form birth certificate and instructions about payment, according to public court records obtained by ATTN:.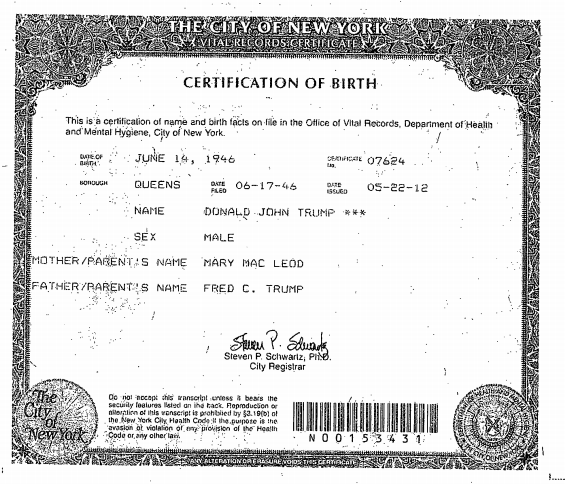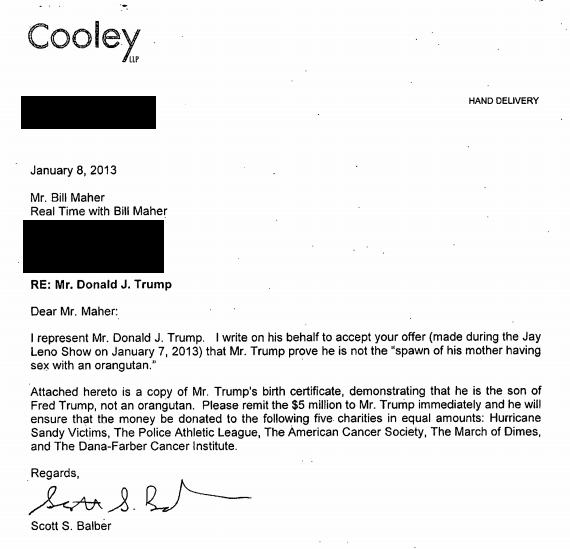 ATTN
Balber sent two letters to Maher, then filed a breach of contract suit in L.A. County Superior Court. The suit demanded that Maher fork over the $5 million, Trump's legal fees, and appropriate "further relief."
Balber, who works at the U.K. law firm Herbert Smith Freehills, did not respond to repeated requests for comment, nor did Herbert Smith Freehills lawyer Jonathan C. Cross, who is also listed as counsel on the suit.
Thomas Freeman, a spokesman for Cooley LLC, the firm where Balber and Cross worked when the suit was filed, declined to comment on the record for this story.
ATTN: also reached out to Cooley LLC partner Michael Rhodes, who is based in California, who is listed as one of Trump's attorneys on the filing. Rhodes did not respond to repeated requests for comment.
Trump dropped the lawsuit in April 2013.
"The lawsuit was temporarily withdrawn to be amended and refiled at a later date," Trump Organization attorney Michael Cohen said at the time, according to The Hollywood Reporter.
Cohen was not listed among Trump's attorneys in the initial filing. He is currently listed as a lawyer for the Trump Organization. During Trump's campaign, Cohen has made numerous TV appearances defending Trump. Cohen declined to comment on the record after repeated calls and emails from ATTN:.
AP/Evan Vucci - apimages.com
"This is harassment by litigation."
That's the assessment of Trump's lawsuit by University of Southern California law professor Robert K. Rasmussen, who has taught contract law for 20 years, after reviewing court documents. He told ATTN: that he does not believe a contract was formed.
"It was clear that it wasn't a serious offer. Everyone realized Bill Maher was joking," Rasmussen said. "No reasonable person would think that Bill Maher was trying to enter into a contractual relationship with Donald Trump."
"For a contract, you need someone to make a legitimate offer," Rasmussen said. "We know, however, that Bill Maher was not serious — he was trying to be funny. He wasn't really bargaining, he was making a point. No reasonable person watching that skit would think that that was a serious offer."
Jody S. Kraus, a professor at Columbia Law School, brought up Leonard v. PepsiCo, a famous case in which a man sued the maker of Pepsi for breach of contract after the company refused to deliver him a Harrier Jet. (Kraus was briefed on the lawsuit but had not read Trump's complaint.)
The dispute arose over a Pepsi ad that joked about giving Harrier Jets to customers who participated in a promotional campaign.
If a reasonable person would think that the offer was made in jest, the court said, then no contract can form.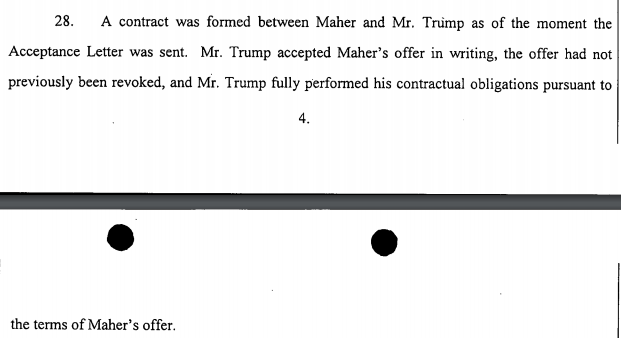 Trump's lawsuit foreshadowed Trump's presidential campaign in five key ways.
1. Trump is not receptive to criticism.
Filing a lawsuit over a joke suggests that Trump is thin-skinned. Here's how the lawsuit describes what Trump's lawyers defined as a contract: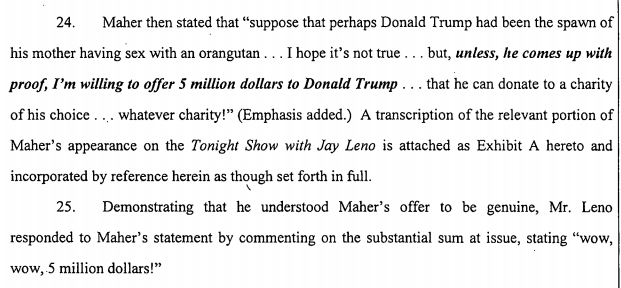 Trump's lawyer also speculated that Maher's offer is "perhaps motivated by his evident malice towards Mr. Trump."

Trump had been characterized as a Teflon candidate during the Republican primaries, because his nontraditional campaign style made him difficult to attack.
During the general election, however, Democratic presidential nominee Hillary Clinton's campaign has tried to communicate that he is thin-skinned.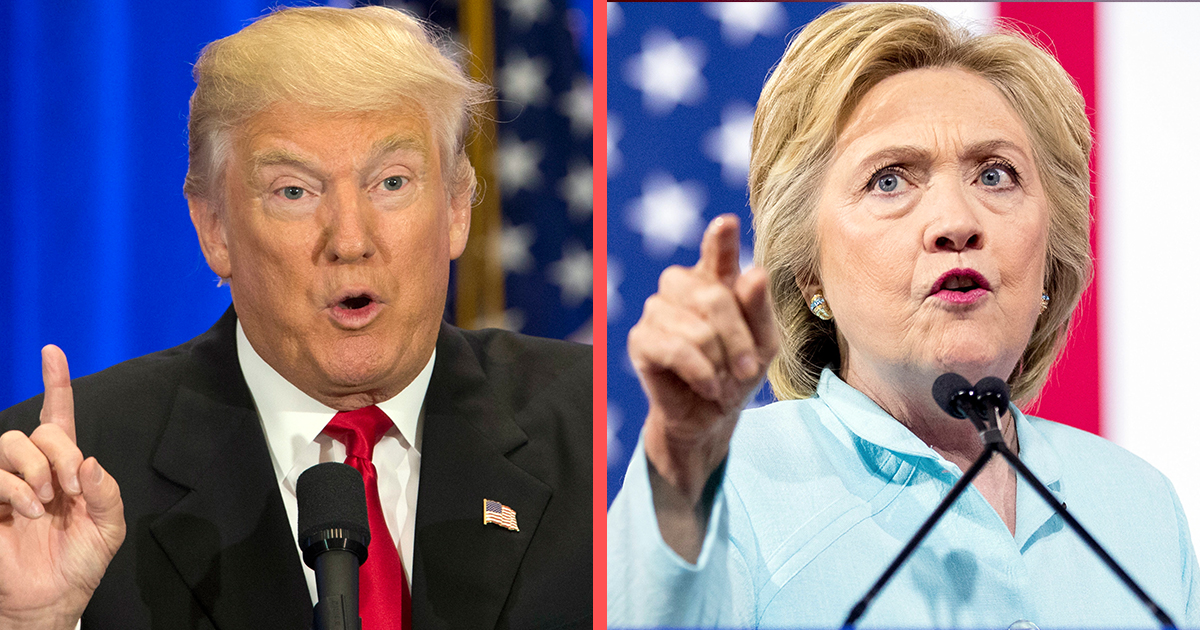 AP/Mary Altaffer, AP/Andrew Harnik - apimages.com
Trump's combative relationship with the press also illustrates his response to criticism.
2. The lawsuit describes Trump as "Mr. Trump" and Maher as "Maher."
It's hard not to notice that the lawsuit identifies Trump as "Mr. Trump," while Maher is called "Maher." Given the fact that Trump's lawyers drafted the complaint, it's fair to surmise that in Trump World, "Mr. Trump" is the preferred way to refer to Trump.


Here's how the lawsuit describes Trump: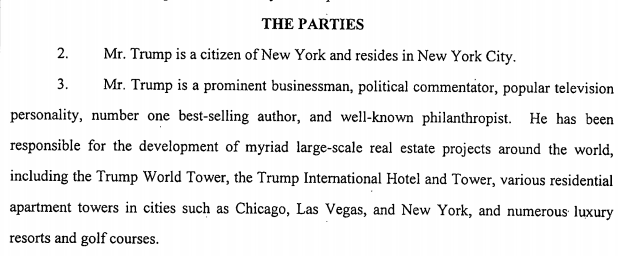 This interestingly plays into one of the campaign's subplots in which Clinton addressed Trump as "Donald" during their three presidential debates.
Many observers said that Clinton was using "Donald" as a way to needle Trump, who prefers "Mr. Trump." "Mrs. Clinton is eager to play offense and try to get under his skin, by doing things like calling him 'Donald' and questioning his net worth," The New York Times reported.
3. Trump likes to think of himself as charitable, notwithstanding any evidence to the contrary.
The suit describes Trump as a "well-known philanthropist."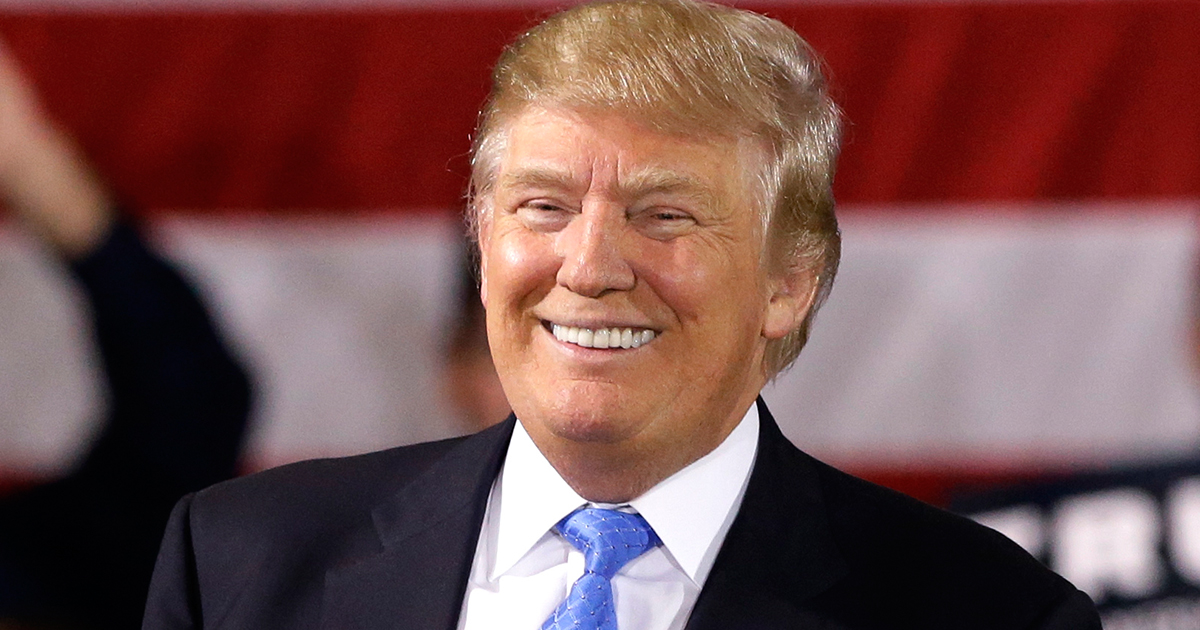 AP/Nam Y. Huh - apimages.com
Instead of demanding that the $5 million be donated to the Trump Foundation, or one of the five charities of his choosing, the lawsuit states that the money should be sent directly to "Mr. Trump." 
This is significant because Washington Post reporter David Fahrenthold found scant evidence of Trump's personal giving between 2008 and May 2016. He also reported that Trump's charity foundation wasn't legally certified to solicit donations in New York.
These reports led New York Attorney General Eric Schneiderman to launch an investigation into Trump's foundation and demand that it halt fundraising efforts in the state, PBS reported.
Presidential candidate Trump has continued to tout his supposed philanthropic efforts, even though we don't know how charitable Trump has been because he's repeatedly refused to release his tax returns.
4. The lawsuit repeatedly cited polling data.
It became a running joke during the Republican primaries that no candidate had ever talked about polling numbers more than Trump.
But even in 2013, long before he was a candidate, Trump was aware of his polling numbers.

5. The 2013 lawsuit is a reminder that we shouldn't have been too surprised by Trump's success in the presidential primaries three years later.
The filing points to Trump's standing in a March 2011 Wall Street Journal/NBC news poll and a February 2011 Newsweek poll.
ATTN: was unable to find a March 2011 Wall Street Journal/NBC poll matching the figures described by Trump, but a late February 2011 Wall Street Journal/NBC poll showed that Trump had the highest positive rating of any prospective 2012 Republican presidential candidate.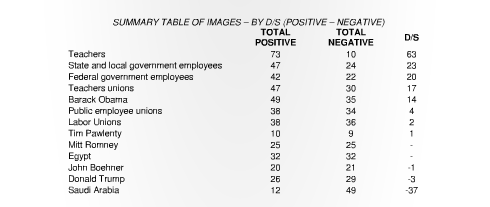 Wall Street Journal/NBC News Poll - wsj.com
Three years later, Trump shocked the world with a steady lead in polls. Here's how Real Clear Politics tracked Trump's performance: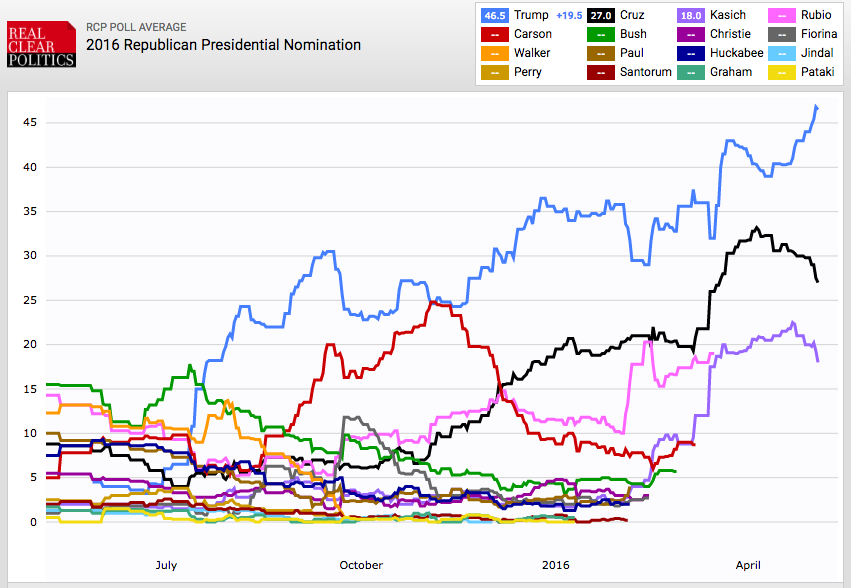 Real Clear Politics - realclearpolitics.com
Trump campaign spokeswoman Hope Hicks did not respond to repeated requests for comment via phone or email.
Disclosure: Bill Maher is an investor in ATTN:.
Trump.v..Maher.la.Superior.court.doc.Complaint (1) (1) by Sarah Gray on Scribd
Share your opinion
Have you already voted in the 2016 presidential election?