The Absurd Way McDonald's Expects Workers to Treat Burns
March 17th 2015
By:
McDonald's workers throughout the U.S. have protested the corporation's unsafe working conditions, claiming they were instructed to treat workplace burns with condiments like mustard and mayonnaise. They've filed 28 health and safety complaints in nearly 20 cities against the company.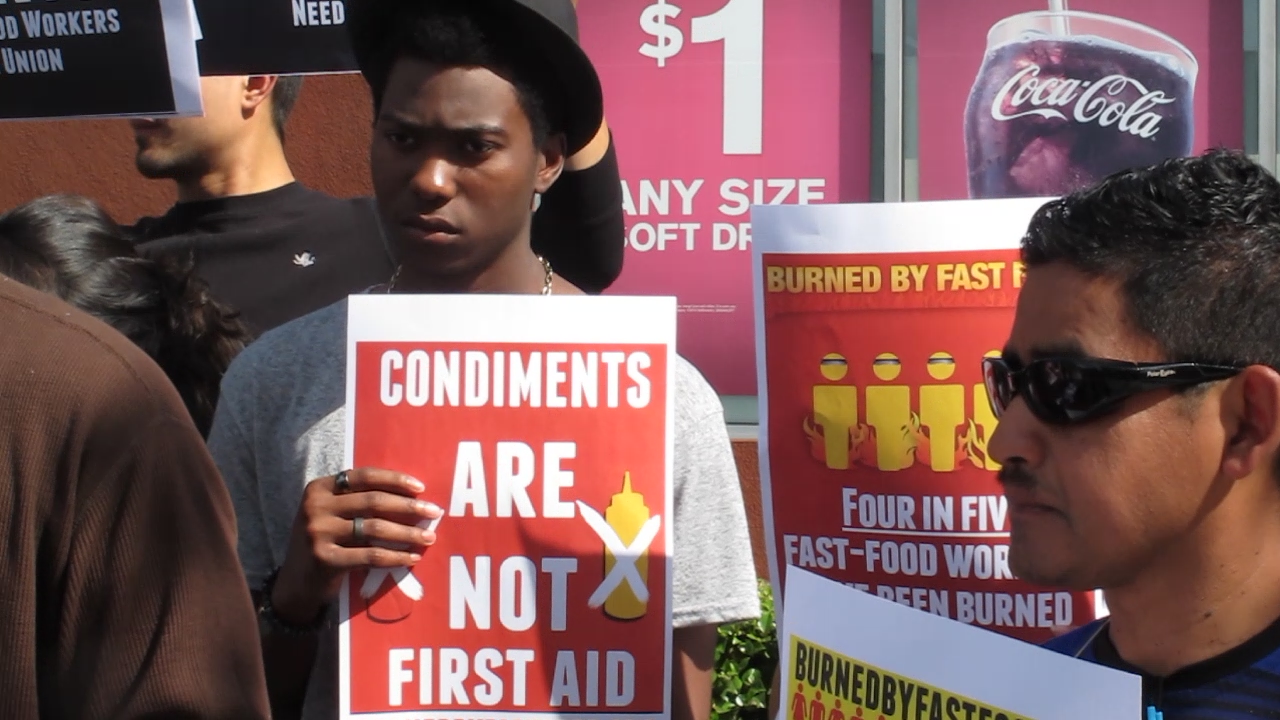 Fight for $15, an organization that promotes raising wages for underpaid workers, organized a rally in January outside a McDonald's location in downtown Los Angeles. McDonald's crew trainer Jemere Calhoun, who did an interview with ATTN: in 2014, gave a speech at the gathering and spoke to ATTN: once again, this time about getting burned at work a year ago.
"It's not my first burn, it's probably not going to be my last burn on the job," Calhoun said, showing ATTN: some of the faint burn scars on his hands and arms. "I forgot I still have them in some places. [I have] smaller burns from when you touch the fryer."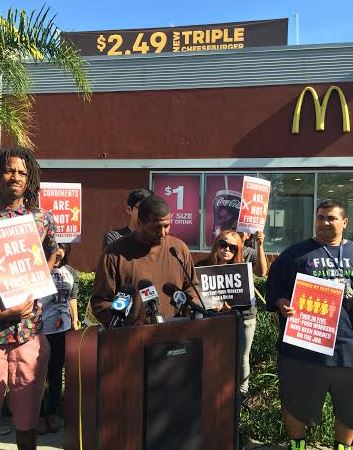 Jemere Calhoun. Photo: Laura Donovan/ATTN: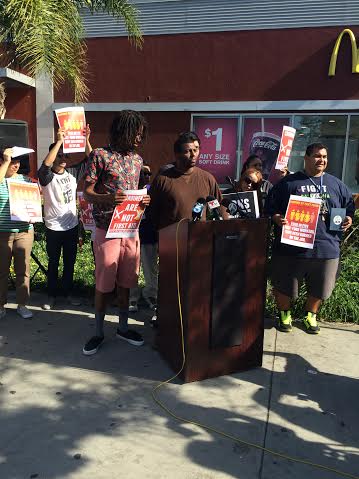 Jemere Calhoun. Photo: Laura Donovan/ATTN:
When asked how McDonald's handled his burns, which he's gotten from the coffee maker and frying machine, Calhoun said he considers himself lucky. "They gave me good treatment, at least decent treatment. I was allowed time to treat it, they had some burn spray, band aids, wraps," Calhoun told ATTN:. "They allowed me to take a break and [allowed me to see if] I needed medical attention or anything like that. They did their due diligence for me, but just so many times I've seen more essential employees such as kitchen staff, grill staff, they're rushed and [told to] hurry up. Put a little salve on it and get back."
Calhoun, who has worked at McDonald's for more than four years, said his experiences there have been "more negative" than positive, even though there are "ups and downs" day to day.
"There are just so many different things you have to deal with on the job," Calhoun said to ATTN:. "You have to deal with the low wages, disrespect, nepotism, there are just a lot of different things you have to deal with and sometimes you may be only be working four hours and it's like the worst four hours of your day."
Because Calhoun is a father, walking away from McDonald's isn't an option no matter how difficult it becomes. "You always think about working somewhere else, but sometimes you look at the current job market and there aren't a lot of different things out there," Calhoun told ATTN:. "You can't take the risk of quitting a job because you're fed up, especially if you have mouths to feed and bills and things to take care of."
Calhoun has gotten mixed messages from fellow McDonald's workers for vocalizing his issues with the business. "You kind of get it both ways. You get people who are like, 'You really inspire me. I want to speak out' and other people say, 'You're going to get fired soon,'" Calhoun told ATTN:. "I've been with this for almost three years now, so I try to be a living testament [and say] 'No, you're not going to get fired' and stand up for what you believe in, what's right."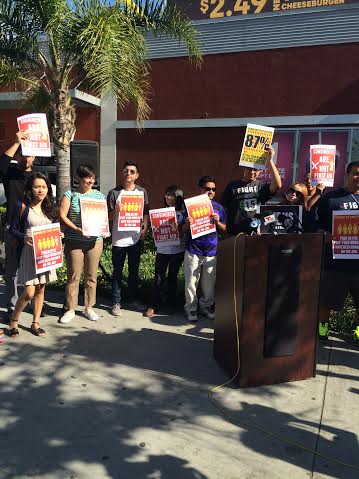 Photo: Laura Donovan/ATTN: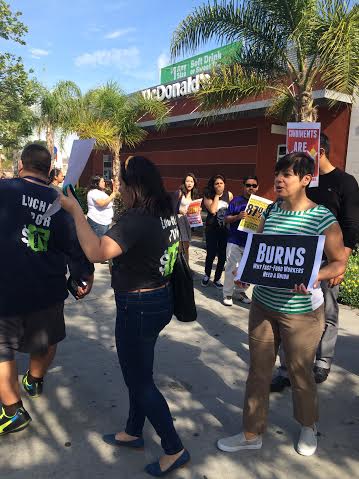 Photo: Laura Donovan/ATTN:
Calhoun recalled a time when McDonald's changed its coffee cups and lids and he got burned as a result. "I was working in drive thru and I was handed one that was not completely closed," Calhoun told ATTN:. "My guess is that my coworker was rushing to get the next order out and didn't secure the lid all the way. The coffee bubbled up over the lid and I was burned on my hand before I handed it to the customer. The burn was about one inch in diameter between my forefinger and my thumb. I notified the manager over the drive thru that I'd just got burned by the coffee, and I was allowed to treat my wound. I took a short break and went back to work. Unfortunately, people that work in the kitchen aren't afforded the same treatment that I was given. I've seen them hurt and rush back to work and not given those options ... we're never allowed to slow down."
Jose Paz, a McDonald's cook of four years, also appeared at the event and told ATTN: that he's been directly impacted by worker safety at the chain, "Working in the kitchen as a cook, you're more at risk of getting burned because you work with a lot of equipment that has to do with cooking and frying."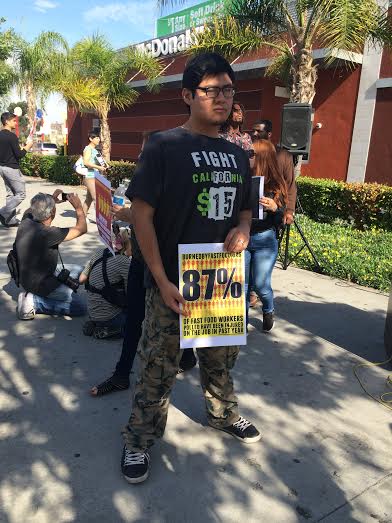 Laura Donovan/ATTN:
Like Calhoun, Paz has considered working elsewhere but recognizes the challenges of the economy, "Given the economic state of this country, it's hard to find another job."
Both Calhoun and Paz say they aren't worried about losing their jobs over speaking out against McDonald's. "It's not a matter of fear, it's just a matter of just doing what is right regardless of what happens," Paz told ATTN:. "McDonald's makes billions and billions of dollars every year, yet they cannot give their workers simple equipment and simple first aid. That's just not right."
Paz added that it's important to protest McDonald's to "get the message out [about] what really goes on in these corporations." If conditions don't improve, Paz said he will "keep on fighting" until workers get what they ask for. Calhoun believes there should be a McDonald's union, as well as "better standards around health and safety." 
"When people are burned, if we had a union, maybe we could get some gloves and band aids," Calhoun said. "If we had a union, maybe we could be able to get in front of some of these damaging policies. Our injuries are a direct result of the way McDonald's runs its business and they need to be held accountable for that ... There are two areas in the fry prep area. The metal shelf heating area and the fry cook area. During peak hours, the top shelf is so hot because it's constantly being hit with hot grease and fries, and you can instantly get a burn by touching any part of the metal area. Sometimes when you pick up the fries, you may tap your wrist on the metal part and receive burns that way. I can easily see somebody getting burned everyday."
Fight for $15 created the hashtag #burnedbyfastfood and burnedbyfastfood.org to assist with this battle: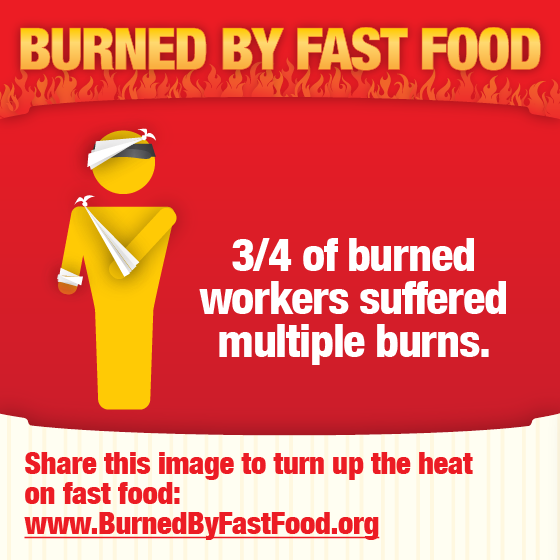 Fight for $15/Twitter
According to a new survey from Hart Research Associates, nearly 80 percent of fast food workers have been burned while working over the past year. Of these workers, 73 percent reported enduring multiple burns within the last year.
Share your opinion
Do you support raising the minimum wage?