The Reason the Private Prison Industry Is Pulling for Donald Trump
October 18th 2016
By:
This summer, the Department of Justice sent the private prison industry reeling when it announced the federal government would stop using the facilities to house inmates.
Now, according to financial disclosures reported on by Mother Jones, it appears that a major private jailer is placing in their hopes in the campaign of Republican presidential candidate Donald Trump.
As Mother Jones' Russ Choma pointed out, GEO Corrections reacted to the DOJ's August 18th announcement by donating $100,000 to Rebuilding America Now, a pro-Trump Super PAC that launched in June boasting $32 million in funding commitments.

Federal Election Commission - fec.gov
The company's political arm, GEO Group, donated $50,000 to Rebuilding America Now the week before the announcement.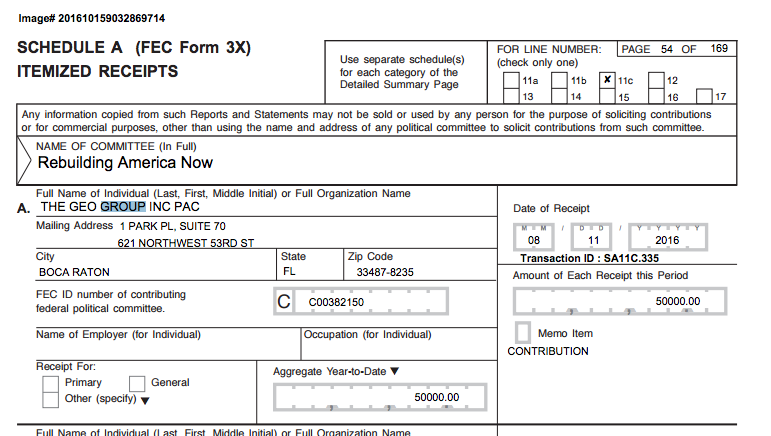 Federal Election Commission - fec.gov
ATTN: has reached out to GEO Corrections for comment, but did not hear back by the time this story was posted. 
An analysis by the Department of Justice's Inspector General, released on August 6, found that privately owned prisons are more dangerous than government facilities and are not cost-effective. Following the Inspector General's report, Deputy Attorney Sally Yates said in a statement that private prisons are inferior to government run facilities and the federal government will stop using them.
"They simply do not provide the same level of correctional services, programs, and resources; they do not save substantially on costs; and as noted in a recent report by the Department's Office of Inspector General, they do not maintain the same level of safety and security," Yates wrote.
Wikimedia - wikimedia.org
Why are private prison companies worried?
Although the announcement is limited to federal prisons (most U.S. inmates are incarcerated on the state and local levels), the Obama administration's move could encourage more widespread criminal justice reform.
"The Obama administration is giving lawmakers the guidance they need to make a step in the right direction," Nicole D. Porter, director of advocacy at the Sentencing project, told ATTN in August.
Trump is more supportive of private prisons than Democratic presidential nominee Hillary Clinton.
Trump said he would expand private prisons as a part of his criminal justice strategy.
"I do think we can do a lot of privatizations and private prisons. It seems to work a lot better," he said to NBC's Chris Matthews at a town hall in April.
Clinton has repeatedly said that she wants to end private prisons altogether. In the first presidential debate in September, her call to end private prisons on the state level caused the stocks of GEO Group and Corrections Corps. of America, another large prison company, to fall, according to CNN.
"I'm glad that we're ending private prisons in the federal system," Clinton said at the debate. "I want to see them ended in the state system. You shouldn't have a profit motivation to fill prison cells with young Americans."
The Clinton campaign no longer accepts donations from private prison lobbyists or PACs. However Politico's Josh Gerstein reported in February that the Clinton campaign has received fundraising help from lobbyists who are "closely connected" with the private prison industry.
"In another report filed Sunday night, the campaign disclosed that Richard Sullivan of Capitol Counsel—until recently, a Raleigh, N.C.-based federally registered lobbyist for the for-profit prison operator GEO Group—bundled $69,363 in donations for Clinton in the fourth quarter, bringing his total for the year to a whopping $274,891."
Share your opinion
Do you think the U.S. should reduce the number of private prisons?