The Obama Administration Quietly Made a Hypocritical Decision About Prisons
Private prison company Corrections Corporation of America's stock plunged by almost 50 percent back in August. Why? The Justice Department announced that it would stop contracting with for-profit prison companies because they did not "maintain the same level of safety and security" as state-run prisons — and Corrections Corporation of America, the largest and oldest of the nation's for-profit outfits, looked likely to falter.
Advocates against for-profit correctional facilities hailed the decisions as a huge victory.
But the movement against private jails was dealt a huge blow Wednesday when the Obama administration quietly renewed a huge contract with CCA.
The contract was renewed by the Department of Homeland Security and continues the for-profit company's tenure running the South Texas Family Residential Center in Dilley, Texas. The new agreement puts CCA in charge of the prison — the largest family detention center in the country — through 2021.
DHS' decision comes only months after the Immigration and Customs Enforcement agency said that it would review its contracts with for-profit prison operators following the Justice Department's announcement that it would end its use of private prisons.
Why are private prisons bad news?
Private (or for-profit) prisons have been identified as a problem for a number of reasons:
Critics feel that the new contract is especially bad for immigrants who have no documentation, particularly mothers and children.
The South Texas Family Residential Center is a 2,400-bed for-profit facility that temporarily holds such women and children, largely asylum seekers attempting to escape violence in northern Central America.
"There is no kind or gentle way to detain anyone, and it's illegal to detain children," Ian Philabaum, the advocacy coordinator for the CARA pro bono immigrant legal defense project, told Fusion. "There's a headline for you: U.S. population still doesn't know or care that we're illegally putting children in jail."
The Department of Homeland Security disagrees with the U.S. government over the 1997 Flores Settlement. According to Fusion, the Flores decision "stipulates that minors may not be detained by immigration authorities in secure facilities for more than 72 hours, except in exceptional circumstances."
Per Secretary of Homeland Security Jeh Johnson, "We have appealed the decision, and the appellate court has agreed to hear the appeal on an expedited basis. Meanwhile, we have implemented significant reforms to how we operate family residential centers to transition them to temporary processing facilities for these individuals."
But that's not the only reason the Dilley operation is bad: The private prison company has a long history of abuse allegations, which troubles critics.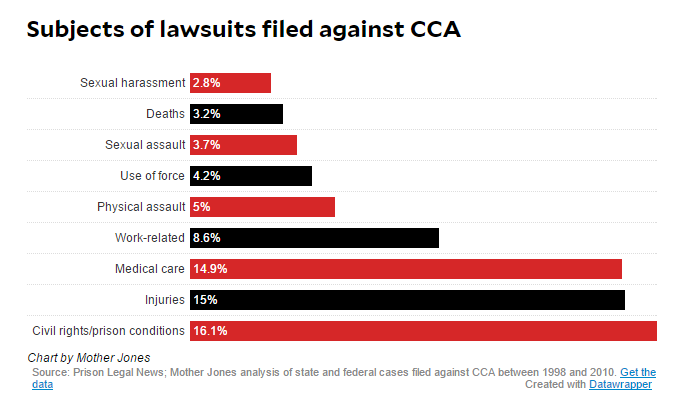 Mother Jones - motherjones.com
Plus, the new contract also allows the company to reduce the operation's costs by 40 percent — without reducing the inmate population. The company will cut costs by reducing prison staff, Mother Jones reported. And that could lead to further issues with the treatment of detainees:
"That could be bad news for immigrants who have complained in the past of an understaffed medical clinic and widespread illness among child detainees. Mothers at the Dilley facility have said it's not right to hold them and their kids in prison-like conditions, especially after they escaped gang violence and other trauma in their home countries. Understaffing at another CCA-run prison, in Louisiana, coincided with high rates of assault, a Mother Jones investigation found."
While CCA has not directly addressed criticisms of the Dilley detention center, it has responded to a recent Mother Jones story that highlighted disturbing practices at one of its facilities in Louisiana:
"This story, how it was developed and what ultimately was published says more about the reporter's activist agenda and the publication's low journalistic standards than it does about our company or the very real challenges facing our criminal justice system in America."
There could be more contracts like this in the future, too.
Homeland Security is reviewing seven other contracts for CCA-run facilities. The head of the CCA told the Tennessean that he expects the contracts will be renewed because of the cost of ending them.
DHS has not yet spoken about whether the CCA contract renewal is at odds with the Justice Department's previous statements about weaning itself off for-profit prison providers.
ATTN: reached out to the DHS' Immigrations and Customs Enforcement agency for comment on this story and will update it when we get a response.
Editor's Note: This piece has been updated for attribution.
Share your opinion
Do you believe the U.S. incarcerates too many people?