This Tweet Reveals How Muslim Voters Are Feeling Today
November 9th 2016
By:
Tuesday's presidential election results surprised political analysts, polling researchers and voters. However, for Muslim Americans, the results also brought fear and uncertainty about the future. 
President-elect Donald Trump made controversial comments about Muslims throughout his campaign and had a public war of words with a Muslim military father. After the news broke that Trump won the election, a Muslim woman tweeted that her mother sent her a text message warning her to avoid wearing the hijab.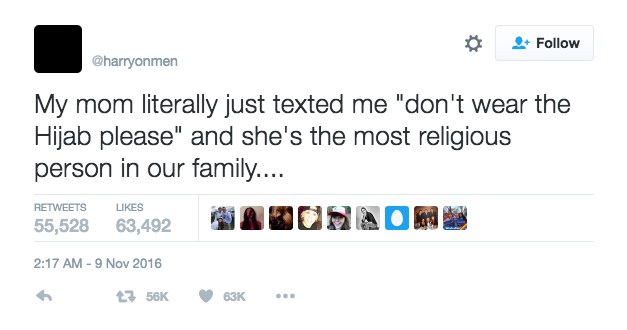 Twitter/@harryonmen - twitter.com
The mother's request was meant to protect her daughter.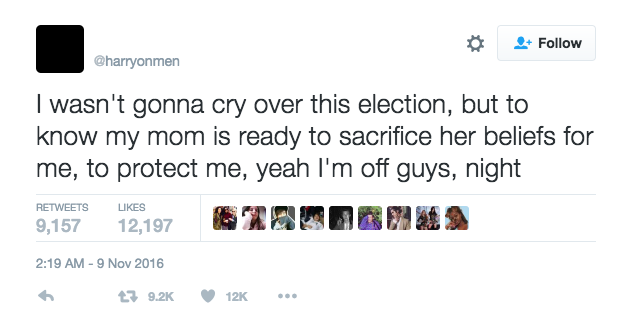 Twitter/@harryonmen - twitter.com
Twitter users on Wednesday started to discuss Trump's previous rhetoric and positions on Muslims. 
There were other people on Twitter who decided to use the social platform to express their anti-Islam sentiments alongside Trump's campaign slogan, "Make America Great Again" or #maga. 
In December 2015, Trump advocated for a ban on Muslim immigration until "our country's representatives can figure out what is going on."
In the wake of the Orlando nightclub shooting that killed 49 people in June, Trump blamed "Islamic radical terrorism" and, once again, called for a ban on Muslim immigration. However, the Pulse nightclub shooter, Omar Mateen, was born in New York to Afghan parents. 
The Council on American Islamic Relations held a press conference to talk about Trump's win and how his incoming administration could affect the Muslim community. Nihad Awad, the executive director of CAIR said that young Muslims are afraid of the future.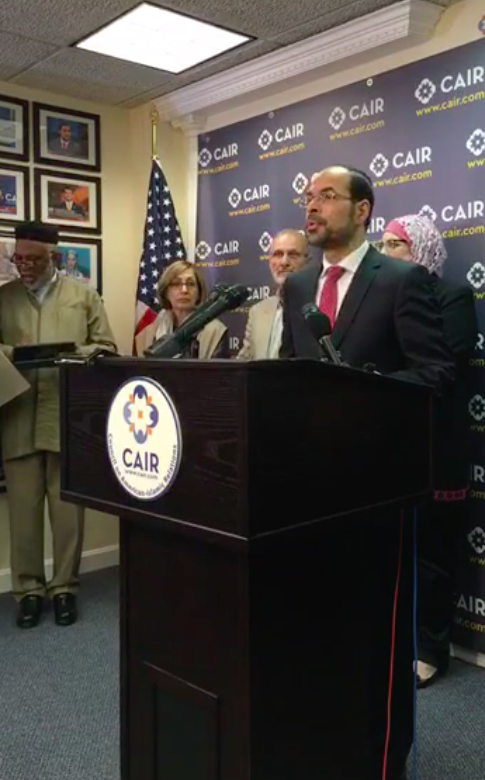 CAIRNational - facebook.com
He said that a survey from a CAIR chapter in California showed that many Muslim public school students experience bullying. 
"This is a serious phenomenon that we see, culminated with the threats that Donald Trump and others have threatened the Muslim community with forcing them in the future to hold special ID cards, to shut down of their mosques, and to prevent their relatives from coming to the United States just because they're Muslim. This is terrifying to young American Muslims who are born and raised here. They know no other country but the United States, and they see a potential leader threatening their future with this. "
The New York Times reported in September that hate crimes against Muslims were at the highest level since 9/11. 
Researchers from California State University in San Bernardino released data in September that showed hate crimes against American Muslims were up 78 percent in 2015. One of the authors of the study said that campaign rhetoric played a significant role. 
"We're seeing these stereotypes and derogative statements become part of the political discourse," Brian Levin, the director of the Center for the Study of Hate and Extremism at the San Bernardino campus told the New York Times. "The bottom line is we're talking about a significant increase in these types of hate crimes."
Share your opinion
Are you worried about hate crimes in the wake of this emotional election?