What the KKK Is Doing for Donald Trump's Election Win
November 10th 2016
By:
The Loyal White Knights of the Ku Klux Klan will be holding a victory parade in the state for Trump's win, according to a report from Will Doran from North Carolina's News and Observer. Trump won the state of North Carolina.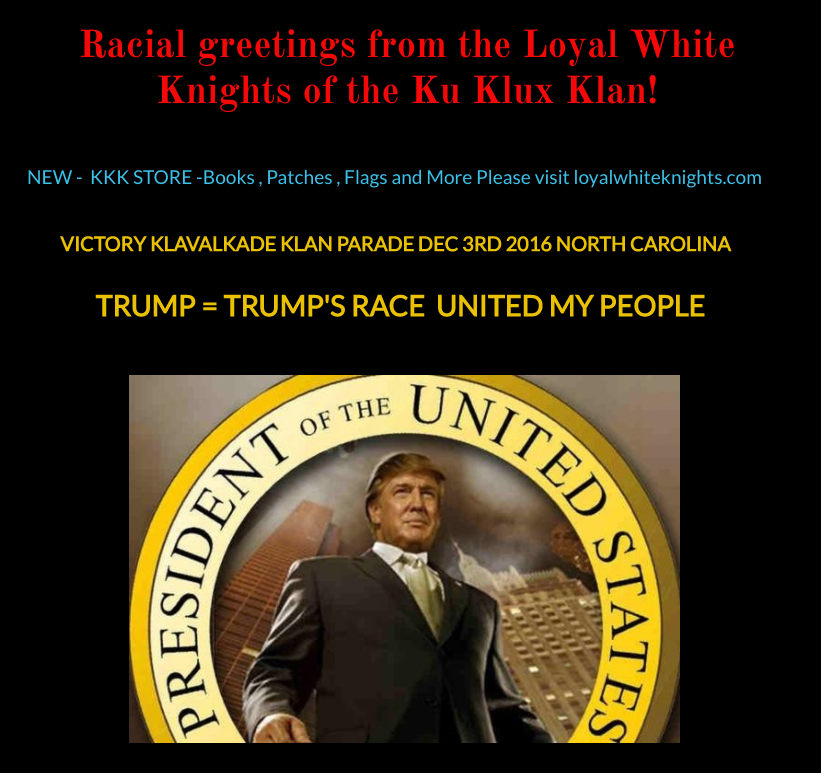 The Loyal White Knights of the Ku Klux Klan - kkkknights.com
The KKK is a white supremacist group with chapters across the country, and the parade news has people freaking out.
Heidi Beirich, who leads the Southern Poverty Law Center's Intelligence Project told ATTN: that there has been a rise in "hate-based" incidents across the country since the election. She said the founder of a popular neo-Nazi site The Daily Stormer is encouraging people to celebrate in the streets.
"We've collected more than 80 such incidents since the election – truly a frightening number," she said. "Many on the extreme right are celebrating Trump's win, and worse, we've seen people like Daily Stormer's Andrew Anglin encourage those who come to the popular neo-Nazi site to take up action in the street."
Last week, ATTN: wrote about the official KKK newspaper's endorsement of Trump. The Trump campaign denounced endorsements from the KKK, including one from former leader David Duke.
Trump was also the second most popular topic for white nationalists on Twitter during his campaign, according to a September report from George Washington University's Center for Cyber and Homeland Security. The most popular topic was "white genocide."
The December "Victory Klavalkade Klan Parade" for Trump will be held in the small rural town of Pelham, North Carolina near the Virginia border, according to the Observer.
The KKK chapter Loyal White Knight's website lists specific criteria for applicants to join their organization. You must be a white American of "non-Jewish descent" and "despise race mixing," among other things.

The Loyal White Knights of the Ku Klux Klan - kkkknights.com
In February, ATTN: reported that the SPLC estimates that there are still 190 active KKK groups in the U.S. with between 5,000 to 8,000 members.
ATTN: reached out to the Trump's press office for comment. We will update this article if we get a statement.
Share your opinion
Did the KKK endorsement of Donald Trump factor into your voting decision?