President-Elect Trump's First Approval Rating
On Thursday, influential polling firm Gallup released its first favorability poll of President-elect Donald Trump since the election - and it's a decidedly mixed bag.
Trump's favorability rating just before the election was 34 percent - it was only 71 percent among his own party. The good news for him is that it improved dramatically after the election, with his overall favorability rating jumping to 42 percent and 82 percent among Republicans, respectively.
The bad news for the incoming Trump administration is that 42 percent is still the lowest approval rating for an incoming president since Gallup began polling approval ratings with former President Harry Truman in 1945. Furthermore, no president has ever entered office lower than 50 percent, with most well over that. Even former President Gerald Ford, dealing with the burden of the Watergate scandal, entered office with approval over 70 percent.
It isn't clear what Trump's low favorable rating means for his policy agenda. His incoming low number can partially be attributed to his near unanimous disapproval from Democrats - though even that number went up from 5 percent to 10 percent. This shows that it's at least theoretically possible for Trump to win over his opponents.
And while he enters office with less public goodwill than any other incoming president in recent years, his administration will have a Republican Senate and House backing him, meaning he won't need Democratic approval to enact policies, as long as he keeps Republican support.
Approval polling can also easily be influenced by world events, as George W. Bush entered office at just over 50 percent after his contentious election in 2000, but the number jumped to as high as 90 percent after the 9/11 attacks.
The Gallup poll is a small sample size of one time period, and might go up if he handles a national crisis well, or moderates some of his harsher campaign promises. Much like other presidents, he's also likely to see a "honeymoon period" bump in the months after Inauguration Day.
But it's also possible that this is a portent of things to come for the Trump administration. Barack Obama's approval in November 2010 was only a few points higher than President-elect Trump's is now, and his party suffered a devastating loss in the subsequent midterm.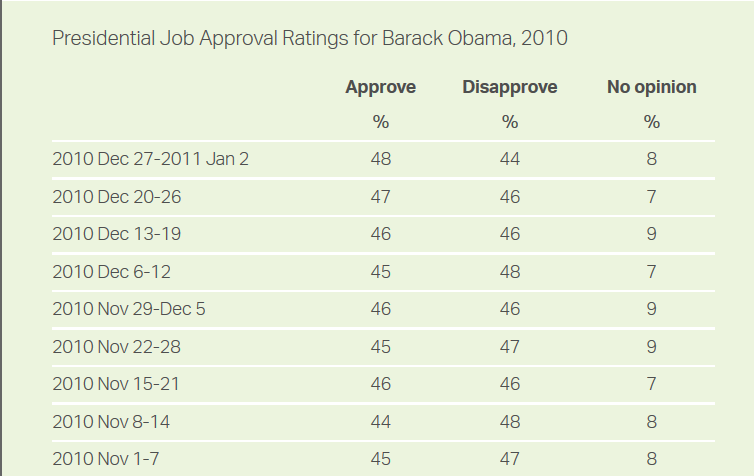 Gallup - gallup.com
Bill Clinton and George W. Bush had similarly low approval ratings before their party lost control of Congress in midterms.
As the data from Gallup clearly shows, keeping the support of his own party will be crucial to the success or failure of Donald Trump's policies. If he loses it, his agenda will likely go nowhere.
Share your opinion
Do you approve of President-elect Trump so far?