What Thanksgiving Is Like When You're on Food Stamps
November 24th 2016
By:
The holidays can be an expensive time for Americans and Thanksgiving is often the start of big holiday purchases. However, not everyone has the surplus of cash flow to spend on gifts and holiday meals.
Millions of people on the Supplemental Nutrition Assistance Program (SNAP), commonly known as food stamps, may struggle to have a Thanksgiving meal with their families.
"We're talking about a holiday that revolves around food for people who have a very finite budget around food," said Ericka Smrcka, the director of client services at Food Bank for the Heartland in Omaha, Nebraska. "They want the chance to provide for their children and their family that we all get."
A 16 pound turkey costs an average of $22.74 this year, according to the American Farm Bureau's annual price survey. A shopping list for a meal with extended family, which includes a turkey and side dishes for 10 people, costs about $49.87 this year, which comes out to just under $5 per person for dinner.
A family of four gets $649 of SNAP food assistance a month. However, paying for a Thanksgiving dinner on SNAP benefits could mean less meals in the month of November.
Vera A. from the Boston area shared with ATTN: her experience in preparing for the holidays with SNAP benefits.
The 65-year-old, who is semi-retired and has adult children, started using SNAP benefits four years ago when her husband passed away. She explained that proper holiday planning when on food stamps is very important.
"You have to balance what you would have to use," she said. "You say, 'Well I've got this big occasion coming up so now I have to factor in a turkey, which may be like $20 and then you have to have all the trimmings.'"
Vera also uses church pantries and food banks to get food for the holidays. "The thing is, no one, I believe, should be left out," she said in regards to holiday celebrations.
ATTN: talked to hunger non-profit workers across the country about the struggles people on SNAP benefits face during the holidays. Here are three things you should know about shopping for holiday meals on food stamps:
1. Difficult choices have to be made during the holidays.
SNAP recipients often have to make tough choices between food and necessities like rent and transportation, according to Michael Altfest, associate director of communications at the Alameda County Community Food bank in Oakland, California.
"When families are regularly forced into making these decisions, a holiday meal is often out of the question," he added.
The Food Bank of Corpus Christi in Texas often receives an increase in calls this time of year.
"As the holidays approach, we receive many phone calls from families stating that 'they ran out of food stamps,' [or] 'I won't get my food stamps until the end of the month,' or 'I used up all my food stamps and I did not have enough,'" said Clara Degollado, the social services coordinator for the Food Bank of Corpus Christi.
2. People using SNAP benefits have to get creative around the holidays.
SNAP Outreach Coordinator Dan Jackson from the Food Bank of Delaware said that most families must use a variety of food sources for holiday meals.
"Most families that I encounter are trying their best to utilize non-profits around the state in order to obtain some semblance of a thanksgiving dinner, whether that be a single turkey, or even sometimes the other related fixings," said Jackson. "Since SNAP benefits are determined using a formula that does not account for excess spending like a thanksgiving meal, it is unrealistic that families can afford a Thanksgiving meal in addition to putting food on the table the rest of the month."
3. SNAP benefits usually aren't enough to feed families any time of year.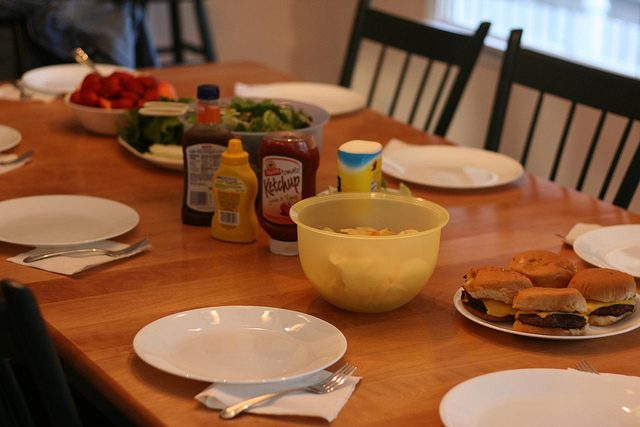 Flickr/jenly - flic.kr
The federal program is designed to only supplement families' meals but some experts such as Susan Bartosch, the director of external affairs at the Second Harvest Food Bank of North Central Ohio, believe they're still too low.
"They are enough to last about mid-month," Bartosch explained. "That is why more of the burden will be put on us and our partner charities to have the shelves stocked in the soup kitchens, food pantries and shelters."
Share your opinion
Do you know someone who uses SNAP benefits?