Meme Perfectly Addresses the Argument Too Many Stay-At-Home Moms Hear
December 2nd 2016
By:
A meme posted on the Facebook page Healthy Food House shows how the work of stay at home moms is sometimes devalued, because it is assumed that their job does not entail work the same way an out-of-the-home job does.
The image, which was posted in September, shows a cartoon mom multitasking at a table alongside the question, "Are you a working woman or a house wife?" The answer shows just how much work it takes to be a "house wife."
"Yes I am [a] full-time working house wife," the woman answers. "I work 24 hours a day, I am a 'Mom,' a wife, a daughter, and a daughter-in-law. I am an alarm clock, a cook, a maid, a teacher, a waiter, a nanny, a handyman, a security officer, a counselor, and a comforter."
The woman continues that there are no breaks from being a stay at home mom, and that she is often asked what she does all day:
"I do not get holidays, medical leaves, or half days. I [work] throughout day and night. I am on call, on hours, and get paid with a sentence. 'What do you do all day at home?'"
The meme has been shared more than 14,000 times, and a lot of women have praised it for showing that being a stay at home mom is hard work: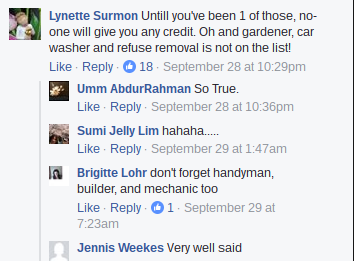 Facebook - facebook.com
Some moms countered that working moms struggle too, as they have all the responsibilities of stay at home moms while managing a full-time job too: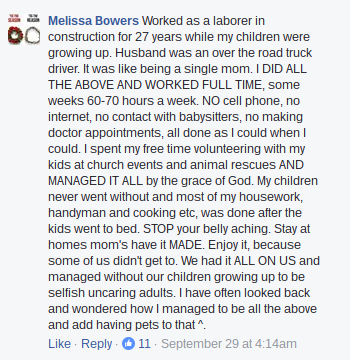 Facebook - facebook.com
Women's chores at home are economically undervalued.
Domestic chores are work, but society does not reward this work monetarily. Results from a 2014 survey from Salary.com found that the work stay at home moms do is valued at more than $100,000 per year, as moms can wear many hats and handle childcare needs, drive their kids from A to B, clean their homes, and cook, among many other things.
Women still tend to do more housework than men as well, according to a 2015 Bloomberg report that looked at Bureau of Labor Statistics' (BLS) statistics on gender and chores. The BLS found that in 2014, only 65 percent of men reported at least some doing housework, compared to 83 percent of women. The same research found that women also spend more time on average doing housework than their male counterparts. This research pertains to women at large.
November 2015 research from the Pew Research Center found that mothers do more of the managing and scheduling of their kids' activities than fathers. Mothers and fathers reported similar rates of taking care of children when they are sick. Twenty percent of women reported disciplining children, compared to 17 percent of men, but the report found that 61 percent of participants reported sharing this task equally.
You can look at the full breakdown below:
Watch ATTN:'s video below about the financial value of stay at home moms' work:
Share your opinion
Do you know any stay at home moms who feel misunderstood?