The Problem With For-Profit Psychiatric Hospitals
December 8th 2016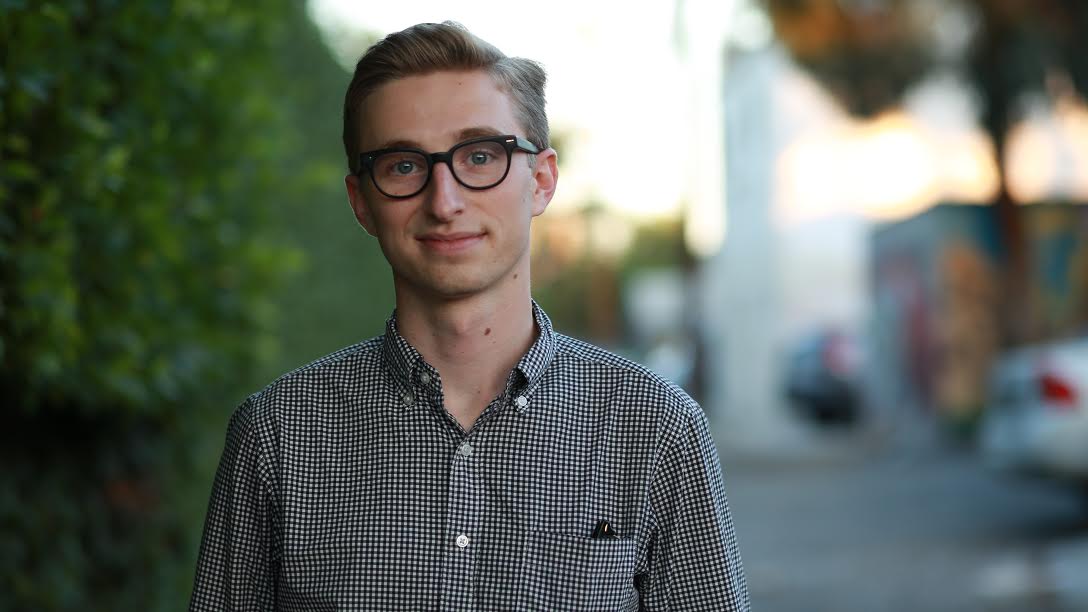 By:
The largest psychiatric hospital chain in the U.S. is being accused of exploiting patients for financial gain by encouraging staff to exaggerate symptoms and hold patients until their health insurance coverage runs out, according to a yearlong BuzzFeed News investigation published Wednesday.
Rosalind Adams interviewed 175 current and former staff members, 18 hospital executives, and numerous patients from psychiatric facilities run by Universal Health Services (UHS) — a chain that includes more than 200 psychiatric hospitals, which took in about 450,000 patients in 2015. The interviews revealed a culture of misconduct at UHS intended to maximize profits at patients' expense.
"Current and former employees from at least 10 UHS hospitals in nine states said they were under pressure to fill beds by almost any method — which sometimes meant exaggerating people's symptoms or twisting their words to make them seem suicidal — and to hold them until their insurance payments ran out," BuzzFeed News reported.
According to documents found by Adams, investigators from the Centers from Medicare & Medicaid Services accused the hospital of "falsely and fraudulently doctoring records and diagnosing Medicare beneficiaries with a wide variety of psychiatric disorders in order to justify the continued detention of these persons in an inpatient environment such that they can be used as vehicles for Medicare billing." The criminal investigation into this claim is ongoing.
A spokesperson for the U.S. Department of Health and Human Services' Office of the Inspector General, Donald White, told ATTN: that he could "neither confirm nor deny any investigation that may or may not be pending before the agency." However, he noted that UHS admitted in its 2015 annual report that it was served with a subpoena "requesting various documents" for an unspecified reason in 2013.
Testimonials written by individuals who claimed to have been patients at UHS-run facilities seemed to confirm some of the worst allegations included in the BuzzFeed News report.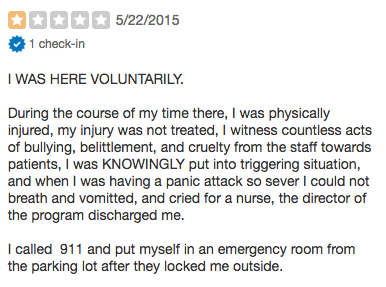 Yelp - yelp.com
In reviews of UHS-run Highlands Behavioral Health System in Colorado from this year, Yelp users made allegations of physical abuse and inappropriate behavior on the part of staff.
"As someone with training and in this area, I am disappointed and appalled by what I see reported in other reviews and by what I have observed personally with my loved on presently in this facility," one user wrote in October.
It was allegedly through these efforts that UHS became America's most profitable psychiatric chain. UHS made about $7.5 billion in revenue from inpatient care services in 2015, according to its annual financial report. Approximately one third of that revenue "comes from taxpayers through Medicare and Medicaid," Adams wrote.
Dr. John Caccavale, the executive director of the National Alliance of Professional Psychology Providers who has consulted with the U.S. Department of Justice on an earlier investigation into UHS, told ATTN: that this alleged exploitation of patients is the direct result of the privatization of the mental health care industry.
"This has been going on with them for a long period of time," Caccavale said. "The problem with these mega health corporations is that there's no way that they're going to be providing services the way they should be because they're for-profit. It's a simple as that."
UHS flatly denied allegations included in the BuzzFeed News report.
In a statement emailed to ATTN:, UHS chief financial officer Steve Filton said "[w]e dispute and deny the conclusions drawn by the reporter in relation to UHS and believe that the story misses the mark in several important ways leading to an inaccurate portrayal of UHS's behavioral health operations." The statement continues:
"Among other things, the story ignores the preeminent role of the clinician in treating patients, and misleads the reader by attempting to make unsupported assumptions about our behavioral health operations. The reporter seriously diminishes the complexity of behavioral health assessments and treatment necessary to properly care for the individual patient based upon their specific needs. The article also minimizes the important role played by the thousands of dedicated and compassionate employees in our behavioral health facilities, who are the most important part of our mission to provide the best possible healthcare to our patients."
To read more from the BuzzFeed News investigation, which includes detailed accounts of numerous allegations from former patients and UHS employees, click here.

Share your opinion
Are you concerned about the privatization of the health care industry?