Here's What's Changed for Women Since the Longest-Serving Female Senator Took Office
December 18th 2016
By:
The longest serving woman in the history of Congress is retiring, and she's seen — and been a part of — some big changes for women over the past four decades in Washington, DC. 
A Democrat from Maryland, Sen. Barbara Mikulski continually broke barriers during her history-making journey through both the U.S. House and Senate. 
"Senator Mikulski has never been satisfied just making history herself – she wanted to blaze a trail wide enough for all of us to follow," Barbara Boxer, a Democratic senator from California, wrote in 2015 after Mikulski announced she wouldn't run for reelection. "She has knocked down barriers one by one: the first woman ever elected to the Senate in her own right, the first woman to serve in both chambers, the longest serving woman in the Senate, the longest serving woman in Congress, the first woman to chair the Senate Appropriations Committee."
Mikulski was elected to the House of Representatives in 1976 and to the Senate in 1986, according to CNN. She was one of the first women elected to the upper chamber who was not replacing a deceased husband or appointed to fill a seat. 
"When I came to the Senate, the senators were Tom, Dick and Harry. Now they're Barb, Tammy and Diane and Heidi," Mikulski told CNN.
Here are three things that changed for women in Congress since Mikulski began her career in politics: 
1. There was only one other woman in the Senate when Mikulski was sworn in. 
Sen. Nancy Kassebaum, a Republican from Kansas, was the only other woman on the Senate floor in 1987. There were also only 21 women in the House when Mikulski started there in 1977. Today, there are currently 20 women serving in the Senate and 85 women in the House.
This past election also saw a more diverse array of women enter Congress. California Attorney General Kamala Harris will be the first Indian woman and the second black woman to hold a Senate seat; Nevada Attorney General Catherine Cortez Masto is the first Latina elected to the Senate; and Rep. Tammy Duckworth (D-Ill.) will be the first Thai-American in the Senate. 
2. Women couldn't wear pants in the Senate until 1993. 
In 1993, Senate rules said women couldn't wear pants on the Senate floor, so Mikulski and other female senators led a protest, according to Bloomberg: They simply wore trousers along with female staffers, until the dress code changed. 
"A silly rule was struck down and one of the prime symbols of gender inequity was removed," The Washington Post's Robin Givhan wrote. 
3. Women's bathrooms were not a thing.  
Women didn't get their own restroom near the Senate chamber until 1993, seven years after Mikulski was elected to the body.. 
It still took years for other women in Congress to get a bathroom.
Women serving in the House didn't get one until 2011.
Previously, The Washington Post's Nancy McKeon wrote, women "had to trek out of chambers and buck the tourists in Statuary Hall to get to what is now called the Lindy Claiborne Boggs Congressional Reading Room for relief."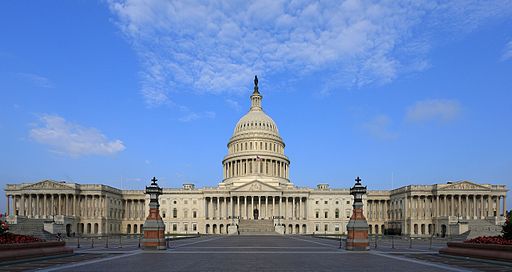 Wikimedia Commons - wikimedia.org
Mikulski also witnessed changes for all American women during her career. 
The 1973 U.S. Supreme Court decision Roe v. Wade made abortion legal, but by 1976, the year Mikulski was elected to the House, Congress passed the Hyde Amendment. To this day the law bans the use of federal funds for abortion, a restriction that can prevent low-income women from receiving abortion services.  
In 1986, when Mikulski was elected to the Senate, the pay gap between men and women was staggering" A New York Times article said women were making 70 percent of what men made at the time.
The pay gap still persists, but now women make about 78 percent of what men do. U.S. women will still make an average of $430,480 less than men over the course of their careers. 
This year, Mikulski saw Hillary Clinton become the first female nominee for a major party. Alas, she thinks sexism continued to play a part in the election, which pitted Clinton against a Republican, Donald Trump, who was recorded confessing to sexual assault.
"You know what we find when you break the glass ceiling?" Mikulski said in an interview with CNN on Thursday. "You end up living in a glass office. Where everything you do is scrutinized," she told CNN. 
Share your opinion
Do you think electing women helps protect women's rights?