An Employee Says This High End Restaurant Uses Code Words for Minorities
December 30th 2016
By:
An upscale New York City restaurant is being sued in federal court, and the lawsuit reveals some shocking accusations of discrimination against minority customers — racist code words and intentionally bad service.
In a lawsuit filed on Dec. 16 in the Southern District Court of New York, servers Renato Barreto and David Kant claim that Bagatelle, a French bistro in the Meatpacking District of New York City, engaged in customer service practices that are "reminiscent of restaurants in the 1950s that openly an egregiously promoted segregation and created rules to exclude minorities from their establishments."
The lawsuit alleges that Bagatelle employees would put codes on reservation lists or bills when minorities showed up. "For example, 'DNA' was code for 'Do Not Accommodate,' which upon information and belief, was specifically for minorities so that they could be placed at the back of the restaurant where they would not be seen, or simply have their reservations canceled because of the color of their skin," the complaint alleges.
A picture included in the filing appears to show black customers sharing a seat.
United States District Court Southern District of New York - pacermonitor.com
It also claims restaurant employees allegedly used the code "BO" for "patrons they believed to be ugly or unfit" or who didn't have the right "look" to be seen in the restaurant.
In an interview with the New York Post, Barreto alleged that the section for minorities or "ugly" people was called the "ghetto station."
The lawsuit also claims that the restaurant favored French servers over Barreto and Kant, and that other employees would "rub their genitals on the plaintiffs" and call them "faggots and pedophiles."
The lawsuit filing included a copy of an "Employment Development Notice" that listed a violation for looking "like a faggot" and dressing like a "gay porn star."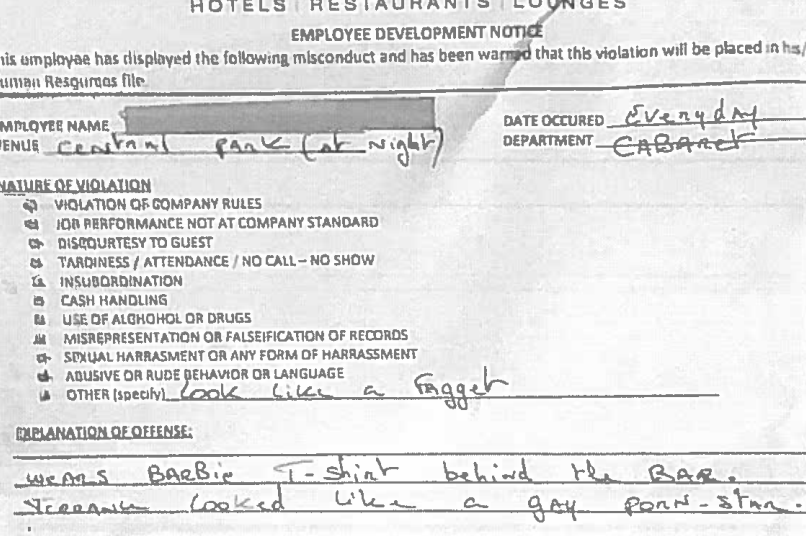 United States District Court Southern District of New York - pacermonitor.com
Bagatelle's co-owner, Remi Laba, gave the following comment to Eater:
"Bagatelle's mission is to treat all of our patrons from around the world to the same unforgettable dining and entertainment experience. We do not seat patrons based on their race or tolerate discrimination on any basis. While we don't comment on pending litigation, we intend to defend ourselves and look forward to clearing our name in this matter."
This is not the first high-end business to be accused of using racist code words.
In November, a former employee of a Versace outlet store in San Francisco claimed in a lawsuit that the store's manager used a code word anytime a black person walked into the store. The former employee, who is biracial, alleged that he was fired after he revealed he was black. Versace denied the allegations.
ATTN: reached out to Bagatelle and the plaintiffs' attorney and we will update the story if we receive a comment.
Share your opinion
Have you ever seen staff at a restaurant discriminate against minorities?