This Black Event Planner's Facebook Post Reveals a Disturbing Trend in Weddings
January 8th 2017
By:
A black event planner once got an unexpected phone call: a bride wanted her to plan a wedding on a Southern plantation.
"I was really confused," Jordan A. Maney, the owner and founder of All the Days Event Company in San Antonio, Texas told ATTN:. "I get calls from now and again from different people in the area looking to have events, and it was just one of those calls that I got, and I answered it."
The bride wanted Maney to plan her wedding at Kendall Plantation in Texas. Although it's unclear if that specific property had slaves, the plantation trades on old Southern imagery. The website says that the "original purpose of the land" was for growing cotton. ATTN: reached out to Kendall Plantation and we will update the story if we hear back.
"The name Kendall Plantation represents the county in which it rests and the original purpose of the land, a plantation for growing cotton and other crops," the Kendall Plantation site reads. "The décor, colors and details were inspired by true Southern Louisiana Plantation homes and mirrored after the antebellum style and old world elegance."
A Southern plantation is a large estate that was historically used to grow crops with African slave labor before the Civil War; most of the slaves in the U.S. were concentrated in the South.
Maney made a Facebook post about the offensive phone call.

Facebook/Jordan A. Maney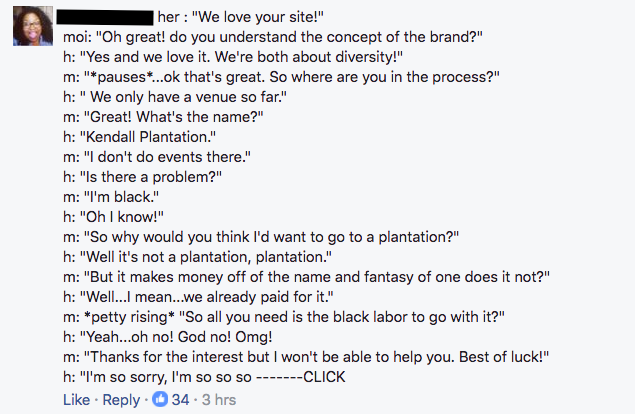 Facebook/Jordan A. Maney
Maney was surprised someone would knowingly call a black-owned business for a plantation wedding.
"You're having a wedding at a grave-site essentially," she said. "How are you going to laugh and celebrate on so many people's blood, and sweat, and suffering?"
However she said Southern romanticism is still popular in certain regions of the United States.
"In the state of Texas we do have a Confederate history day, and it's still very well practiced," she said. "The idea of Southern pride tied to the Civil War is still around, but I don't know why it gets glamorized and fantasized about."
In fact, Southern Celebrations magazine referenced plantation weddings in its "Top 10 Southern Wedding Trends of 2016."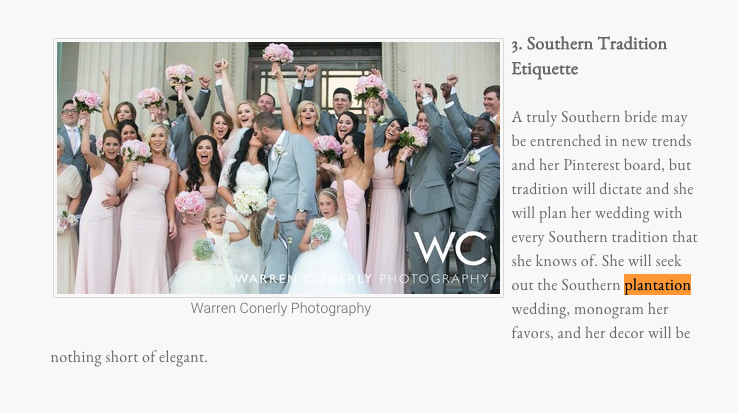 Southern Celebrations Magazine - southerncelebrationsmag.com
Even actors Blake Lively and Ryan Reynolds got married in 2016 on Boone Hall Plantation in South Carolina.
Liz Susong, co-founder and editor-in-chief of online magazine Catalyst Wedding Co., said that the word "plantation" has been normalized despite it's racist history.
"I think a lot of the history of properties has been really white washed," she told ATTN:.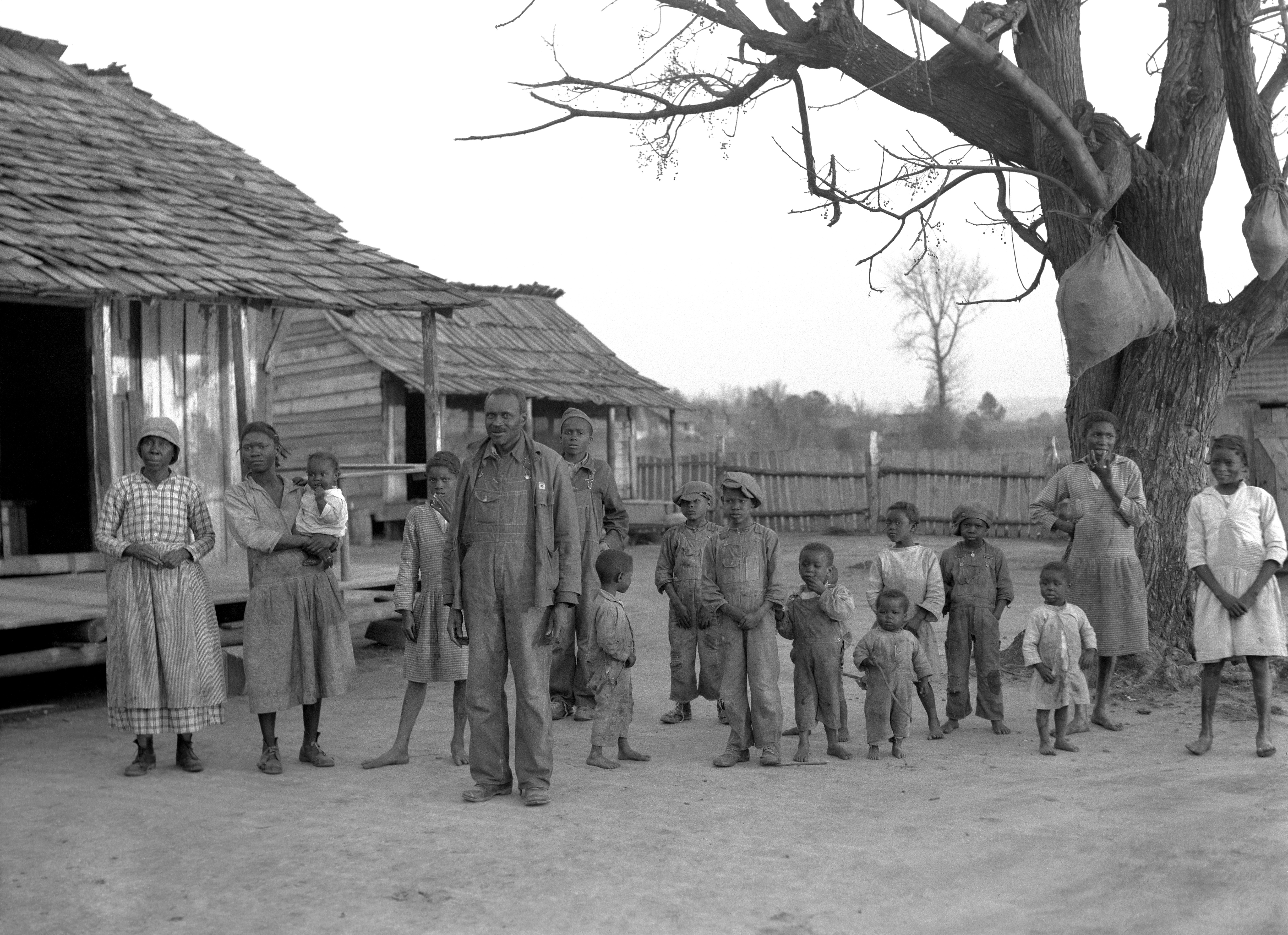 Wikimedia Commons/ - wikimedia.org
Brides who have a plantation wedding are often focused on the pretty location and ignore the problematic history, according to Susong.
"Some of these properties are state owned and want people to engage more and learn about that history," she said. "Others are still family owned or privately owned and don't mention slavery at all on their sites or their venues, and it's just not really mentioned. I think the attraction for most people getting married on plantations is that they're very attractive property."
Singer Ani Di Franco wrote a sort-of apology letter for a controversial retreat she scheduled on a plantation in 2013. In the letter, Franco pointed out that most buildings in the U.S. have a problematic history.
"I know that any building built before 1860 in the South and many after, were built on the backs of slaves," she wrote. "I know that in New Orleans, the city I live in, most buildings have slave quarters out back, and to not use any buildings that speak to our country's history of slavery would necessitate moving far far away."
Share your opinion
Have you ever been to a wedding on a plantation?