How Cartoonists Around the World Have Depicted Trump
Following the 2016 election, foreign publications published a number of unflattering covers of the victorious Donald Trump.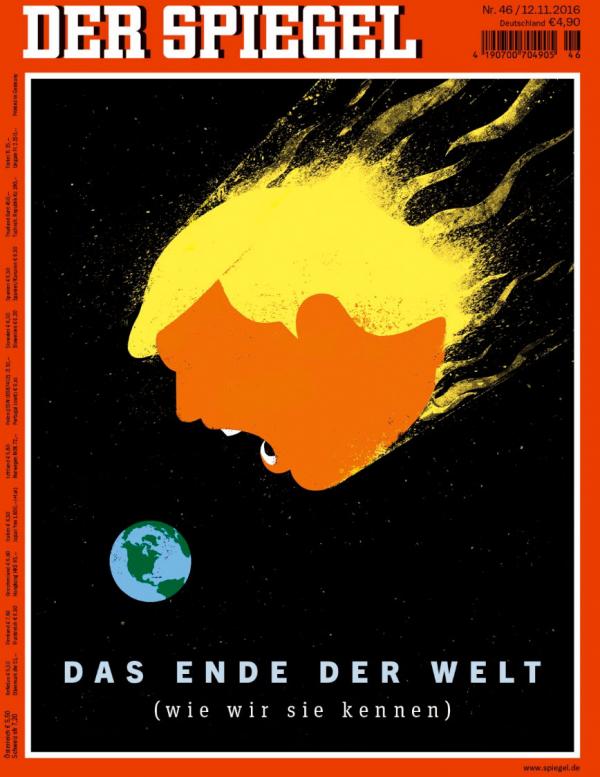 Der Spiegel/Ad Week - adweek.com
Editorial cartoonists in foreign papers have similarly hammered Trump.
A cartoon from a newspaper in Baghdad that depicts Trump shooting an arrow through a prisoner about to be executed by a black-clad ISIS member (pointedly claiming the U.S. president's immigration ban is doing the terror group's dirty work for them).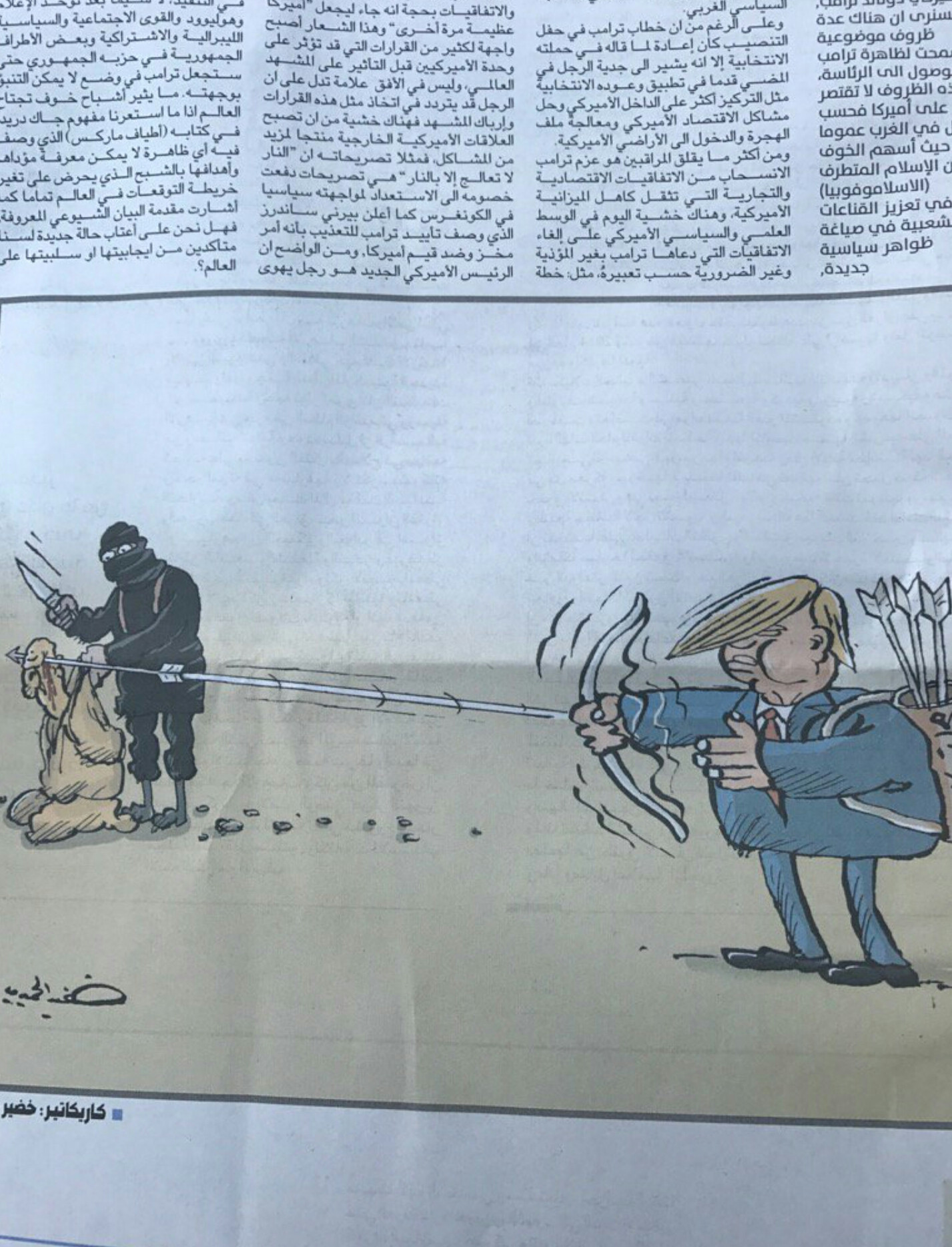 Imgur.com - imgur.com
In February 2016, The Independent cartoonist Brian Adcock portrayed Trump's candidacy as a hugely distracting temper tantrum that took over one of last year's GOP debates.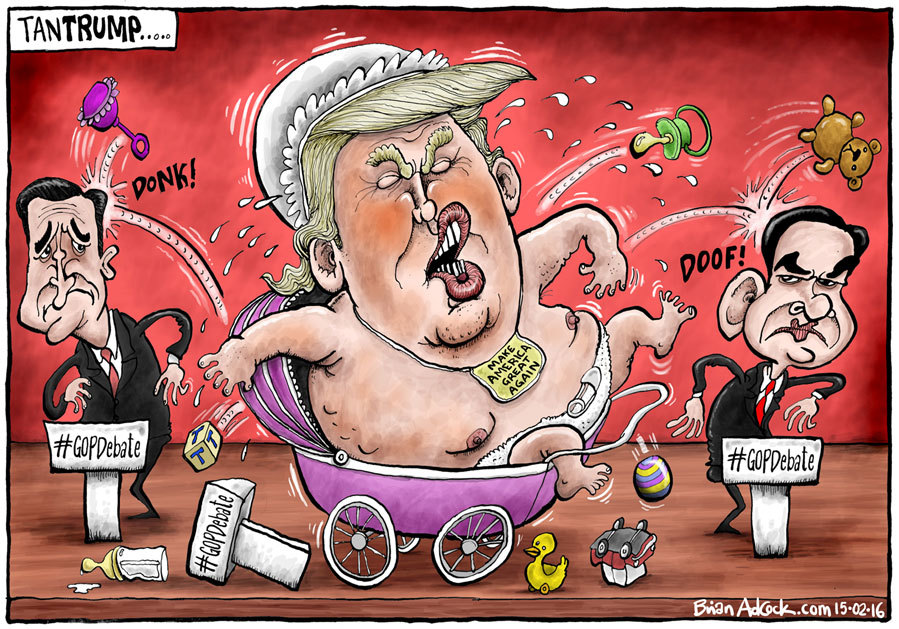 Brian Adcock - politicalcartoons.com
Filipino cartoonist DengCoy Miel drew the following comic titled "Trump You All Down" for Singapore's Strait Times newspaper.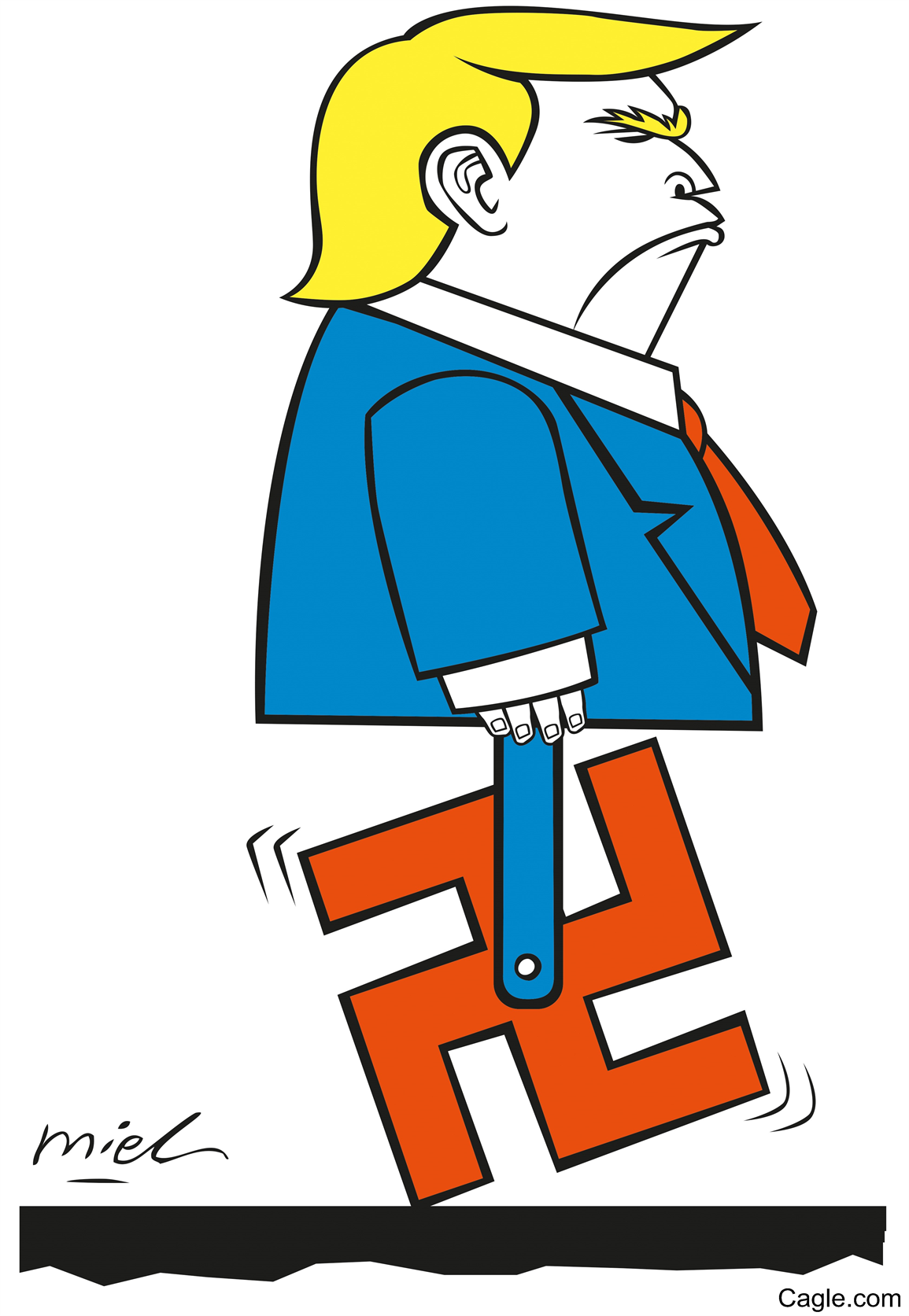 DengCoy Miel/Strait Times - politicalcartoons.com
Slovak cartoonist Marian Kamensky referenced the infamous kompromat dossier, released in January, to depict the president working for a shirtless, Kalashnikov-toting Vladimir Putin and hauling a load of sex tapes.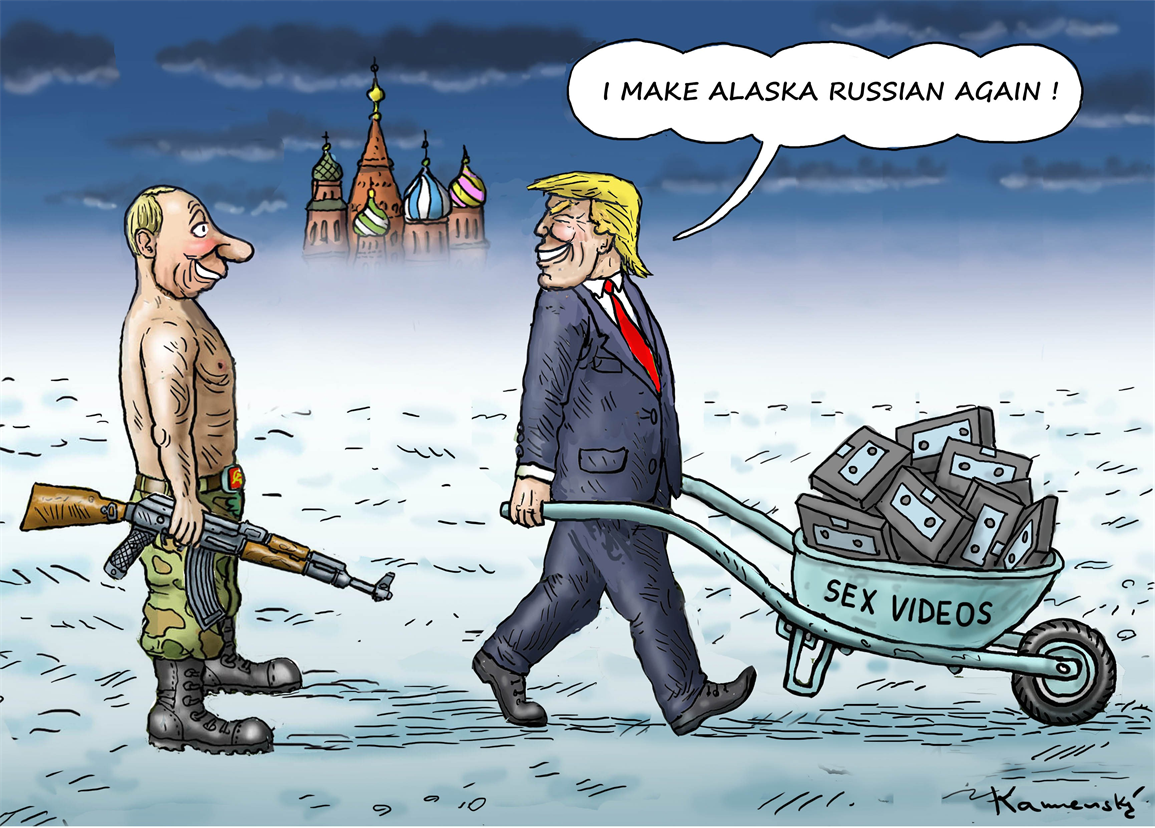 Marian Kamensky - politicalcartoons.com
Kamensky also took aim at Trump's senior advisor Steve Bannon, who has been accused of being both a white nationalist and the secret power behind Trump's actions — charges Bannon has denied. In this cartoon, he depicts Bannon as a Nazi horse-whisperer, quietly ordering President Trump what to do.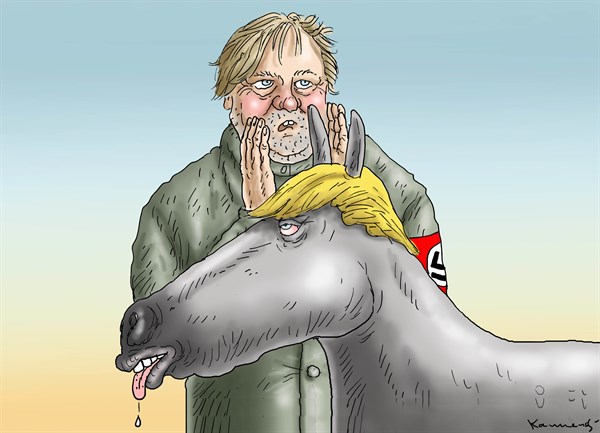 Marian Kamensky - politicalcartoons.com
Costa Rica's Arcadio Esquivel has taken a number of shots at Trump, depicting candidate Trump as killing himself with his own rhetoric in an October cartoon called "Big Mouth Guy."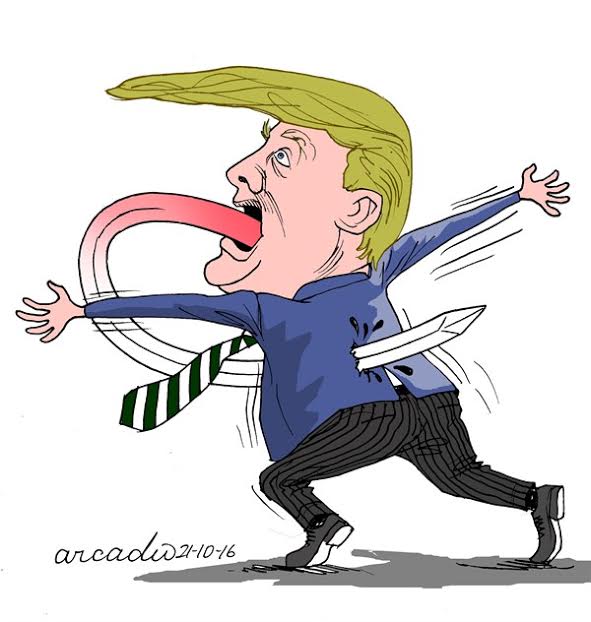 Arcadio Esquivel - washingtonpost.com
But after Trump's election, Esquivel, like many other cartoonists, took his work in a far darker direction. This cartoon shows Trump and Russian President Vladimir Putin running toward each other like lovers.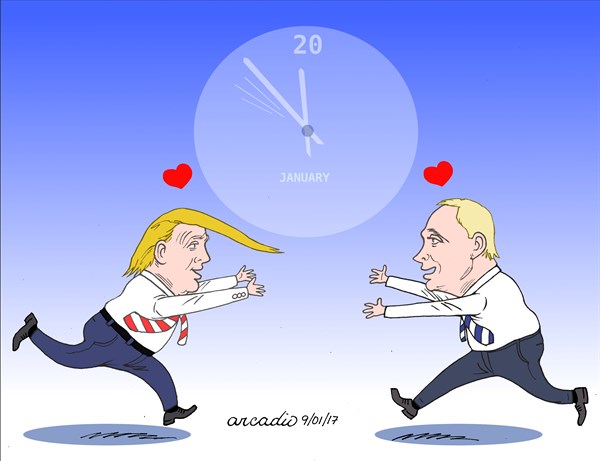 Arcadio Esquivel - politicalcartoons.com
Christo Komarnitski of Bulgaria reflected Trump's takeover of the Republican party in an October cartoon by showing him as a caveman in a dollar sign tunic.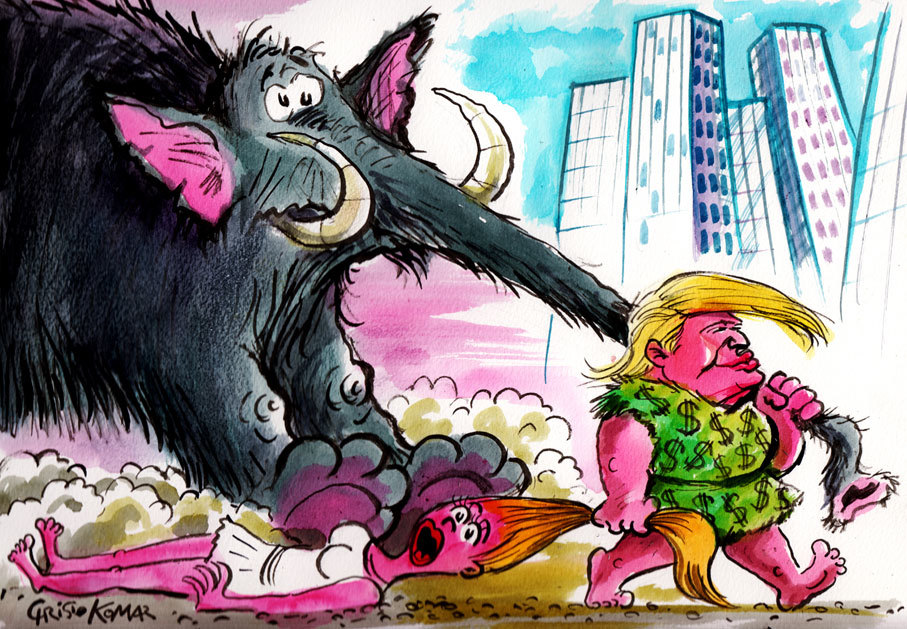 Christo Komarnitski - politico.com
In a more complimentary drawing from November, St. Petersburg cartoonist Alexandr Zudin shows Trump carrying Barack Obama and Obamacare toward a garbage can.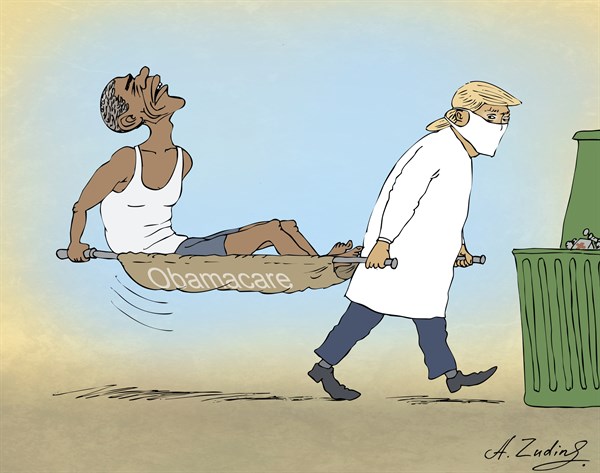 Alexandr Zudin - politicalcartoons.com
While this cartoon from Jordanian artist Osama Hajjaj for Al Arab Al Yawm doesn't mention Trump, it makes a clear statement about Trump's impact on Muslims in and out of the United States.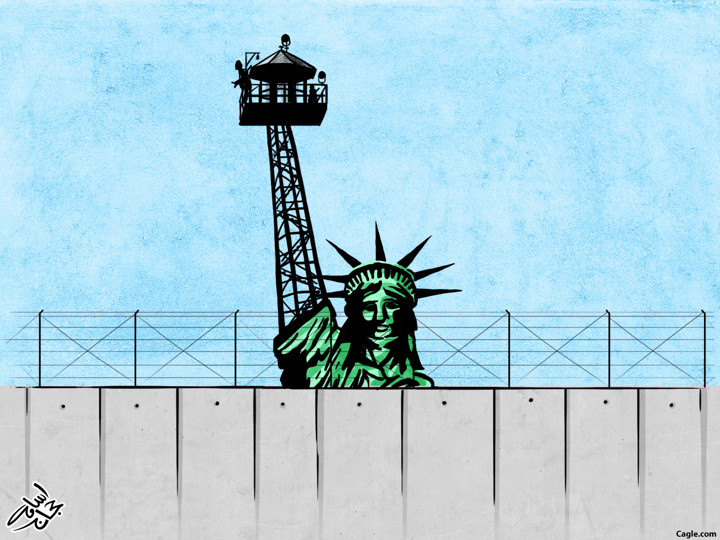 Mercury News - mercurynews.com
Finally, Angel Boligan, cartoonist for Mexico City paper El Universal, reflected his country's anger and insecurity over Trump's proposed wall on the US/Mexico border in this September cartoon — showing it as an Ark built to keep people out.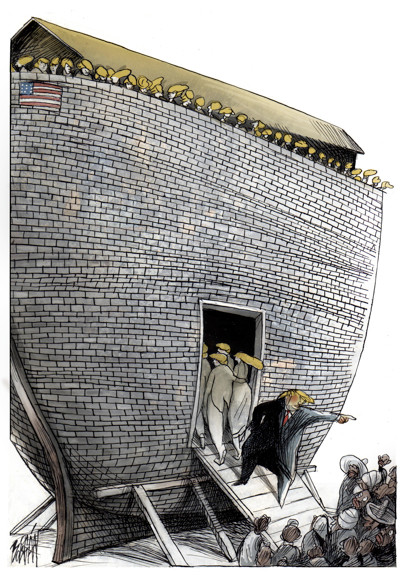 Angel Boligan - mercurynews.com
Share your opinion
Are cartoons in other countries too hard on President Trump?