The Difference Between the Subway Systems in Tokyo and New York City
The Tokyo subway system is among the busiest in the world, handling an estimated 8 million passengers every work day.
It's also one of the cleanest and most efficient. Trains run on time to the point that if one is even one minute late, the issue an apology, according to The Washington Post. And their cleanliness is legendary.
The Washington Post's Tokyo bureau chief Anna Fifield documented the immaculate spotlessness of the subways she takes every day, and the difference between them and American stations is jarring.
The subways in Tokyo are impeccably clean. The stations are vacuumed and sanitized by staff members; they have sanitary and well-stocked restrooms, and shockingly don't have trash cans.
And while Tokyo subways have an impressive array of vending machines that sell everything from hot coffee cans to ice cream to French fries, the riders know not to eat or drink on the actual trains.
In contrast to Tokyo's subways, stations in New York City — which saw an average of over 5 million riders per weekday in 2015 — are not nearly as well-maintained.
In 2015, City Comptroller Scott Stringer called the City's subway system "a daily, stomach-turning insult" to the millions who ride it, and his report of the problems he found was damning. While stations are supposed to have their tracks cleaned every three weeks, 97 percent of tracks are "not cleaned on schedule," and 12 percent weren't vacuumed by a VAK-TRAK train, the report found.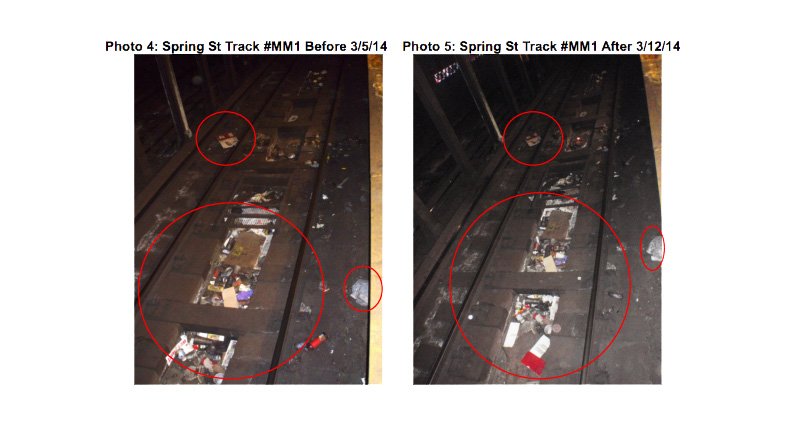 NYC Comptroller's Office - businessinsider.com
When they are cleaned, Stringer found that the cleanings are often left unfinished. This leaves leaves giant piles of trash on tracks, inviting rats and trash fires. There were over 500 fires on NYC subway tracks in 2014, with over 300 caused by leftover trash.
There's also the legendary rat problem.
These problems have beset NYC subways for decades. In 1993, then-Mayor David Dinkins toured the Tokyo subway system, and upon seeing its cleanliness, order, and lack of rats, remarked "we have a lot to learn from the Japanese."
To learn more about how Tokyo and New York subways compare, watch this video:
Share your opinion
Have you ever noticed how dirty a subway is?