Coworkers' Response to Teen's Sexual Harassment Shows Why Women Stay Silent
April 5th 2017

By:
Emily Houser endured years of sexual harassment from her manager while working at her local Chili's Grill & Bar. When he was finally transferred from her restaurant, she was relieved—until her coworkers threw him a party with a cake reading "Fuck Emily Houser" in blue icing.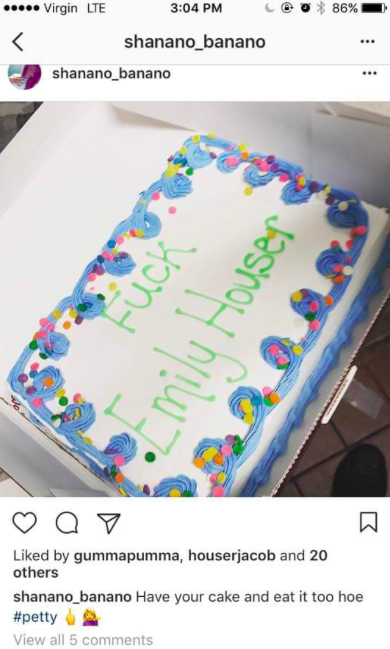 Twitter
Houser told ATTN: that when she saw a picture of the cake online, "I broke into a complete panic attack."
"I had extreme thoughts of self harm and suicide," she said. 
Houser said that she had reported her manager, Josh Davidson, to Chili's headquarters for making unwanted sexual advances. Chili's investigated her claim, and decided to transfer Davidson from their Whitehall, Pennsylvania location to one in Montgomery, Pennsylvania.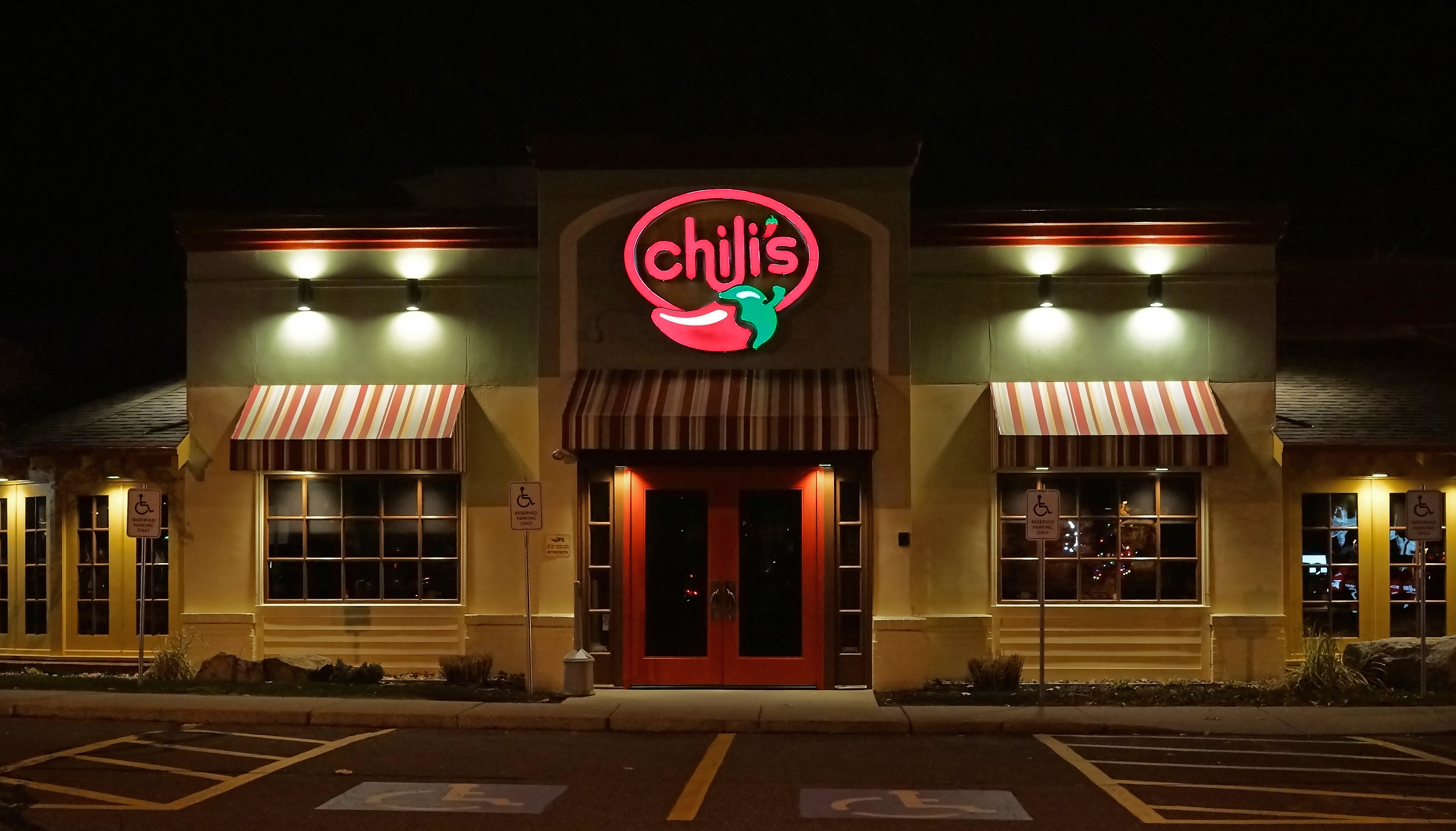 Wikimedia Commons - wikimedia.org
Houser believes that Davidson told her coworkers about the investigation, and since he was a popular manager, they sided with him. They held the party at the restaurant and even the general manager attended, according to Houser.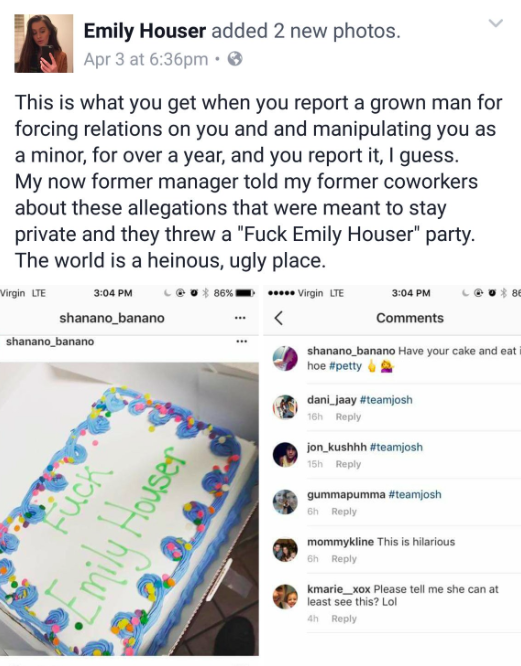 Twitter - twitter.com
Houser saw pictures of the cake on Instagram. The photos and accounts have since been removed.
"I was humiliated and so sad that I called all of those people my good friends," said Houser, who had already quit her job at the time of the party. "It made me feel idiotic and humiliated for even reporting the incident."
It took Houser more than two years to report the harassment, which started when she was 16 years old and her manager was 24. When she turned 18, the harassment progressed, with Davidson showing up at her house multiple times and attempting to give her cash and gifts. While Houser said she initially attempted to ignore his behavior, she knew she had to say something when Davidson starting treating another employee similarly.
Houser's initial attempt to brush off Davidson's harassment was not unusual. A 2015 survey found that more than 70 percent of female victims of workplace sexual harassment do not report it.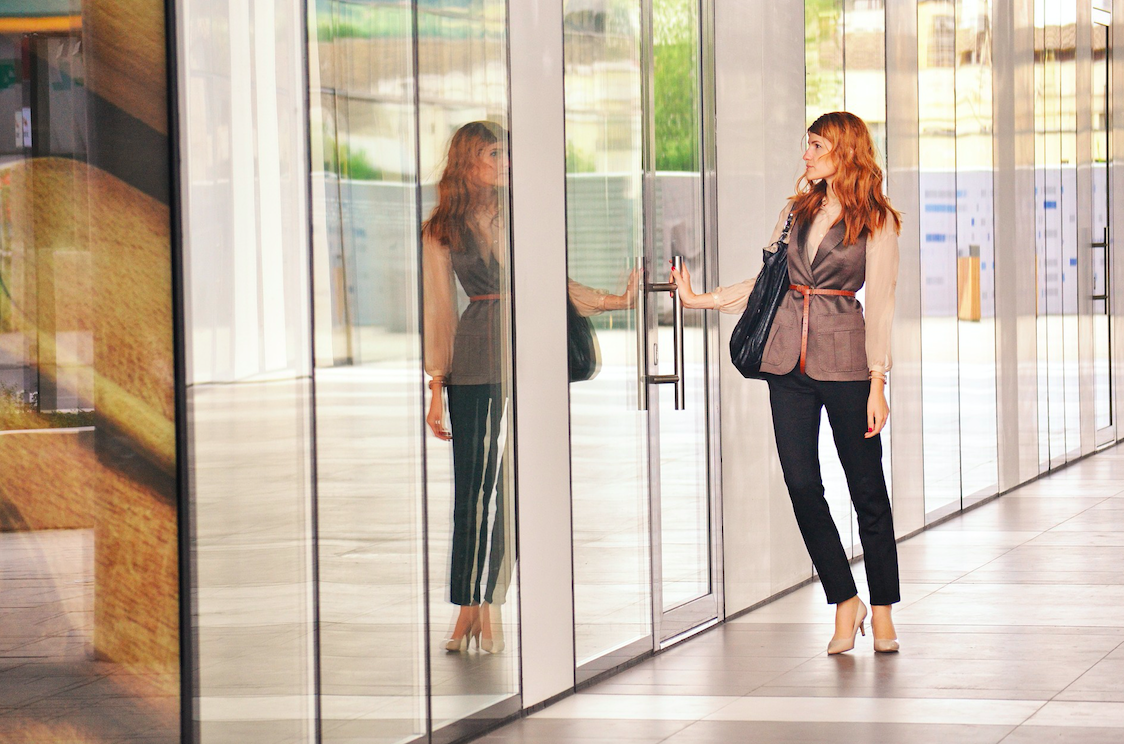 Pixabay - pixabay.com
"Upon speaking up I've received this serious backlash, as well as [former coworkers] telling me I'm 'pathetic' and 'a whore anyways,' so it doesn't matter," Houser said. "This is the type of thing that absolutely makes women feel as though they have no voice."
Although Houser is still fielding abusive texts and social media harassment, she can take solace in the fact that further action has been taken against Davidson. While he was initially transferred to a new location, Chili's told BuzzFeed News that he has since been fired. 
"We do not condone and are disappointed by the actions that took place. When this issue surfaced, our franchise partner conducted a thorough investigation," Chili's wrote in an emailed statement to ATTN:. "As a result, the team members involved are no longer with the company."
Share your opinion
Have you ever experienced sexual harassment?