These Numbers Prove the Affordable Housing Crisis is Nationwide
Over the last ten years, a record number of Americans have entered into the rental market. But even as demand for affordable - which is defined as when cost doesn't exceed 30 percent of the median family income in a given area - rental units are skyrocketing, the supply is either stagnant or plummeting.
It's a crisis that's not restricted to expensive coastal cities - it's happening everywhere.
"[T]he last decade has seen nine million Americans become new renters, the largest 10-year gain in history," according to real estate website Curbed. This increase has "[pushed] the percentage of households that rent from 31 to 37 percent, the highest level since the Johnson administration. That's all happening at the same time the country is losing roughly 125,000 affordable rental units a year."
While rents steadily rise, the rental market is suffering from a near-standstill on the construction of affordable rental units, caused by what developers see as a tangle of new regulations, permit requirements, fees, and building codes; as well as the high costs of land and labor.
As a result, most of the new units being built are for high-end renters or potential condo owners. "Many developers are more focused on renovating existing properties or building new ones in hopes of appealing to more affluent renters," as The Atlantic puts it in its analysis of the affordable housing crunch. "Faced with a choice between building ritzy apartments that can be priced at the market rate or building government-subsidized ones, developers are generally drawn to the former."
All of this trickles down to low-income families, who often must commit more of their limited resources to rising rent. At the same time, federal subsidies for low income renters are drying up. As ATTN: reported last year, "There is not a single state in the U.S. where a minimum wage employee working full-time can reasonably afford a one-bedroom apartment at the fair market rent."
But while most reports focus on the lack of affordable housing in pricey coastal cities like Los Angeles and San Francisco, there isn't one state that has enough rental units for poor families — even states with extremely low costs of living.
This is the finding of a new report by the National Low Income Housing Coalition, and it's a stark picture of how bad the crisis has gotten across the country for families with Extremely Low Income (ELI), defined by the Department of Housing and Urban Development as "Households with income at or below the Poverty Guideline or 30 percent of Area Median Income, whichever is higher."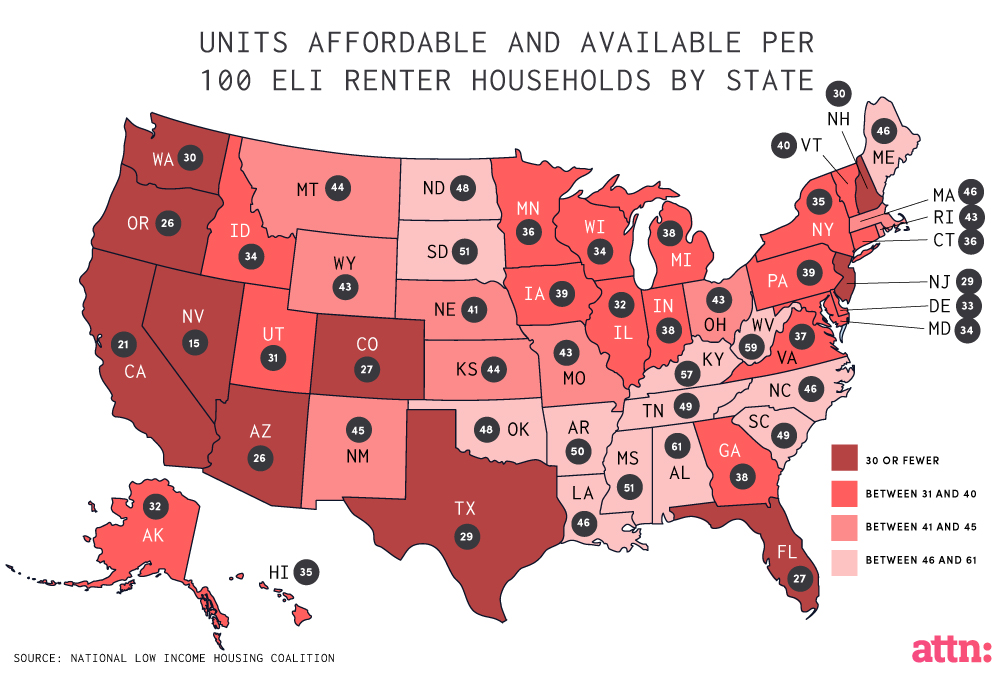 National Low Income Housing Coalition - nlihc.org
The report finds that "11.4 million ELI renter households accounted for 26 percent of all U.S. renter households and nearly 10 percent of all households," yet an affordable housing shortage "exists in every state and major metropolitan area."
"Nationally, only 35 affordable homes are available for every 100 [Extremely Low Income] renter households," the report concludes. And eight states have fewer than 30 affordable homes available per 100 ELI households: Texas, New Jersey, Florida, Colorado, Arizona, Oregon, California, and Nevada.
While many of these states have major cities, its lack of affordable housing isn't restricted to more urban areas with higher rents. The shortages are state-wide.
The state with the biggest housing shortage, Nevada, has just 15 units per 100 ELI renters, caused by an influx of residents after the recession and affordable rental unit construction that hasn't kept up.
But median monthly rents in Las Vegas ($981) are only slightly higher than the median for the rest of the state ($955.) Oregon has the same issue, with Portland's median monthly rent of $1,009 is $80 per month higher than the rest of the state. Phoenix's median monthly rent is only $50 higher than the rest of Arizona, while Denver's is about $60 higher than Colorado's median. Clearly, these are cities that are not so expensive that only the wealthy can afford them.
Furthermore, no state is immune from the shortage. Even in much of the Midwest and South, which are generally more affordable than the rest of the country — and have lower median rents than the U.S. average — only one out of every two ELI families can find a rental they can afford.
These numbers also don't take into account many states that have lower average wages. But what they do indicate is how national these rental unit shortages are. This isn't a city problem, it's simply a problem.
And at nearly a decade and counting, it's not a problem that's getting better for the most vulnerable Americans.
Share your opinion
Has the rental crisis changed your housing plans?