3 Ways that the U.S. is Failing Mothers
May 10th 2015
By:
This Mother's Day, ATTN: decided to look at three issues that could make the lives of working mothers -- especially low-wage workers -- easier and more affordable.
1) Paid family leave.
One gift the United States could give to expecting or would-be mothers in the coming years is paid family leave, so mothers and fathers could take time to care for their newborn without being penalized by lost wages. Currently, the United States does an abysmal job providing new families with the leave they need. In 2013, the Pew Research Center and the Organization for Economic Cooperation and Development (OECD) compiled data on 38 nations and their family leave policies. The U.S. was dead last with no law mandating paid family leave and a guarantee of only a short, 12-week period of unpaid family leave.

Family Leave Chart/Pew Research and OECD - pewresearch.org
In a wider report compiled in 2014 by the U.N. Institute of Labor, the United States along with Papua New Guinea and Oman were the only three countries that did not provide paid family leave. One hundred and eighty-five countries did provide paid family leave so that families could take time off for an event like becoming a mother.
In 1993, the U.S. passed the Family and Medical Leave Act (F.M.L.A.), which mandates that companies with over 50 employees must provide 12 weeks unpaid leave. The problem is many low-wage mothers cannot afford to use much of that unpaid time off; they have to work to provide for their families. Even worse, the National Partnership for Women and Families reports that F.M.L.A. protections are "available to fewer than 50 percent of workers—and many can't afford to take it."
And the private sector has not to stepped-in to fill the void on its own. Only 12 percent of workers in the U.S. have access to paid family leave, according to the National Partnership for Women and Families. On the bright side, both California and New Jersey have passed laws that provide some form of paid family leave -- and have turned up positive results. 
2) Affordable child care.
ATTN: recently wrote about the expense of having children for the Millennial generation. Anecdotally, one young mother explained that she quit her job to take care of her child because of the exorbitant cost of child care. (Wages from her job would have gone directly to paying for child care.) The National Association of Child Care Resource & Referral Agencies' Child Care Aware released a 2014 report on the high cost of child care. (The graphic below shows some of the report's highlights.)
"The 2014 report shows that the cost of child care in the United States can be as much as $14,508 annually for an infant, or $12,280 annually for a four-year-old in a center, and does not always guarantee a quality environment," according to a release by Child Care Aware. In all regions (mapped out by the Boston Globe) the average cost of infant child care was more than what the family spent on food.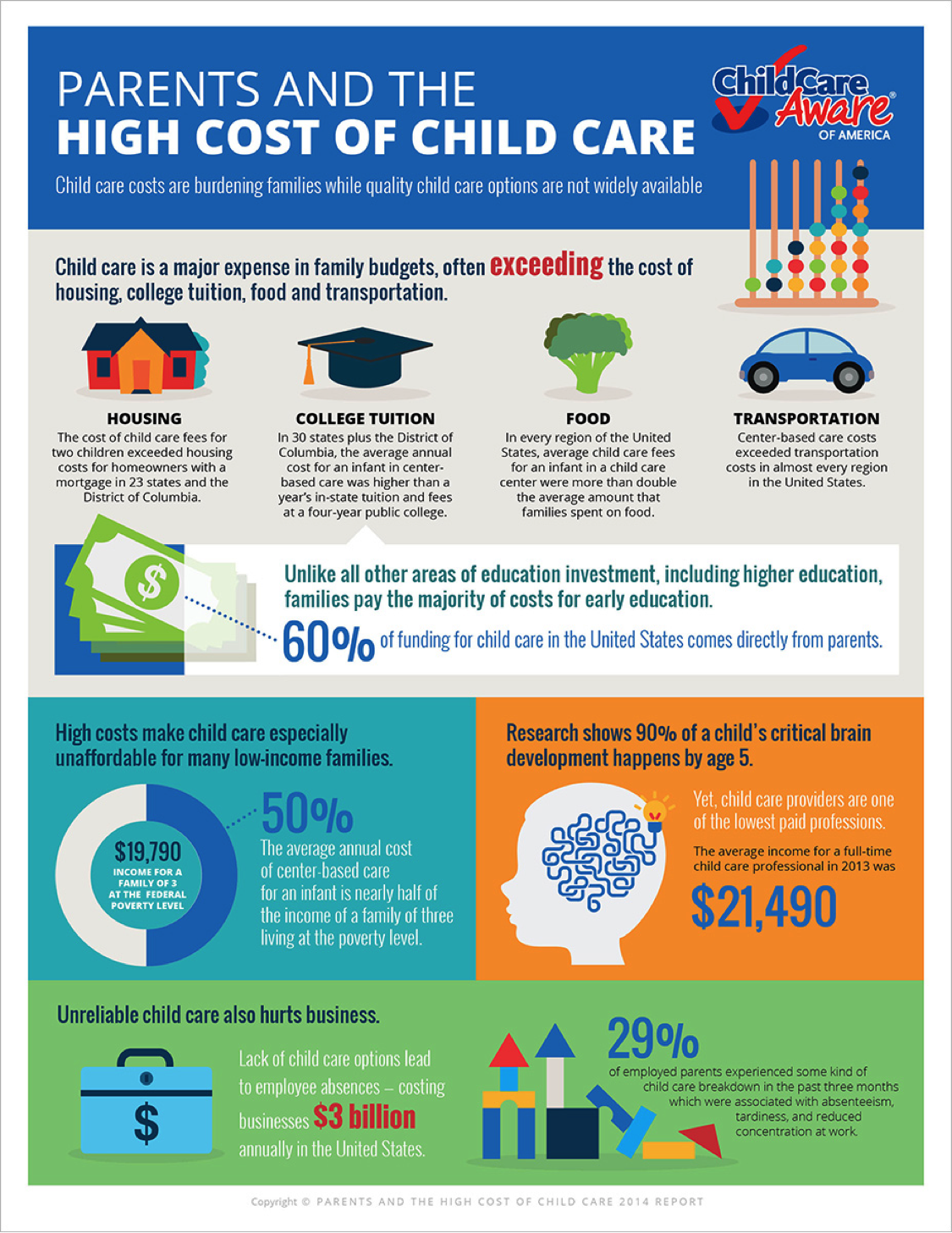 Parents and the High Cost of Child Care/Child Aware of America - naccrra.org
Families that need two working parents and do not have the economic luxury of having one parent stay home to care for the kids end up spending an average $11,666 per year on hired child care, according to recent numbers.
For mothers and fathers who want to get back to work or need to work to support the family, child care that does not break the bank must be made available. Lawmakers including Senators Barbara Boxer and Kristen Gillibrand have proposed legislation to help make child care more affordable. In February of 2015, Sen. Boxer introduced the Right Start Child Care and Education Act of 2015, which among other things would "amend the Internal Revenue Code of 1986 to increase the credit for employers establishing workplace child care facilities."
3) Higher minimum wage.
Raising the minimum wage would greatly benefit women. In 2014, the New York Times reported that women make up 60 percent of minimum-wage earning workers. Also, women work two-thirds of jobs that rely on tips.
A report from the Economic Policy Institute (EPI) and the National Women's Law Center explained the benefits of raising the minimum wage to $12 an hour and doing away with the low minimum wage for tipped workers.
"Of the workers who would benefit from raising the minimum wage to $12.00 per hour, more than a quarter have children," the report stated. "Twenty-seven percent of working mothers—and 40 percent of working single mothers—would get a raise under the Raise the Wage Act."
ATTN: spoke to a minimum wage earning mother of two about trying to feed her family on her McDonald's wages.:
"Of the more than 35 million workers who would get a raise under the Raise the Wage Act, more than 9.7 million are parents, including over 6.3 million working mothers—representing 27.3 percent of all working mothers with children under 18," the EPI reported. "Nearly a third of affected parents are the sole providers for their families. More than one-fifth of all children—17.5 million—live with a parent who would get a raise."
Share your opinion
Do you think businesses should offer paid maternity leave?