The High Cost of Obesity to Society
May 15th 2015
By:
The societal cost of obesity could be more than $1.1 trillion, according to findings by public policy nonprofit the Brookings Institute and the World Food Center of the University of California-Davis. Considering the 12.7 million obese children in America and studying data on obesity, researchers found that the individual cost is nearly $100,000 per obese adult, with the lifetime costs exceeding $1.1 trillion should these kids remain obese in adulthood.
Matthew Kassman, a research associate at the Brookings Institute, said obese children are more likely to develop illnesses associated with obesity such as heart disease, are at a greater risk of mortality, and create health costs on an individual and public level.
"These health costs are felt in multiple different categories," Kassman said at the Brookings Institute in Washington, D.C., earlier this week. "The first is private costs: those that are borne by individuals themselves ... direct and indirect costs such as quality of life and lost wages. There's also public costs: those that are borne by taxpayers and private firms, and again these are direct in terms of healthcare and indirect such as lost productivity."
Kassman's remarks are consistent with a 2011 Gallup poll, which found that overweight, obese, and unhealthy Americans cost $153 billion in lost productivity every year. These findings revealed overweight and obese folks tend to have more unhealthy days per month.
"If all 12.7 million U.S. youth with obesity became obese adults, the societal costs over their lifetime would cost $1.1 trillion," Kassman continued. "Even if it weren't morally incumbent on us to care about the life and health of our fellow citizens, our research indicates that we have a clear economic incentive to do so."
Even scarier is the fact that the researchers only observed one specific group, and "it's very likely that costs of obesity might compound over generations," Kassman said, going on to say that higher mortality rates don't offset obesity costs.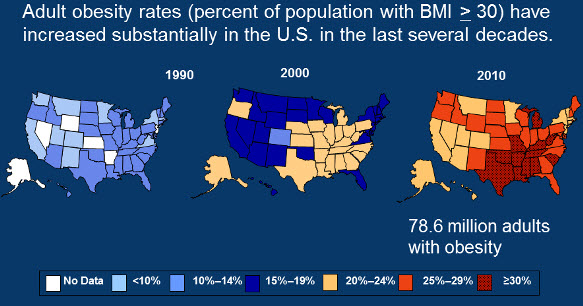 Brookings Institute - brookings.edu
Social mobility and obesity
Also speaking at the Brookings Institute, UC-Davis Chancellor Linda P.B. Katehi discussed obesity's negative impact on social mobility and different communities.
"We all know that obesity makes people very sick," Katehi said. "It destroys communities in many ways and makes them less productive, and of course it has [a] great impact on the economies of these communities. As we know, especially in the United States, our economy is based on small and medium-sized companies and in communities that aren't very healthy, you see much less of that, and of course the economy in those areas suffer tremendously. You see the impacts of that: lack of health, low economy in the quality of the schools, the quality of education that the students receive, and eventually their ability to move socially upwards, which is something we as an institution have tried to achieve."
Katehi said access to healthy food and and education are "critically connected," adding that even those who work in California's agriculture industry don't necessarily have access to quality food themselves.
Michelle Obama's attempts to reduce childhood obesity
Several years ago, First Lady Michelle Obama set out to combat childhood obesity with her Let's Move! campaign, which encourages healthy eating and exercise among youth. She also spearheaded the Healthy Hunger-Free Kids Act in 2010 to provide healthy options in School Breakfast Programs (SBPs), which are federally subsidized breakfasts for low-income kids. In March, ATTN: reported on a new study that found children who participate in free breakfast programs perform better in science, math, and reading than kids who don't partake in the program.
Share your opinion
Should the government do more to bring down childhood obesity?