Las Vegas Now Has Syringe Vending Machines for Drug Users
What happens in Vegas will not just stay there, if city health officials get their way — it will happen safely.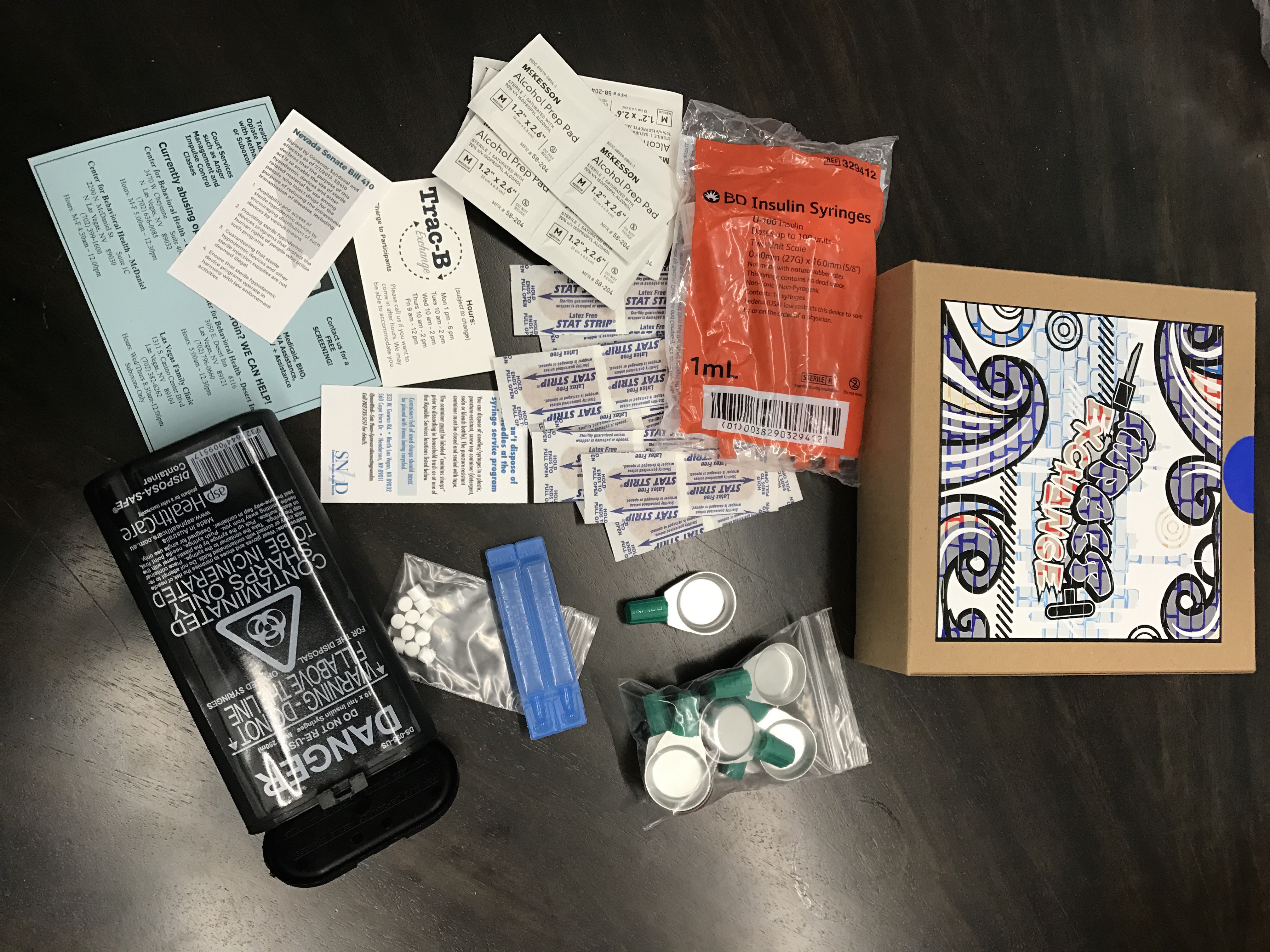 Trac-B Exchange
Thanks to the joint efforts of three public health organizations, the city of sin is now installing vending machines containing clean syringes for intravenous drug users. It's the first city in the United States with such a program.
In addition to the possibility of overdose, people who inject drugs are at high risk of HIV, hepatitis, and other diseases as a result of sharing syringes and other injection equipment. Even an accidental stick from a used syringe can be dangerous.
Anyone in southern Nevada can access the vending machines, but users must first register with one of the community partners. When they register they get a card and a code allowing them access to up to two kits per week, for free. Each kit contains 10 syringes, a tourniquet, a disposal container for used syringes, and first aid supplies. They can also drop off used syringes into a secure box next to the vending machines.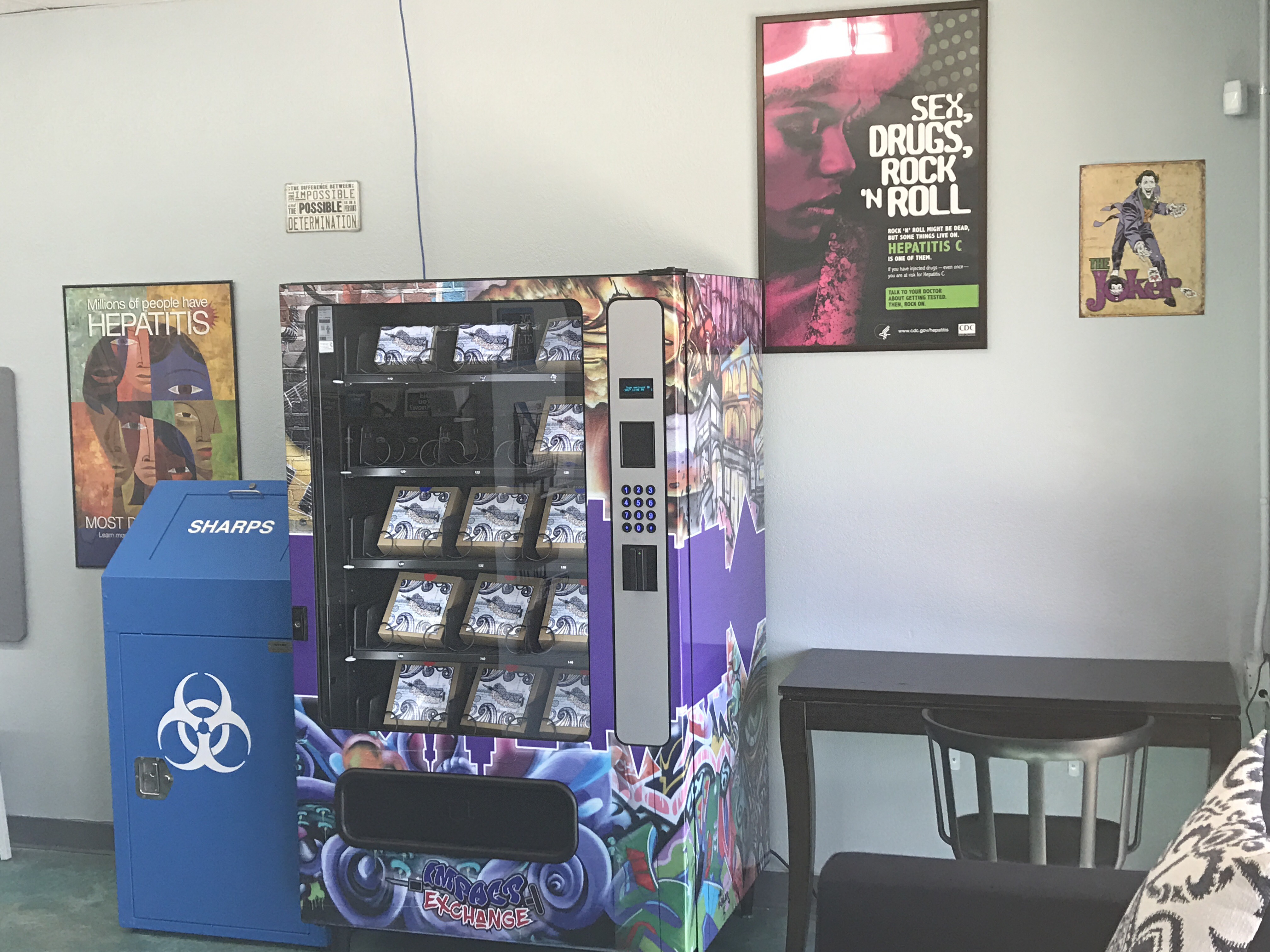 Trac-B Exchange
A shift from law enforcement to harm reduction
Las Vegas may be the first U.S. city to dispense syringes through vending machines, but Europe and Australia have been using similar machines for years. Unlike many countries, intravenous drug use in the U.S. has long been considered a law enforcement issue rather than a health crisis and policies like needle exchanges have faced resistance from communities and politicians. But the severity of the injected drug crisis is making cities like Las Vegas rethink how they tackle the epidemic of IV drug use.
The syringe machines are part of an overall strategy of harm reduction, said Patrick Bozarth, executive director of the Las Vegas Community Counseling Center (CCC), a substance treatment and mental health facility, which will be installing its machine later this month.
"Ultimately we want people to see a case manager but we can't force people to go into treatment," Bozarth told ATTN:. "We can let them know that treatment is available when they're here, and help them get accustomed to coming to a treatment facility."
At the CCC, the vending machine will be situated in a lobby with no receptionist. Users can access the machine through a private entrance, but they must pass by a wall of literature about substance abuse treatment and recovery. Each vending machine kit also contains information about addiction treatment.
Rick Reich of Trac-B ExchangeSyringe machines were recently installed at two other community health organizations, Aid for AIDS Nevada and  Trac-B Exchange, a needle exchange organization.
These developments come as part of a broader effort to treat drug addiction as a public health problem. In 2013, Nevada made it legal to possess hypodermic needles or syringes, allowing nonprofit organizations to start needle exchange programs.  Two years later, Gov. Brian Sandoval, a Republican, signed the Good Samaritan Drug Overdose Act, which protects anyone calling for help in an overdose emergency from being prosecuted and expands access to the overdose antidote naloxone.
Rick Reich, project director with Trac B Exchange, said the machines represent a shift in thinking.
"When people register and a code to use the machines, that code isn't used by law enforcement but by the health department to see how well the harm reduction strategy is working." Reich told ATTN:. "The beauty of these machines is that people don't have to interact with anybody to use them."  
The Centers for Disease Control and Prevention (CDC) has found that 10 percent of new HIV cases in the U.S. in 2015 were attributable to IV drug use. The CDC also found that heroin use among adults under 26 years old has more than doubled over the past decade.
Share your opinion
Do you think syringe exchange programs encourage drug use?