Homeless Woman Says in Viral Tweets: 'Don't Donate to the Salvation Army'
June 26th 2017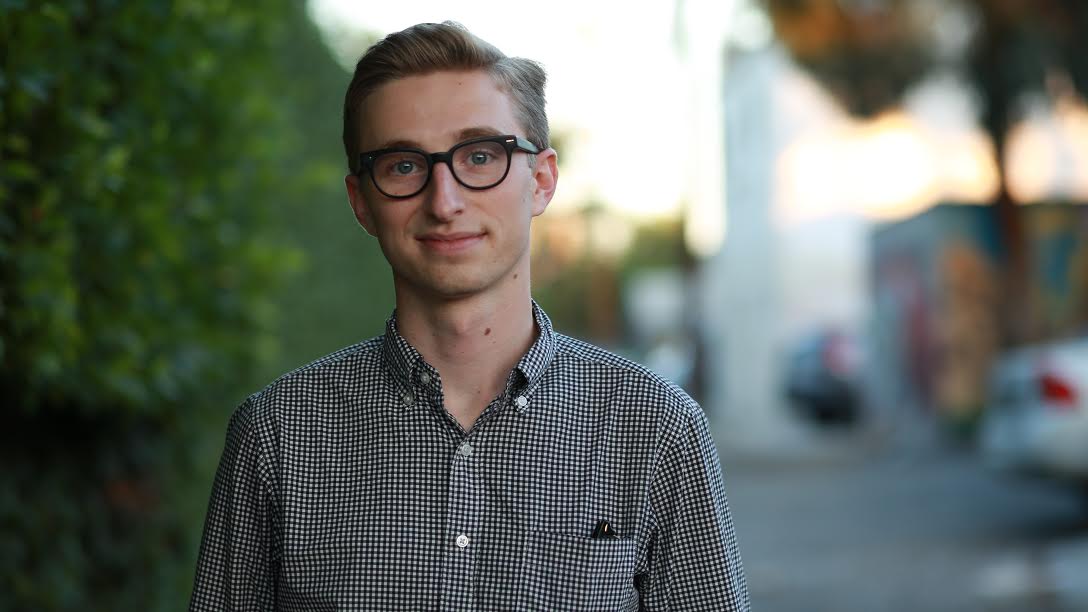 By:
Heather Snow is a homeless, transgender woman whose experience at a Portland-based Salvation Army shelter went viral last month. Snow now claims the organization is using one of her tweets to temporarily ban her from using its services.
Last Friday, Snow shared a photo of a letter she received citing "recent tweets consistently disrespecting and harassing staff and Salvation Army programs" as the basis for a 30-day exclusion from "all services."
"Due to the disrespecting staff and Salvation Army programs, you are receiving a 30-day exclusion," the letter stated. "If this behavior continues, further action will be taken."
According to Snow, shelter staff showed her a photocopied version of a tweet she posted several weeks ago, which had been "doctored to look like a threat."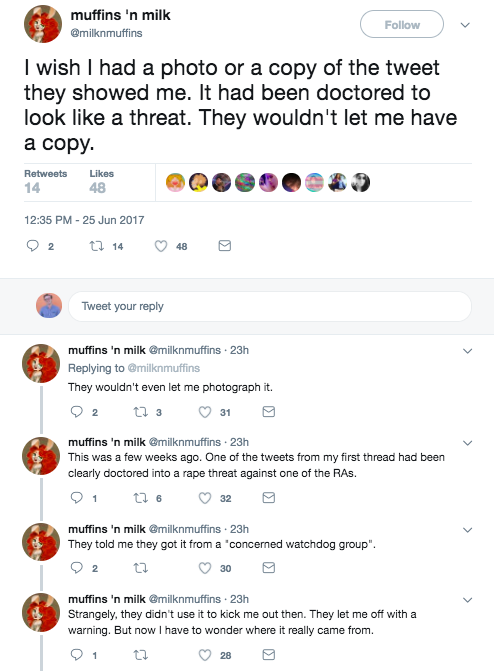 Twitter - twitter.com
This was the original tweet that the shelter allegedly photocopied and doctored, she wrote:
"Strangely, they didn't use it to kick me out then," she wrote. "They let me off with a warning. But now I have to wonder where it really came from."
Representatives from Portland's Salvation Army women's shelter did not respond to requests for comment. 
How this all started.
Last month, Snow wrote about why people should think twice before donating to the charitable organization.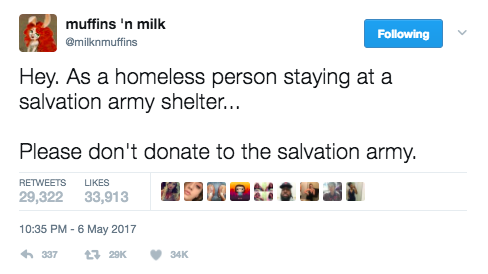 Twitter - twitter.com
In a tweet thread, Snow described her experience at the shelter, raising troubling allegations about staff conduct and living conditions at the housing facility, which she said was specifically designed to serve "vulnerable women."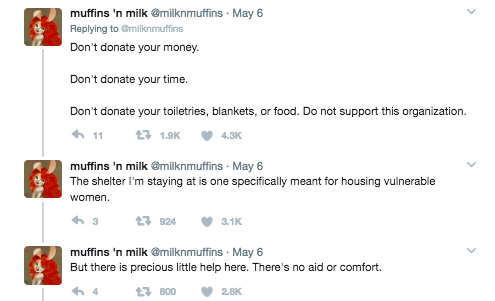 Twitter - twitter.com
Snow wrote that shelter staff "often treat us like we're less than human" and that women are sometimes told to temporarily leave when they speak out, "get a little mouthy," or exhibit symptoms of mental illness.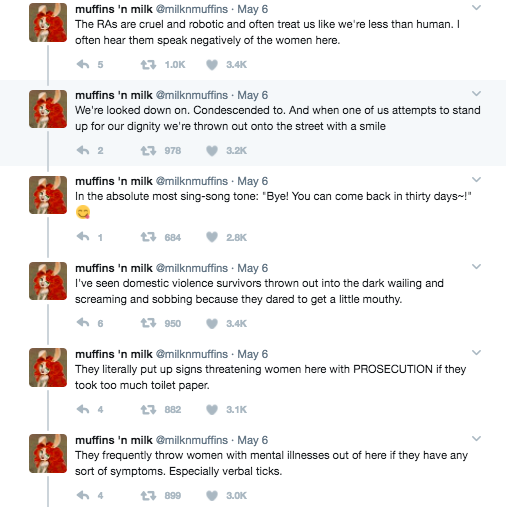 Twitter - twitter.com
The Salvation Army — an international charitable organization best known for its thrift stores and volunteer bell ringers who collect donations around the holidays — also manages a network of homeless shelters, rehabilitation centers, day care programs, senior living facilities, and other social services across the United States.
But those charitable operations aren't necessarily interconnected, Snow said. If you're kicked out of the shelter and fail to claim your personal belongings within seven days, for example, staff will donate those items to be sold at a Salvation Army thrift store. "The women in here? We don't get any of that shit," she wrote.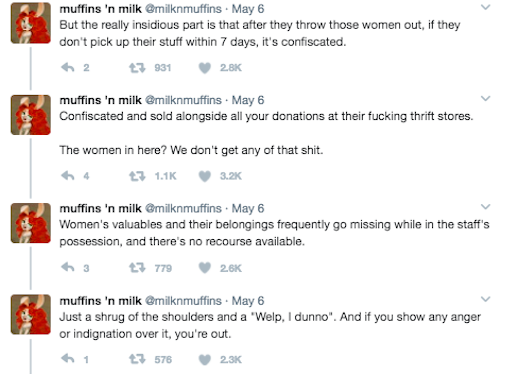 Twitter - twitter.com
Snow shared two photos depicting living conditions at the shelter. The first shows how women are locked out of refrigerators, and the second shows traces of mold in the shower area.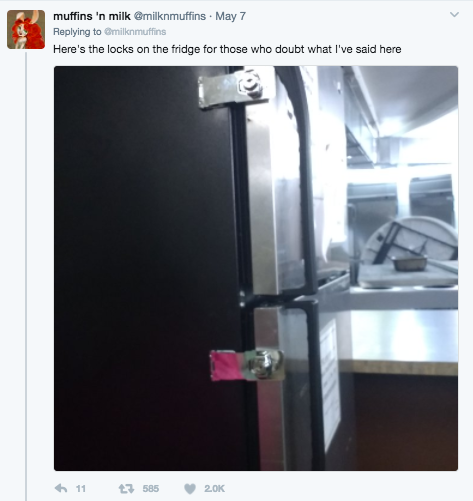 Twitter - twitter.com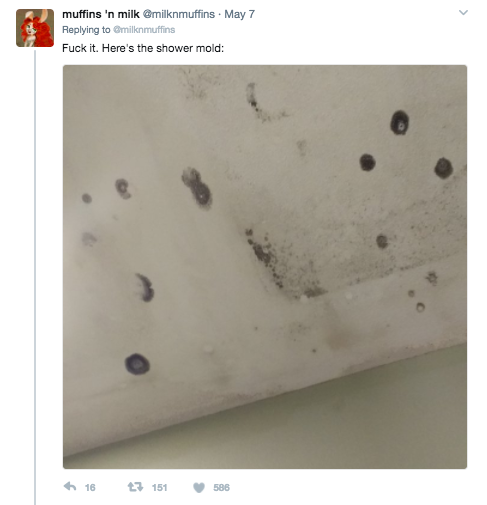 Twitter - twitter.com
There's no way to be sure how widespread these issues are across Salvation Army's 555 temporary housing facilities. The shelter's program director, Chelsea Bender, told BuzzFeed News that staffing issues and a growing homeless population in Portland have contributed to some of the problems Snow described, including the moldy showers and poor ventilation.
"We're trying to serve the most vulnerable populations and it can be risky territory," Bender said. "We have a handful of staff who can be short and rigid and there was a history of escalation, but we're changing that."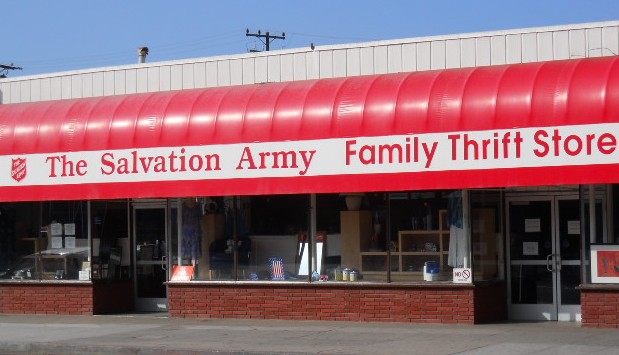 Wikimedia - wikimedia.org
Snow even claimed that staff discriminated against transgender women, banning them from the shelter "for at least twice as long as cis women for the same infractions," reflective of a more common criticism of Salvation Army.

Twitter - twitter.com
The religious organization has promoted anti-LGBT policies in the past, citing scripture to denounce homosexuality and, at one point, seeking assurances from the federal government that it would continue to receive funding even if it denied medical benefits to gay employees.
Though Salvation Army has taken steps to reach out to the LGBT community in recent years and now states on its website that it serves and hires all people "regardless of race, gender, ethnicity, or sexual orientation," some LGBT advocates argue that the organization isn't doing enough and still panders to its conservative Christian allies.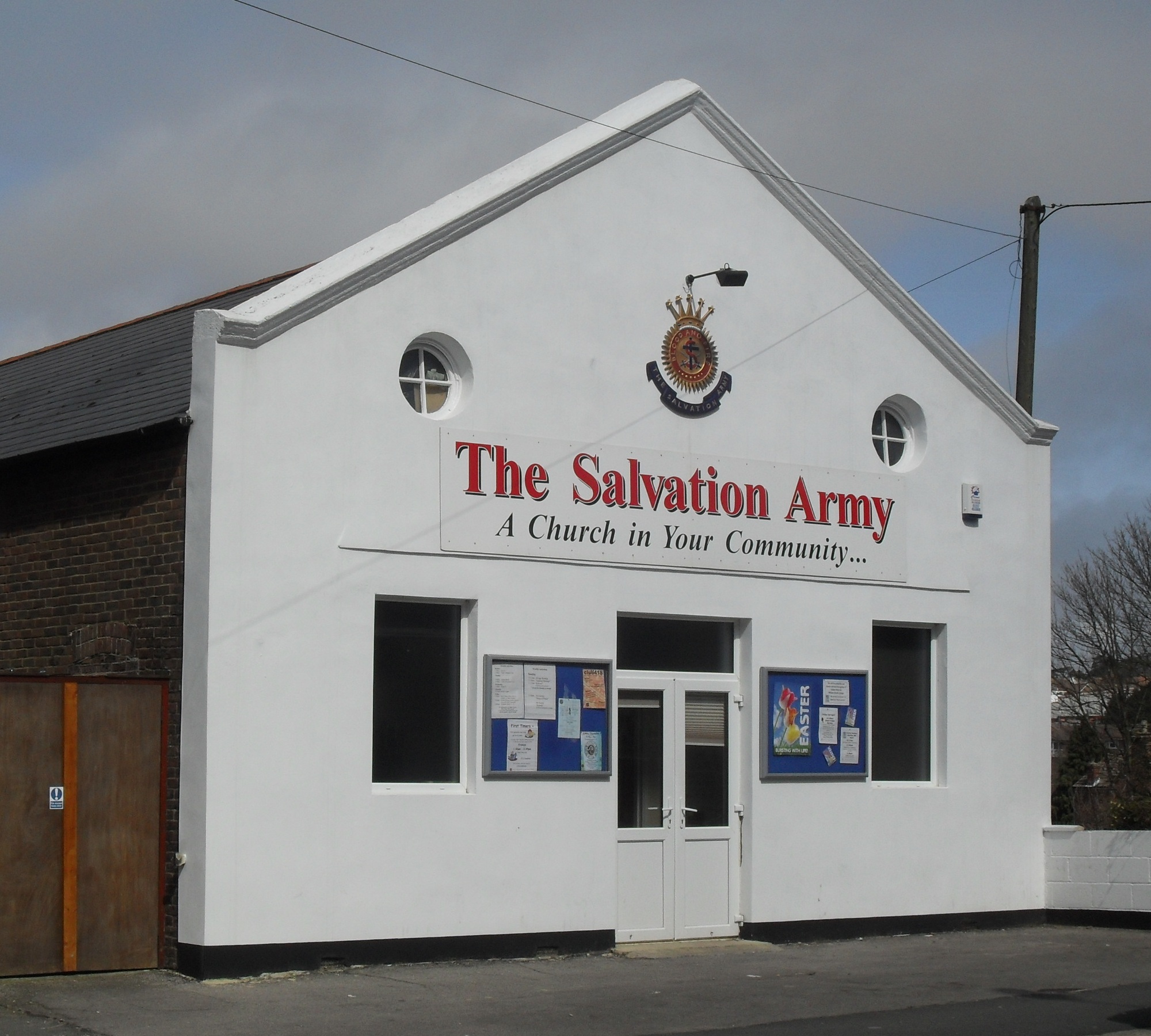 Wikimedia - wikimedia.org
"They claim to be our friend, but they want us to enter through the back door so their other friends don't see us hanging out together," Bil Browning, a blogger and advocate who has spoken out against The Salvation Army, told ThinkProgress. "That's not good enough and it will ultimately doom their efforts at erasing the stigma of their past."
The Salvation Army did not immediately respond to requests for comment. But it did respond to Snow's tweet thread, saying it will address the issues she raised and that the account "doesn't match our values, and we're working to fix that." Snow told BuzzFeed News that the organization arranged a meeting to address these problems and that the shelter's program director "admitted things needed to change asap."
UPDATE (June 26, 2017): This story has been updated to include information about Snow's 30-day exclusion from Salvation Army programs.
Share your opinion
Do you know anyone who has been homeless in their life?