Lawsuit Says Black People in this Mississippi Town Are Being 'Terrorized' by Police
May 9th 2017
By:
A new lawsuit says that black residents of a county in Mississippi are being unfairly targeted by police.
On behalf of black residents, the American Civil Liberties Union (ACLU) of Mississippi filed a complaint against the Madison County Sheriff's Office on Monday alleging that police carried out a "coordinated top-down program of methodically targeting black individuals for suspicionless searches and seizures." It claims in the suit that police targeted the county's black residents through unconstitutional roadblocks, excessive force, and illegal searches of homes.
The same day the lawsuit was filed the ACLU released dramatic video of police searching a disabled black resident's home.
"This is a decades old policing program that has its roots in the Civil Rights Era," Paloma Wu, the legal director of the ACLU of Mississippi, said to ATTN:.
The lawsuit outlines Madison County's lingering history of racial segregation. 
"The Policing Program is rooted in Madison County's infamous history of racial animus," the lawsuit claims. "The wealthiest county in Mississippi, Madison County is now and has always been acutely racially segregated."
Madison County is the richest county in Mississippi, and the majority of the wealth in the county belongs to its white residents, according to the Washington Post. The Madison County Sheriff's Office didn't respond to ATTN:'s request for comment. 
"Simple daily activities such as commuting to work, grocery shopping, visiting friends and family, attending church, or even sitting on the steps outside ones own home present the very real possibility of unlawful and humiliating searches and seizures, as well as the attendant prospect of arrest and jail time for unpaid fines and fees" read the complaint the ACLU filed in U.S. District Court.
AP Image/Rolf Kremming - apimages.com
Black residents in the county are five times more likely to be arrested than white residents.
The complaint states there are huge statistical disparities in arrests that can only be explained by raced-based targeting. Although, black residents make up 38 percent of the population, they made up 73 percent of the arrests in Madison County between May and September 2016. Meanwhile, white residents, who are 57 percent of the population, only made up 23 percent of arrests.
The ACLU of Mississippi's analysis of the data implies a white person would need to commit a more serious crime than a black person to be arrested.
For example, white residents were arrested less often, but they were 1.4 times more likely to be arrested for driving under the influence of drugs and alcohol and 1.1 times more likely to be charged with a drug crime. Meanwhile, black residents were 3.2 times more likely to be arrested for a "petty revenue-generating vehicle infraction," like a broken headlight or neglecting to wear a seat belt.
The lawsuit outlined four ways police target the black residents of the county:
Roadblocks: The lawsuit stated police intentionally placed roadblocks in front of black businesses and homes to target black people for searches.
Checkpoints: Police allegedly created checkpoints for people walking near black housing complexes.
Home searches: The ACLU claimed police searched the homes of black residents without warrants.
"Jump-out Patrols": The complaint claimed the sheriff's department placed plainclothes police officers in cars in black communities who "jump out" and conducted allegedly "unreasonable" searches on black residents.
Wu said that the lawsuit came about because some citizens decided they had enough of the harassment and contacted the ACLU.
"This case was brought to us by people who had experienced first hand the devastation to their families and to their community of this race-based type of policing of black neighborhoods with unconstituational searches and seizures," she told ATTN:. "Because people bravely came forward and continued to come forward after we had community meetings and did dozens of records requests we were able determine what might have happened."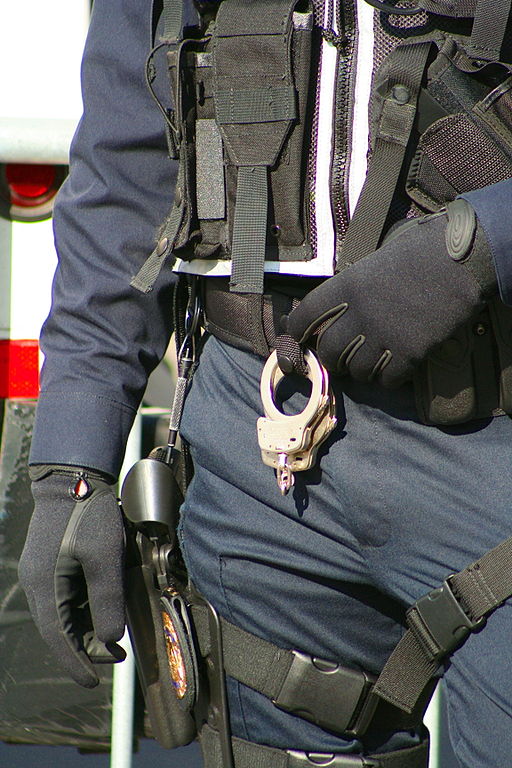 Wikimedia Commons/Elvert Barnes - wikimedia.org
She encouraged people in any part of the country with concerns about policing in their neighborhood to file official complaints with their police departments but also speak out and contact organizations that can help them.
"I think this case is very important to us and Mississippi, but we believe there are many places around the country that are struggling under the weight of police departments that very badly need reform," she said. "I know our plaintiffs hope that our case doesn't just give their friends and neighbors their constitutional rights back that have been denied but has an impact on other communities."
Watch the ACLU's cell phone video of a home search in Madison County below:
Share your opinion
Have you been pulled over by the police in the last six months?