Anti-Abortion Activists Could Be Testing Donald Trump
On Saturday, the sole abortion clinic in the state of Kentucky was the site of an anti-abortion protest which saw 10 people arrested.
As Jezebel reported, the protesters formed a blockade in front of the entrance of the EMW Women's Surgical Center in Louisville. One of those arrested was Rusty Thomas, national director of the anti-abortion group Operation Save America (OSW), who told the Louisville Courier Journal after the protest that the group would return for further actions in July.
"That is a tremendous opportunity before you all to become the first surgically abortion-free state in the United States of America," Rusty Thomas, Operation Save America
The protesters have an ally in Kentucky's governor.
Thomas had good reason to feel undaunted by the arrests. Saturday's protest has the tacit approval of the state's Republican Governor, Matt Bevin, who has labeled himself "unapologetically pro-life," and who has met with OSA previously. Throughout his tenure, which began in 2015, Bevin has worked against abortion providers by filing lawsuits against Planned Parenthood of Indiana and Kentucky and the EMW Women's Clinic's satellite branch in Lexington. Thanks in large part to his work, the EMW Women's Surgical Center in Louisville has become now the sole abortion provider in the state.
In March, Bevin went after them, too. He filed a lawsuit against the clinic on the grounds that "it does not have adequate transfer agreements in place in case of emergency." With the help of the ACLU, the EMW Women's Clinic promptly filed a counter suit and the trial is currently slated for September.
Testing the Trump Administration.
As Rewire reported, Saturday's protest was "a clear violation of the Freedom of Access to Clinic Entrances (FACE) Act, and anti-choice activists know it."
Created in the wake of the assassination of Dr. David Gunn, an abortion provider in Pensacola, Florida and signed into law in 1994 by President Bill Clinton, the FACE Act "forbids the use of 'force, threat of force or physical obstruction' to prevent someone from providing or receiving reproductive health services," Rewire reports. Though the intervening years have not been without similar acts of terror and violence, the law has long been seen as an important sign of the federal government's position on upholding a woman's right to choose.
But anti-abortion activists are hopeful that this may be changing, given President Trump's executive order on "promoting free speech and religious liberty."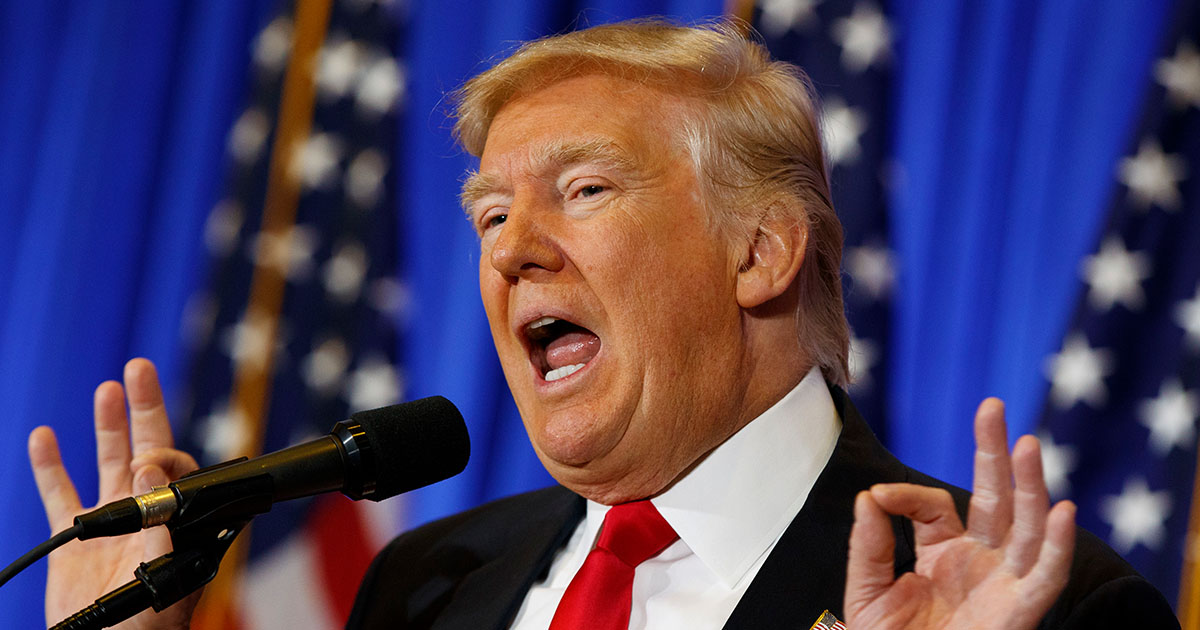 AP/Evan Vucci - apimages.com
Section Two of the order contains language that has raised alarm bells for defenders of a woman's right to choose. That section—which essentially overturns the Johnson Amendment that had previously prevented tax-exempt religious organizations from political action—states:
"All executive departments and agencies … shall, to the greatest extent practicable and to the extent permitted by law, respect and protect the freedom of persons and organizations to engage in religious and political speech."
As Rewire noted, using the free speech angle has been a strategic tactic of anti-abortion groups who have "long complained that laws like FACE as well as state- and municipal-level abortion clinic protections infringe on their First Amendment rights of protest and speech."
This approach is gaining momentum.
And even before Trump's executive order, this particular approach has been developing a precedent. In the 2014 McCullen v. Coakley case, the Supreme Court ruled unanimously against a Massachusetts law that attempted to create "buffer zone" that prevented protests outside abortion facilities. At the time, Politico reported that abortion opponents believed the ruling "would force a reexamination of similar laws."
That's why Saturday's protest might not merely be the same business-as-usual tactics of familiar anti-abortion activists, but rather the emboldened actions of a group that has seen their mission supported by the highest level of government. Even before the weekend's events, Dr. Ernest Marshall, who founded the EMW Women's Clinic in 1981, laid out the stakes for the New York Times.
"We are under assault," he said.
Share your opinion
Do you think there should be buffer zones around abortion clinics?