Yet Another Kardashian Family Member Is Facing Allegations of Ripping Off Designs from a Black Woman
June 12th 2017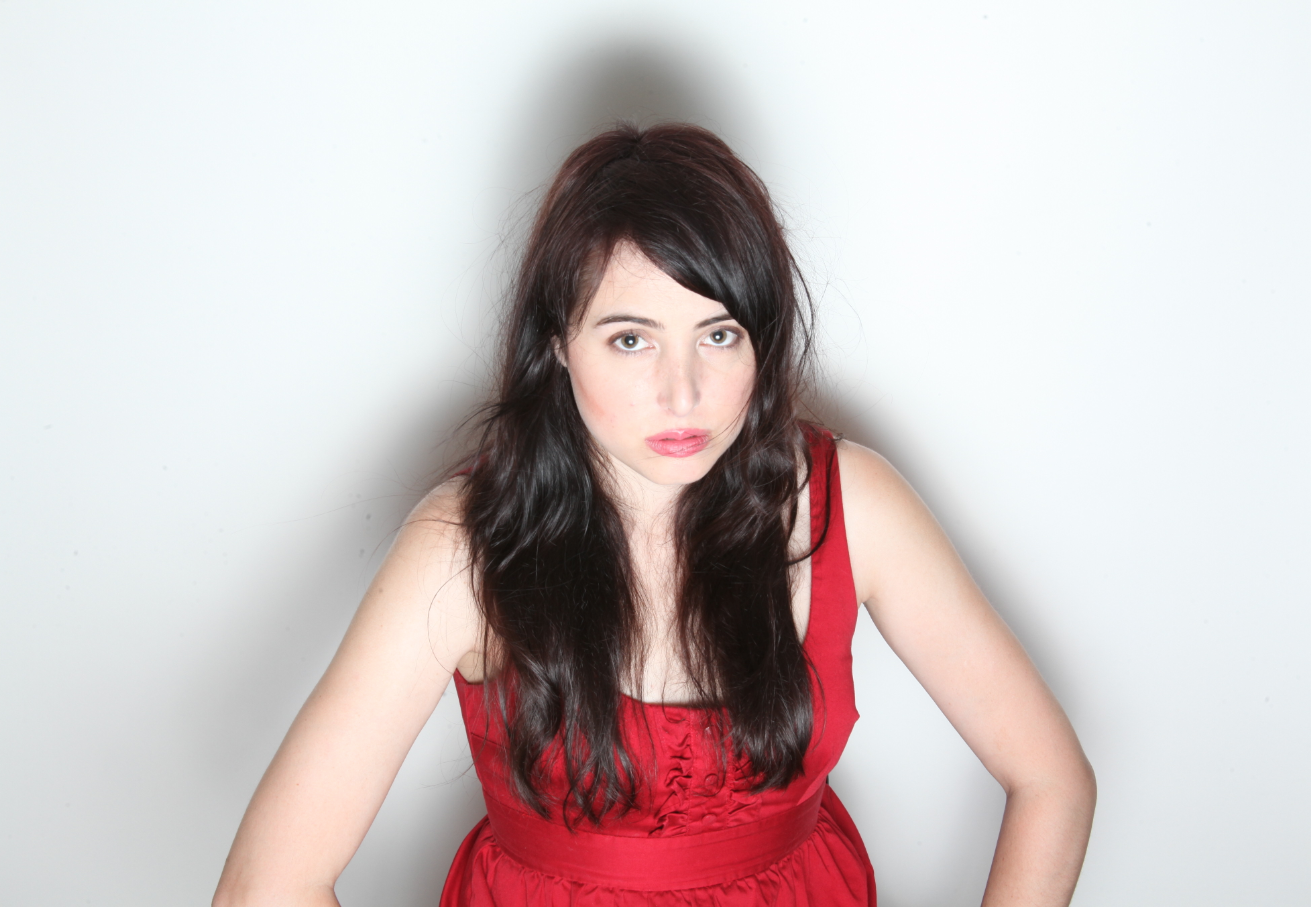 By:
Not even a week after Kylie Jenner was criticized for allegedly stealing and profiting from a clothing design created by black woman, Khloe Kardashian is now making headlines for similar reasons.
Destiney Bleu, of the fashion line DBleudazzled, is claiming Kardashian "copied" her design. Bleu saw a design similar to hers appear in the video ad for Kardashian's line, Good American, which the reality star tweeted about on June 1.
Here's a screen shot of Kardashian's Good American bodysuit from the video: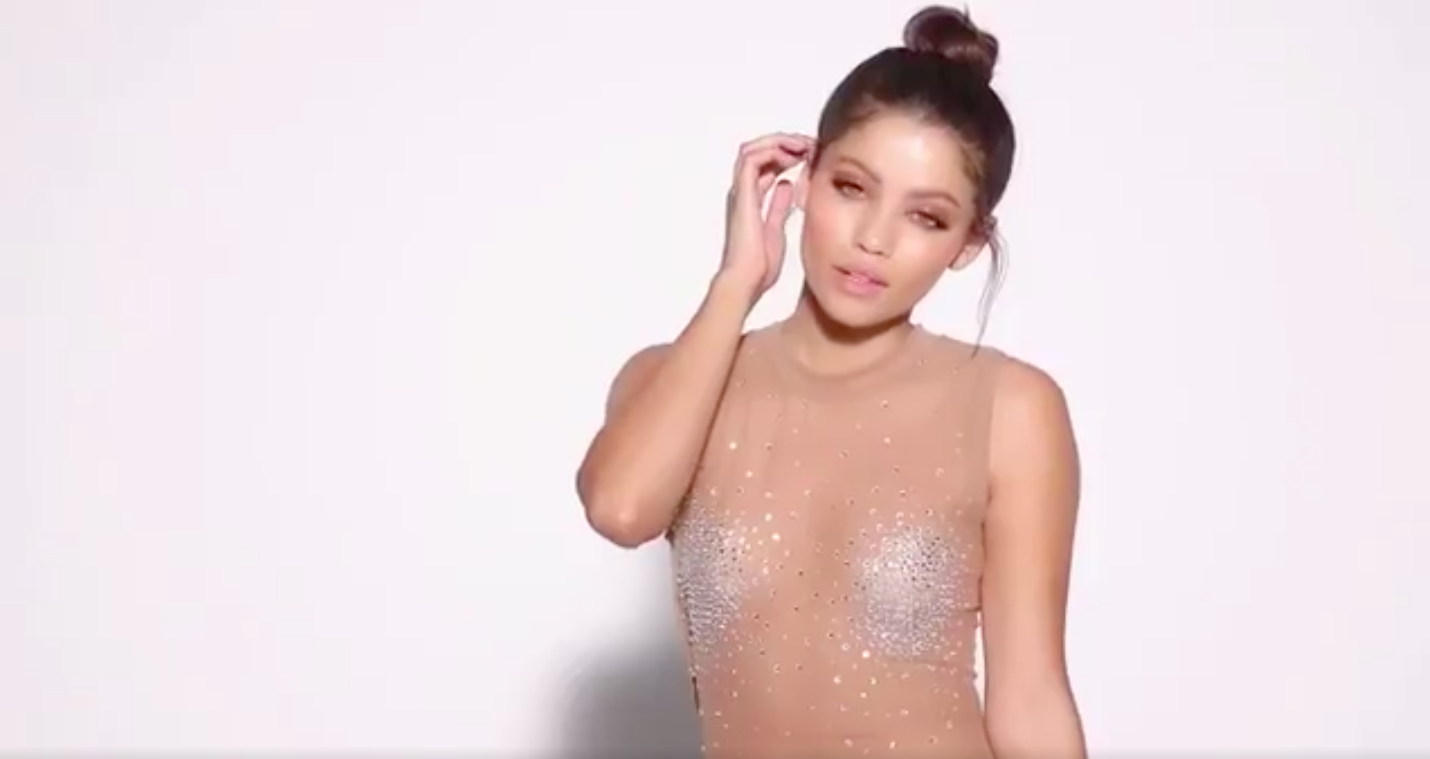 Khloe Kardashian/Twitter - twitter.com
Here is Bleu's body suit, posted on Instagram on June 29 — 2016:
Here is the fallout:
As you can see, Twitter noticed.
Director Matthew Cherry, who is friends with Bleu, also pointed out the similarity in designs:
Huffpost explained what happened.
"The controversy started last Friday, when fashion designer Destiney Bleu accused Kardashian on Twitter of copying designs from her line of bedazzled clothing for an upcoming Good American collection," Huffpost reported. "She claimed Kardashian ordered a slew of items from her 'DBleudazzled' line before similar-looking clothes appeared in an ad for Good American that Kardashian tweeted last week."
Huffpost continues: "On Sunday, Bleu received a cease and desist letter from Kardashian's attorney that denies Good American's design team had ever seen her clothes. Now, she's fighting back with documents that appear to show both orders of clothing billed to Kardashian and correspondence with Kardashian's stylist and assistant."
Undaunted, Bleu pulled out the receipts.
As with recent allegations of intellectual property theft against Kylie Jenner, Bleu also shared screen shots of emails between her and Kardashian's team.
This is especially important considering Kardashian's lawyer wrote to Bleu on June 4, per Huffpost (emphasis ours), "Good American's design team had never heard your name and never saw your samples. You are not the first person to ever design a mesh bodysuit with embellishments. You have neither a monopoly on nor copyrights for bodysuits, embellishments or mesh fabrications, which have been used over and over again in the fashion industry."
But some of these emails are dated from 2016, like this one from Kardashian's assistant, which was sent on Nov. 10: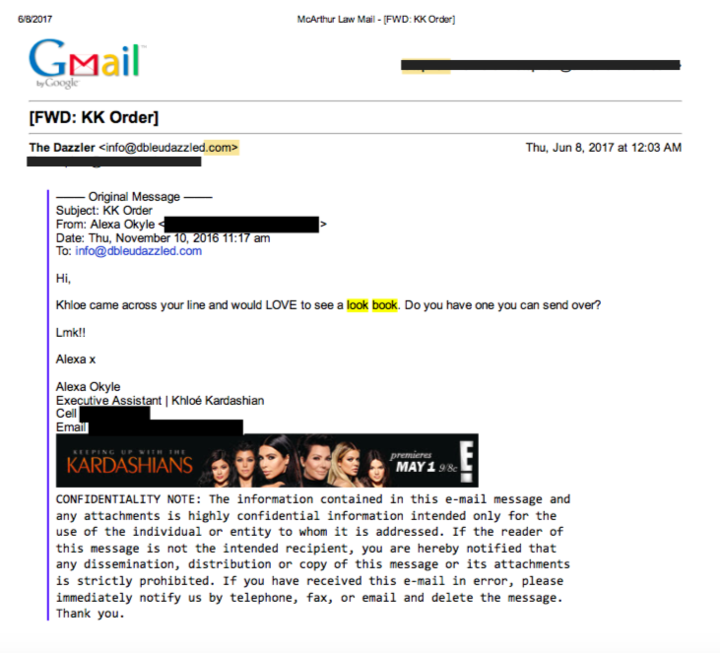 Huffpost - huffingtonpost.com
As with Jenner, this isn't just about an item of clothing — it's about the bigger issue of taking from women of color.
In both cases, there seems to be proof Jenner and Kardashian were inspired by the designs of women of color. Rather than help these women build their new brands, they allegedly took and tried to profit from their work — and all without giving them credit.
On June 3, a day after DBleudazzled posted the above tweet with hashtag "#nofrauds," Good American posted an image of Cher in a bodysuit with "#nofrauds" — suggesting that Cher is where their inspiration came from.
However, no one appears to buy that explanation: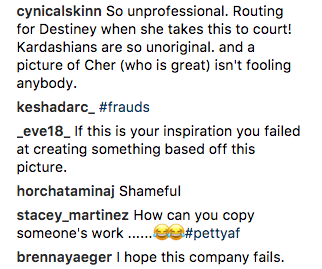 Good American - instagram.com
As Evette Dionne wrote for Revelist regarding the Kardashian-Jenners in February, "the Kardashian-Jenner family often steals bits from other cultures — and then presents it as trendy, edgy, and bold. Doing this while simultaneously not acknowledging the origin of the custom is wrong. Add that to their silence over racial justice issues, including rampant discrimination against Black girls and women, and it becomes clear that they want access to Blackness without having to bear the burden of being Black."
You can read more emails between Bleu and Kardashian's team from Huffpost.
Share your opinion
Are you a fan of the Kardashians?