These Portraits Point Out How Refugees Are Being Forgotten
June 19th 2017
By:
As war wages in Syria and unrest shakes Colombia and Sudan, a lot needs to be done for displaced people.
But, unfortunately, many seeking asylum are being turned away — and the United States isn't helping with this problem, as current refugee admission has drastically dropped since President Donald Trump took office in January.
Refugees like Abdalla Al Omari are getting creative in raising awareness of the issue.
Abdalla Al Omari is a Syrian painter and filmmaker whose own experience of being displaced led him to create a group of paintings titled "The Vulnerability Series," which features world leaders like Trump, Russian President Vladimir Putin, Former British Prime Minister David Cameron, and German Chancellor Angela Merkel as refugees.
"I was driven by my own experience of displacement and the anger that I felt like any other Syrian," Al Omari told CNN. "Somehow my aim shifted from an expression of anger that I had, to a more vivid desire to disarm my figures, to disarm the characters, and to picture them outside of their positions of power."
The images have gone viral as they seek to push the world—particularly world leaders—to understand humanity a little better, and to have more compassion for the most vulnerable.
These paintings are striking a chord considering the number of displaced people reached a record high in 2016.
In their annual Global Trends report, the United Nations announced that the number of persons seeking asylum or escape from areas of conflict in 2016 reached 65.6 million. This number is 300,000 higher than the 2015 total, which was the previous record for displaced persons since the World War II.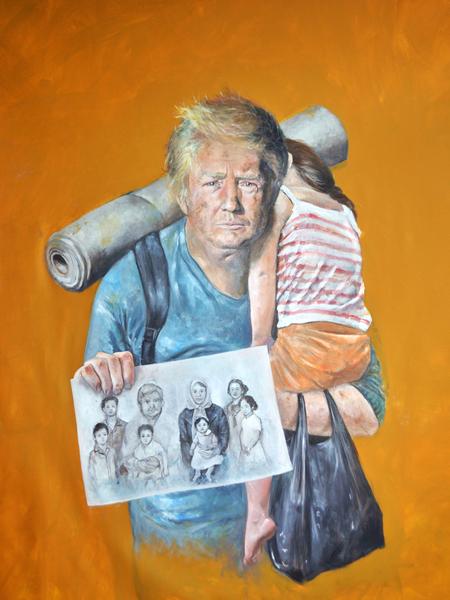 ayyamgallery.com - ayyamgallery.com
Specifically, the number of refugees reached 22.5 million—the highest number in history—with a majority coming from Syria followed by South Sudan.
As Al Omari's paintings point out, the biggest countries in the world are doing very little to help those in need.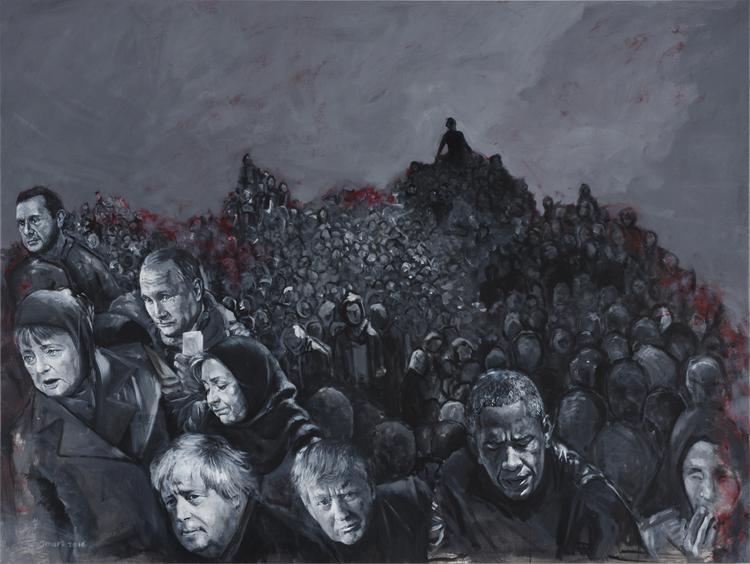 ayyamgallery.com - ayyamgallery.com
As a 2016 Al Jazeera report found, ten countries that only make up 2.5 percent of the world's economy are taking in the most displaced people. Jordan has taken in the most refugees, letting 2.7 million people into the country. America has only taken in 3 million refugees—since 1980.
In 2016, the United States admitted nearly 85,000 refugees, and is projected to take in approximately 70,000 in 2017.
These paintings are a wake up call: this is a problem that needs fixing — fast.
America has a long history of turning their back on refugees, and while President Trump's travel bans have been repeatedly blocked, there doesn't appear to be any chance the United States will increase admissions of displaced people.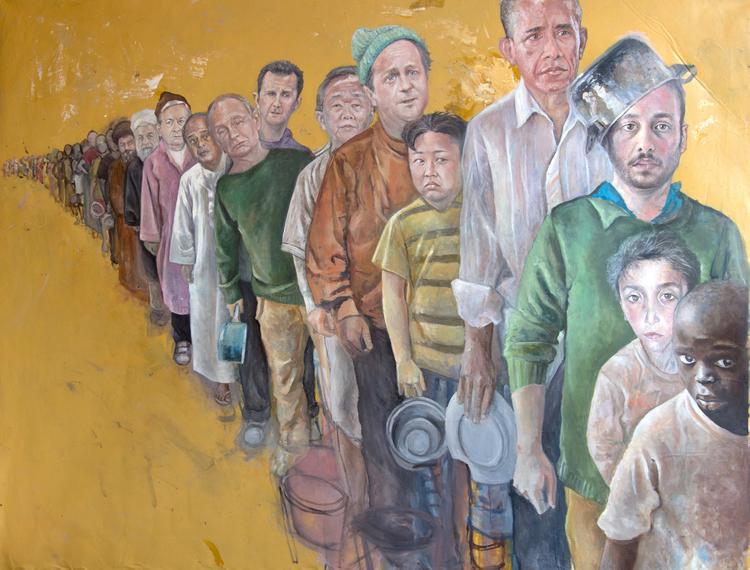 ayyamgallery.com - ayyamgallery.com
In the meantime, Al Omari wants to at least depict the politicians who stand in the way of change in a more vulnerable light.
"People are sometimes too fond of their politicians," he told CNN. "They cannot see them fall off their thrones. They cannot see them weak."