This Change to Google Maps Is a Win for Americans with Disabilities
July 10th 2017
By:
Google has announced a new feature for Maps that could help millions of disabled people. In December, the internet giant announced it would include accessibility details on Maps, but that information—like which buildings have wheel chair access—remained lacking months laters. On July 6, Google announced it will now use crowdsourcing from users to quickly fill in the significant gaps that remain.. 
"Many of us take for granted simple things like walking through a doorway, taking the stairs to the next floor, or always having a comfortable seat at a restaurant table," says a statement from Google Maps Product Managers Shiva Thiagarajan and Rio Akasaka. "But for tens of millions of people worldwide, those very things aren't possible unless a place has a wheelchair accessible entrance, elevator or accessible seating."
So how can you help?
The crowdsourcing feature, which is currently only available on Android phones, entails a few short questions.
In the main menu of Google Maps, hit "Your Contributions." 
Google Maps
Then hit "uncover missing info."

In this section you can hit "accessibility" and Maps will show you all the places in the area that still need information about wheelchair access. 
Google Maps
You can pick a location, and then answer a couple questions about the wheelchair access situation for that building.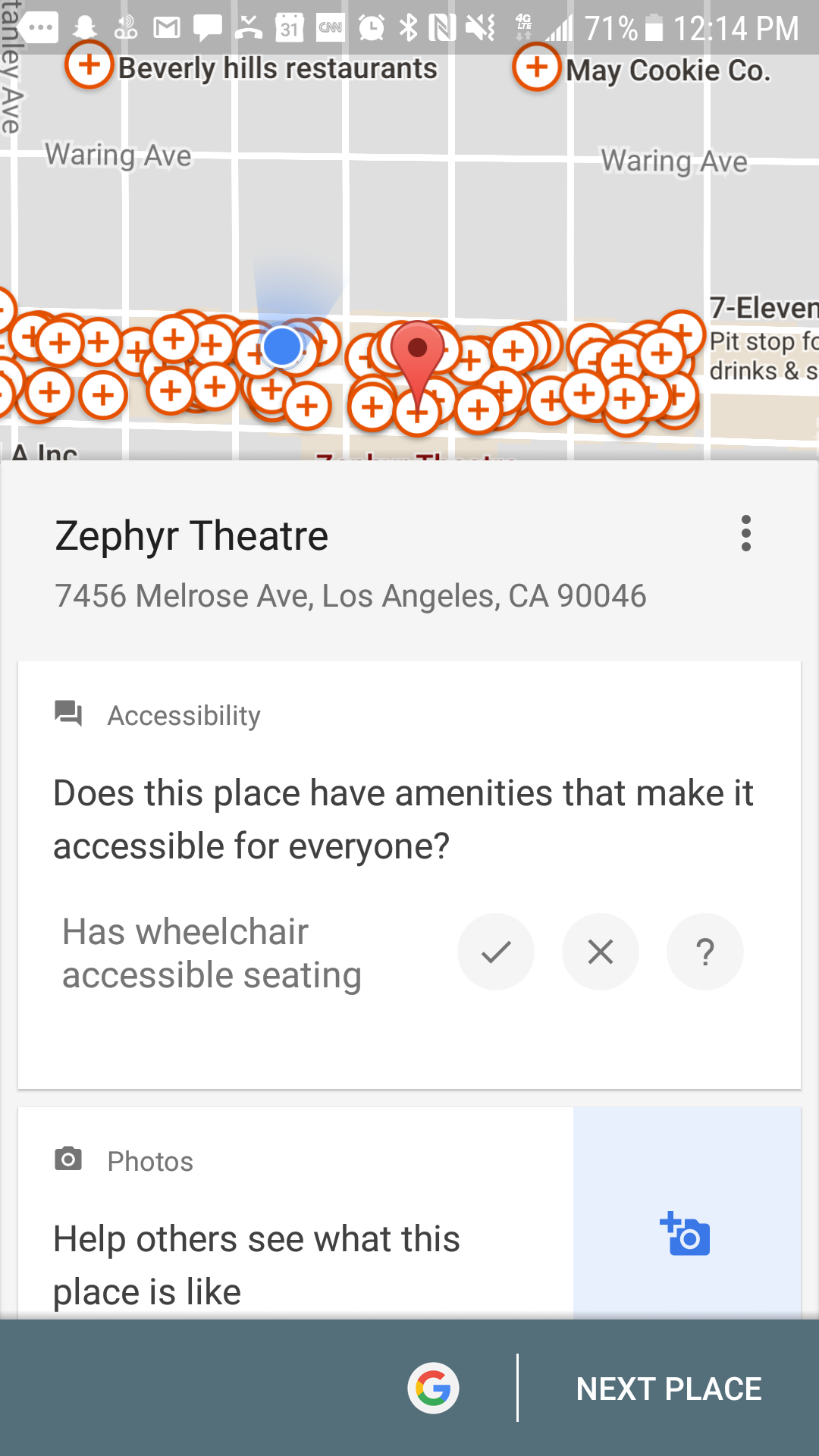 Google Maps
Aren't all buildings required by law to have wheelchair access?
The answer is yes, and also no. The Americans with Disabilities Act of 1990 is a landmark federal civil rights law that prohibits discrimination and requires a certain level of building access for disabled people. However, as Techcrunch's Greg Kumparak noted in a December 2016 post, the requirements for buildings built before 1993 are not as strict. In an effort to alleviate financial burdens on small business owners, the act allows for less accessibility in older businesses whose owners may not be able to afford renovations. That loophole can create inconsistencies that are difficult to navigate for disabled people.
As of 2012, about 20 percent of the U.S. population—56 million people—was disabled, according to the U.S. Census. Meanwhile, more than 30 million Americans have difficulty walking or climbing the stairs, use a wheelchair, crutches or a walker.
In May, the story of a disabled man's quest for a bagel went viral because it perfectly exhibited the common obstacles facing disabled people. Zach Anner, popular Youtube vlogger who has cerebral palsey and uses a wheelchair, made a trip to The Bagel Store in Brooklyn to try their rainbow bagel. His phone told him it would take 28 minutes to get there from his hotel, but the trip took five hours as he struggled to get on crowded elevators and then trains that lacked wheelchair access
When he finally arrived at the store, he realized he couldn't get into the shop because there was no ramp. In a video following his journey, an employee comes outside to take his order and asks if he needs "anything else." He responds, "umm no. Just a ramp." 
Share your opinion
Do you or someone in your family need wheelchair access on a daily basis?