Temperatures in Alaska are Soaring
May 29th 2015
By:
Alaska is known for many things: beautiful landscapes, being dark and dreary for a good portion of the year, Sarah Palin, etc....you get the picture. One thing that doesn't often come to mind, however, is warmth.
That's why soaring temperatures in interior Alaska over Memorial Day Weekend are so surprising. On May 23, Eagle, Alaska., reached 91 degrees, a state record for the highest temperature this early in the year. This tops Fort Wainwright, Alaska, which previously held the honor of earliest high temperature when it got to 92 degrees on May 24, 1960. As the National Weather Service's Fairbanks Forecast Office pointed out on Twitter, Eagle wasn't the only inland Alaska town to experience record highs that day: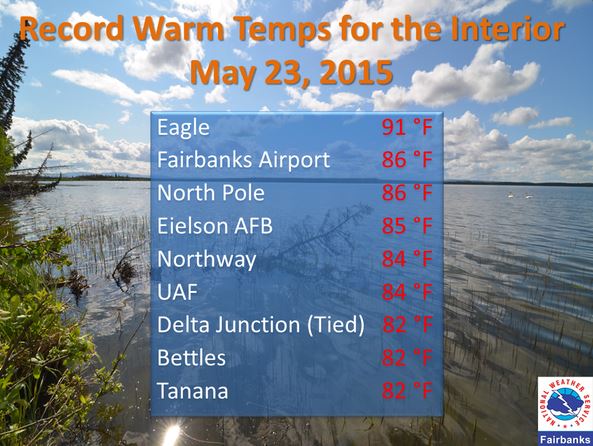 National Weather Service Fairbanks Twitter - twitter.com
Climatologist Brian Brettschneider noted that Eagle's May 23 temperature was higher than any temperature that Dallas or Houston have seen so far in 2015:
Take a look at how Eagle's temperatures have risen since 1981:
Eagle's record-breaking May 23 temperature was 30 degrees hotter than the average daily high temperature in May and almost 20 degrees hotter than the average high temperature in July, which is the town's warmest month of the year.
Why unseasonably warmer weather can be hazardous.
Though warmer days get people excited about the start of summer, unseasonably hot weather can pose serious dangers to unprepared towns. The Alaska Interagency Coordination Center issued a Fuels and Fire Behavior Advisory on May 23 to warn Alaska's eastern interior about potential fires in the area.
"Above normal temperatures and extremely low relative humidities are producing very hazardous potential for the start and spread of wildfires across eastern Interior of Alaska," the advisory reads. "While these conditions do occur in the spring this is an unusually strong and persistent pattern with very warm temperatures, low RH, poor overnight RH recovery and no rain in the last 10 days. This has brought Duff Moisture Codes (DMCs) well above seasonal records. Fuels have been snow free for three weeks, and greenup is still progressing northward."
Share your opinion
Do abnormally high temperatures concern you?