Target's New Clothing Line is a Big Win in the Fight Against Gender Roles
July 12th 2017
By:
Target is launching a new gender-inclusive line of clothing and home goods for kids, and it's a part of a growing trend to push back against restrictive gender roles for children.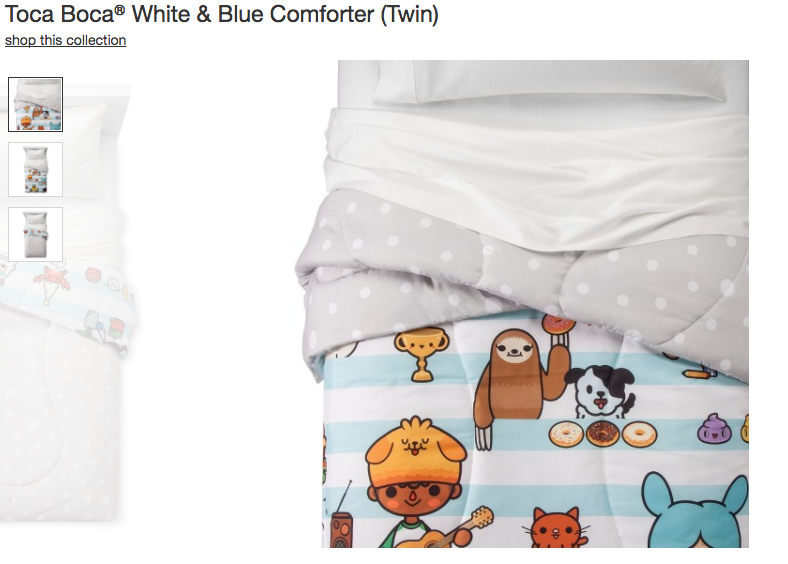 Target - target.com
Some items in the line are genderless and some are labeled for "girls" and "boys."
The line by Swedish company Toca Boca will reportedly focus on diversity in the designs and it will be in Target stores on July 17, according to Digiday. Sweden has increasingly been implementing gender-neutral programs in both the country's pre-schools and kindergartens.
Target - target.com
Executives at Toca Boca said they wanted the line in Target stores because the retailer made the move to take the labels "girls" and "boys" off of some of its toys and home goods sections.
"We don't want to impose gender norms and we want to have something for everyone," Mathilda Engman, head of consumer products at Toca Boca, told Digiday. "It's important that everyone, regardless of gender, can find something. It's been something we've worked on from the very start."
Some Twitter users were excited to see more gender neutral options.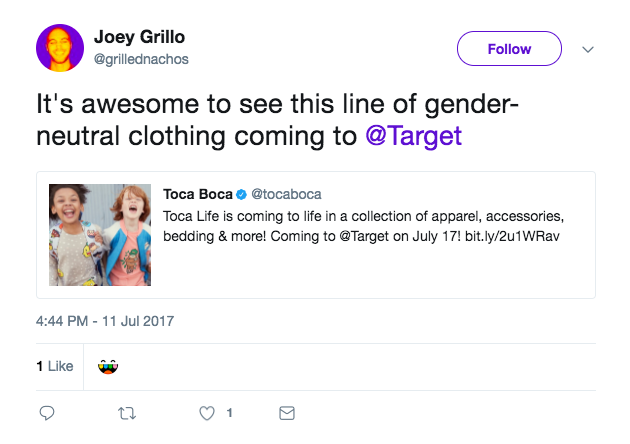 Twitter/@grillednachos - twitter.com
However, other Twitter users were upset by the more inclusive clothing options. 
Other lines have completely stopped labeling kid's items by gender.
The site Clothes Without Limits allows shoppers to search by brand but not by gender, according to Digiday. Canadian companies Whistle and Flute and Muttonhead only make unisex clothing for children and adults.
Ellen DeGeneres released a clothing line in 2015, with clothing that was less "girly." There were no dresses, just jackets, polos, and other clothing items with cuts that appeared gender neutral.
So why is gender-neutral clothing important for kids?
Generally, clothing choices are often imposed on children by their parents. Additionally, baby and children's clothes are often extremely gendered in color and design.
Children are born with an assigned sex based on physical characteristics, but that does not necessarily correspond with the gender expression stereotypically associated with that sex. As young as 2 years old, children start to notice physical differences between girls and boys, and by age 4 they start to develop their own gender identity, according to a blog by the American Academy of Pediatrics (AAP).
Furthermore, stereotypical ideas of how girls and boys should look and behave, which still persist today, are antiquated and can be harmful.
"Over time, society has recognized that stereotypes of masculine and feminine behaviors and characteristics are inaccurate. In the past, girls were only allowed to do feminine things like playing with dolls or cooking," wrote the AAP. "They were expected to be more passive. Boys were expected to be more aggressive and to only show masculine behaviors."
For transgender and cisgender children, imposing gender-based clothing restrictions can also encourage rigid gender roles that stop children from pursuing activities or goals outside that gendered box.
However, the AAP says children of all genders should be free to explore.
"Girls frequently excel at sports and school subjects traditionally thought of as masculine," wrote the AAP. "Boys frequently excel in artistic subjects once traditionally thought of as feminine. All children show some behaviors that were once thought of as typical for the opposite gender – no one shows exclusively male or female traits – and this is normal."
Share your opinion
Would you allow your child to wear clothes designed for a different gender?