Women Are Spilling the Tea on Makeup Brands Leaving Out Dark-Skinned Women
There is a continued myth that women of color spend less on makeup, but, since 2009, there's been significant evidence that African-American women spend 80 percent more than the general market on beauty.
With this information, Karen Grant, a global beauty industry analyst at the NPD Group, told Fast Company: "A cosmetics company needs to dedicate a lot of resources to successfully create products for a new market segment."
Nyma Tang, a 26-year-old beauty vlogger, started "The Darkest Shade" series earlier this year to demonstrate if beauty companies were missing the mark when it came to creating shades applicable to darker complexions.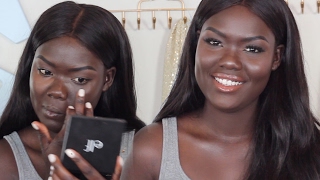 Youtube.com - youtube.com
From Tarte and Bobby Brown to Maybelline and NARS, she has tested several cosmetic companies' foundations and contour kits, finding a match for her skin, which is a darker tone, with just a few. "Whether or not this product works, I hope that companies realize when you create products it has to include everyone," she said in a viral product review video for KKW Beauty.
When Kim Kardashian-West released her first-ever contour kit for her cosmetics line, KKW Beauty, in June, Tang said in a video on July 11 that she delayed doing a video review of the products because she didn't believe KKW's products would have a color match, even with the "deep dark" shade as an option. She said in the video review of the product:
"When this product first launched, from the pictures I saw online of the product, and the demonstrations that I saw of people using it, especially Kim using it, I didn't think this product was going to go dark enough for me so I skipped out on the first launch. When certain products like this launch, especially contour, the deeper side of the spectrum is completely left out most of the time."
Her video reviewing the KKW products received over 1.5 million views and almost 6,000 comments, most of which from people agreeing that most cosmetic companies lack darker shades for women of color consumers.
Tang wasn't surprised to find the KKW highlighter wasn't a good match, but she was surprised to find that it didn't even appear visible on her skin as it should.
While other beauty vloggers likely haven't mentioned this issue when reviewing the KKW contour kit, it's a clear problem for women like Tang who have darker skin complexions. The comments on the video didn't hold back expressing this sentiment:

Youtube.com - youtube.com

Youtube.com - youtube.com

Youtube.com - youtube.com
"The reason why I'm doing this video is not to bash her but to bring awareness to these kinds of situations where this contour stick seems like it completely disregarded us," Tang said in the video.
Grace Azubike of Graceful Artistry LLC has been a makeup artist for over ten years and told ATTN: that she realized early on from her research that companies just aren't willing to step up and produce products for people with dark skin.
"As I use different products on my clients, I started to research the chemicals in them. Iron oxide is commonly used in cosmetics with other chemicals and formulas, mainly foundations and powder, to create the different shades available on the market now," she explained. "As an artist, I have the ability to mix and match for a client's skin color. The consumer doesn't and companies know that. They don't want to do the leg work to produce shades for women with dark skin."
Cosmetics chemist Queen Ohandjo seemed to agree. She explained to ATTN: that key opinion leaders in these companies advertise that they want to expand and be more diverse but, often times, they don't actually do it. She went on to add:
"Sadly, there are very limited options, we need this huge industry gap to be filled. Think about the investors and stakeholder of each beauty company. They will continue to cater to their key opinion leaders and may not care to expand into a more diverse input from their true consumer base."
Tang told Allure on July 18 that "she is excited for the future of makeup," and understands that her YoutTube series can likely be a helpful resource to companies needing a reference for the wants and desires of people with darker complexions who wear makeup.
In the meantime, Azubike argued that women of color with darker skin tones don't have to settle when it comes to satisfying their needs in regards to beauty products. She recommended learning more about your skin color to hack the industry for your perfect match. "The first step if you don't wear makeup, research color theory," she explained. "That's an extra step but it can help you feel a lot better and be a lot easier when dealing with these brands."
For some, not having the proper shades of makeup readily available to purchase may seem like a trivial issue, but it's a huge industry that's almost completely ignoring one part of the market. Luckily, there are women out there like Tang who are willing to speak out and create awareness around the topic so that major brands can start taking notice.
Share your opinion
Do you think there's colorism in the makeup industry?