First Time Homeowners and Renters Should Look Out For These Scams
New home buyers and renters are typically hit with a dizzying amount of forms, documents, contracts, and disclosures. It can be easy to get caught up in signing whatever gets put in front of you, particularly if it seems official or important.
Inevitably, scam artists take advantage of this, throwing out multiple lines of fraud, hoping to catch a new homeowner too busy to research what they're signing. Fake utility bills, fraudulent deeds, dodgy mortgage repayment schemes, and free gifts from companies that steal your personal information are just some of these methods and there's little authorities can do about it.
ATTN: spoke with several new homeowners to find out more about the various ways these frauds are perpetuated. 
One new homeowner said "I got about 10 very confusing letters from different companies after I bought my house. They all looked like bills or required paperwork from my lender. Upon close inspection, they were all selling weird third party services." Another called the flood of letters "confusing and misleading," even after she had researched common traps to avoid. And another new homeowner told ATTN: that one scam, offering an expensive "recorded deed" is so common she was actually warned by her title company about it. Sure enough, she got the offer in the mail. 
There's no reliable figure for the amount of money taken in new home scams, as many people don't report their losses, and different studies use different methodologies. But all of these scams are common enough to have been written about and studied, and are worth noting if you're about to enter a new living situation:
"Recorded Deed Notice" Scam
After paying the expenses associated with buying a home, shelling out another $80 for an official deed seems like getting off easy. That's the theory behind the "recorded deed notice" scam. It's an official looking letter telling you to send a check if you want to get a copy of the official recorded deed for the property, along with some other useful information.
The companies that sell this "service" operate under legitimate sounding names like "Record Transfer Services" and "National Deed Service" and have offices around the country. But as Angela Colley writes on Realtor.com, "you don't need your deed. Those documents are mailed to you free after a sale or transfer."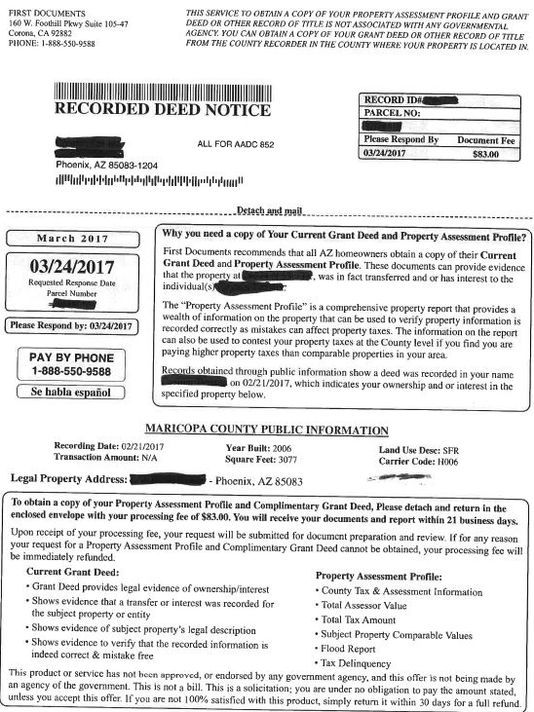 Maricopa County Records Office - azcentral.com
ATTN: contacted a recorded deed company in the Los Angeles area to ask what a first-time homeowner would receive for their money. A representative named Ashley said that in addition to the grant deed, homeowners would get a 15 to 30 page "property assessment profile" which contains "what's listed on the letter" the homeowner receives. This includes county tax assessment information, total assessed value, a flood report, outstanding liens, and comparable property values. 
When ATTN: asked if these reports were all publicly available, Ashley said they were, "if you have the time and resources to obtain them." But as Colley writes, these documents are "either not needed, or already known, by a homeowner." 
"Bi-Weekly Administration" Scam
Knocking years off your mortgage by paying a little extra every year is an inviting prospect. That's why new homeowners often get letters from "bi-weekly administration" companies, who promise to take over your mortgage and administer it in bi-weekly payments. This means that your monthly loan is divided in half and paid on a biweekly basis.This method also divides the calendar in such a way that twice a year, you'll make an extra half-payment that goes straight to the principal, potentially knocking years off a loan. 
This may sound reasonable enough, but these administration companies are fraught with problems. They can charge hundreds of dollars in fees when you set up your payments, and a small monthly fee as well. They also send the money in once per month, meaning they sit on your payment for weeks at a time. In 2015, the Consumer Finance Protection Bureau sued one of the largest bi-weekly companies, alleging it defrauded customers to the tune of $49 million in unnecessary fees.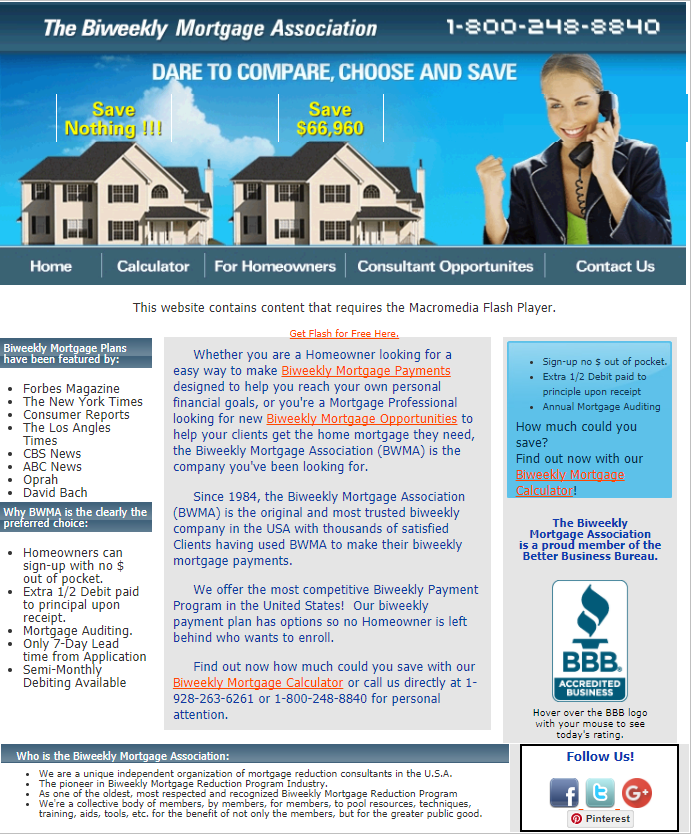 BiWeekly Mortgage Association - biweeklymortgageassociation.com
To get more information, ATTN: contacted Biweekly Mortgage Association, the first company that shows up in a Google search for "biweekly company." A representative, who did not give his name, said that there's no cost to start the service, but they charge a debit fee of $2.95 per debit. When asked if the company sits on payments for weeks at a time, the representative said they pay the mortgage on a "28 day interest cycle" that is "derivative of your pay schedule." Essentially, this means the company sends money to the mortgage lender once per month, rather than once every two weeks. And they simply send more money twice a year, when those extra payment occasions occur. 
And if you truly want to do bi-weekly payments, you can easily do it yourself. 
Fake Utility Bills
One of the most time-consuming aspects of buying a new home is setting up utilities. So new homeowners are especially susceptible to a common scam where scammers posing as utility companies call and angrily demand immediate payment via prepaid card to avoid shutting off the water or power.  
In Consumer Affairs, economics reporter Mark Huffman writes that "utility companies don't normally call customers who are overdue – most communication is by mail. Someone who demands immediate payment over the phone is obviously scamming you." If you do get such a call, Huffman recommends hanging up, then calling your utility company to confirm you've set up your account correctly. 
"Sorry We Missed You" Scam
New homeowners in several states have complained of having a note posted on their door from a company offering free gifts. Resembling a delivery notice from a company like UPS, the notes say that the gift giver "missed" the homeowner, even if they were home, and have a number to call to claim coupons worth "thousands of dollars" to be sent via email. 
But the call is actually designed to get your personal information so you can be inundated with spam. They also offer dodgy "security" or "water services" for large fees. The Better Business Bureau has called these practices "misleading" and asked the primary company behind them to stop. 
New Renter Scams
While many of these scams are geared to take advantage of the avalanche of paperwork that comes with buying a house, others are targeted toward new renters, who are inexperienced with the complexities of the process.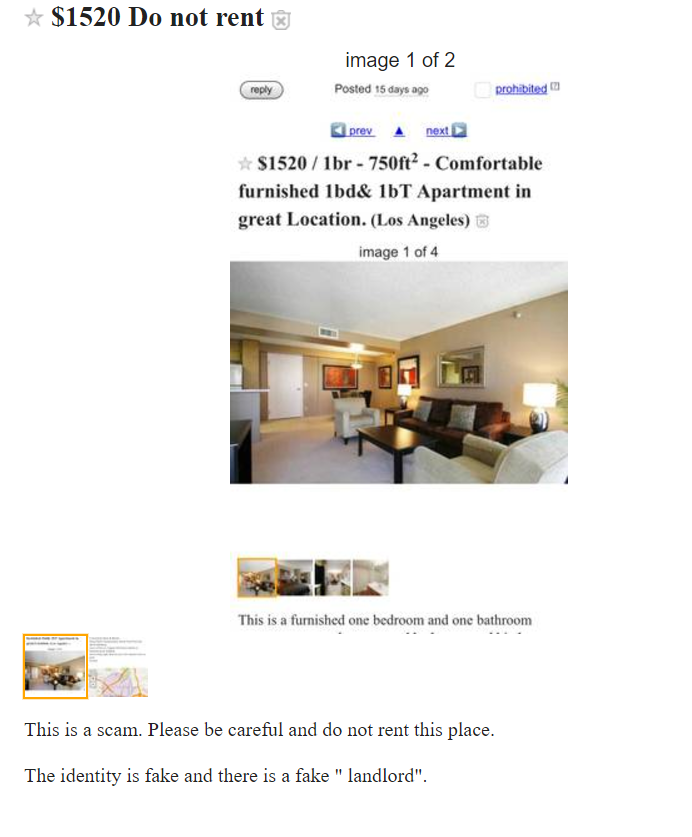 Craiglist - craigslist.org
Earlier this year, the Federal Trade Commission filed an injunction to stop a scam that got prospective renters to sign up for a credit monitoring service under the guise that it was a credit check required by the landlord. The scam defrauded 150,000 renters of $30 per month before it was shut down. Keep in mind: credit checks should either be part of the application and should only happen after you've seen a unit. 
New renters should also be aware that scammers will try to take their money in the guise of a security deposit on an apartment they haven't seen, often by pretending to be a landlord who is "out of town" and must have money wired to them. No prospective renter should ever send money for an apartment they haven't seen, to a landlord who is "out of town," or for a security deposit much higher than the rent. 
Finally, some dodgy landlords charge exorbitant application fees as a way of paying for background checks. Many states regulate how much an application can cost, and you should check to make sure your prospective landlord is within the law. If not, move on. 
Share your opinion
Have you ever fallen for a scam?