Opinions Worth Your ATTN:
Why It's More Important Than Ever That Hollywood Gets It Right On Abortion
The following op-ed was co-authored by Ilyse Hogue, Jennifer Siebel Newsom, and Gretchen Sisson, PhD.
Ilyse Hogue is the president of NARAL pro-choice America.  Jennifer Siebel Newsom is filmmaker behind "Miss Representation" and "The Mask You Live In" and founder and CEO of The Representation Project. Gretchen Sisson, PhD, is a research sociologist at Advancing New Standards in Reproductive Health (ANSIRH) in the Department of Obstetrics, Gynecology, and Reproductive Science at the University of California, San Francisco. 
Forty five years ago this month, the landmark decision of Roe v. Wade affirmed a woman has a constitutional right to privacy to seek an abortion. This decision represented a giant step forward on reproductive freedom, which women have fought for for centuries. Such reproductive freedom is critical for women to be able to determine their personal, professional, and family's future.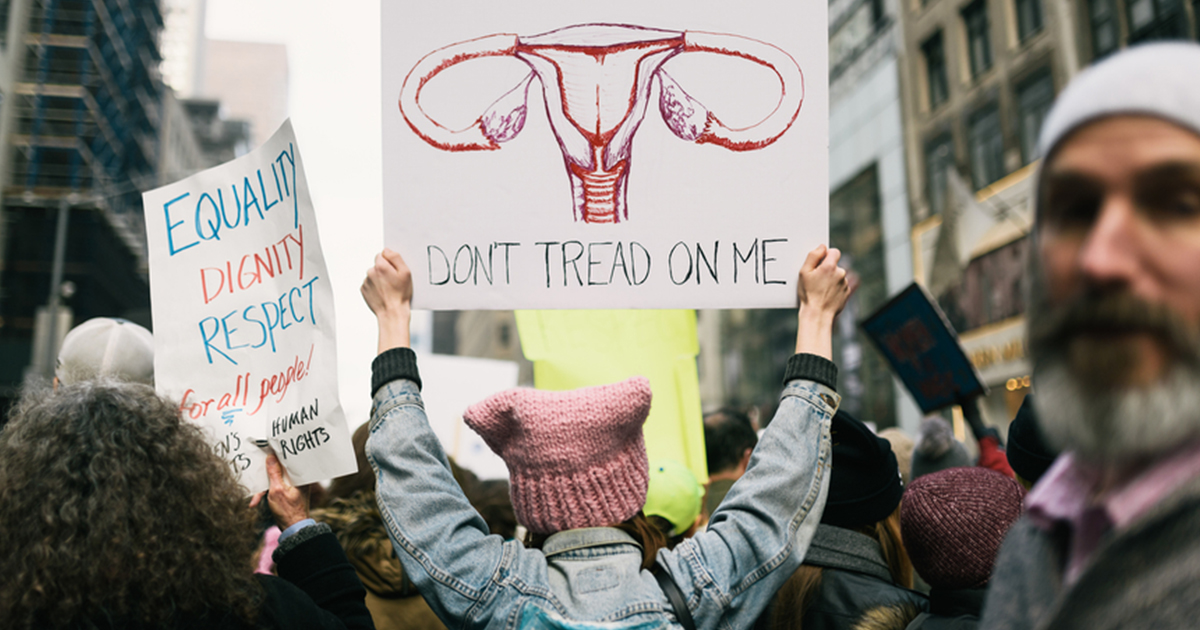 Stocksy/Deirdre Malfatto - stocksy.com
Yet, over four decades later, our reproductive rights are under near-constant attack from leadership in Congress, the current administration, and state legislatures across the country. At every turn, conservative ideologues have tried to make abortion harder to access, putting women in real danger.
But we know these attacks are out-of-step with the overwhelming majority of the US population that supports the right to legal abortion. Seven-in-ten Americans – regardless of age, gender or educational level – support legal and accessible abortion. That's not just a majority, that's a consensus!
As nearly one in four women have an abortion by age 45, it's likely that you know someone, or are someone, who has had an abortion. And despite how common and safe the procedure is, the anti-choice movement does whatever it can to make abortion seem dangerous, frightening, and downright shameful through advertising, public statements, and policy. Unfortunately, these myths are too often echoed by Hollywood.
In Miss Representation, The Representation Project Founder Jennifer Siebel Newsom's directorial debut, she exposes how mainstream media and culture contribute to the underrepresentation of women in positions of power and influence in America. For example, women make up only 18% of directors, executive producers, writers, cinematographers, and editors working on the top 250 domestic grossing films. And it's not better outside of Hollywood. While women have made great strides in leadership over the past few decades, women's representation in the US government ranks globally at 104th. And women are only 5.4% of S&P 500 CEOs. So it's no surprise that when women aren't at decision making tables, our needs are not met and our stories are not told. This means that inaccurate portrayals of women's healthcare, including abortion, are pervasive.
Gretchen Sisson's research at the University of California, San Francisco finds that the vast majority of characters who access abortion on television are white, young, and almost always childless. This contrasts with real women seeking abortion, the plurality of whom are women of color, and the majority of whom are mothers, and over the age of 20.
And perhaps even more damaging, her analysis found that abortion is routinely portrayed as dangerous, when that's the furthest thing from the truth (a lot has changed in the real world since the time period portrayed in Dirty Dancing).
Women who received abortions on screen died at a rate 7,000 times higher than the actual mortality rate from abortion in the US, which is 0.00073 percent.
While there is an underrepresentation and misrepresentation of abortion in pop culture, we are thankful that television powerhouses like Shonda Rhimes are starting to reclaim the narrative around abortion. Rhimes has included abortion stories on several of her shows, including Grey's Anatomy, Private Practice, and most recently, Scandal. In 2015, Rhimes twice showed characters on Scandal getting abortions: the procedure was shown on screen, without cutting away, and both characters were women of color — including protagonist Olivia Pope. We've also seen both Xiomara on Jane the Virgin and Paula on Crazy Ex-Girlfriend obtain abortions and discuss their choices openly with their families, including their children.
These recent depictions showcase stories of women of color and women who are mothers in ways that haven't been seen on television until recently. This is particularly important for Black and Latina women like Olivia and Xiomara, who, historically, have been denied reproductive agency -- and, in fact, that's a story television has recently started telling, too.
In the wake of #MeToo, there is a movement to demand justice and representation in Hollywood, and to uplift women's voices meaningfully. This critical work of supporting women can only be furthered if Hollywood acknowledges its blind spots, promotes more diverse groups of women to powerful storytelling positions, and creates content that reflects the real lived experiences of women who seek to end their pregnancies, rather than presenting abortions in unrealistic, counterproductives ways.
Ilyse Hogue, president of NARAL pro-choice America, has heard so many stories about abortion care from NARAL members and friends, and she has spoken of her own abortion. These real stories are individual and varied. What they share in common, however, is they rarely bear any resemblance to those shown on television. These stories could include barriers to access, like driving three or more hours to the nearest clinic, worrying about securing childcare, or taking time off work for the procedure. And in way too many parts of the country, true abortion stories are actually about staying overnight in a town far from home to comply with a state-mandated waiting period, and then being harassed or shamed by clinic protesters in order to get to the compassionate caregivers inside the clinic. But these stories can also include feelings of relief, an opportunity to finish school on time, or the chance to save for the children a family already has. In the fight for abortion access and reproductive freedom, we know that reflecting the experience of real women's abortion stories is crucial to raising awareness, fighting stigmas, and enacting change to create true reproductive freedom for all.
That's why, to commemorate the 45th anniversary of Roe v. Wade, NARAL and The Representation Project are excited to partner to #RepresentHer. We've teamed up because we know that from our halls of government all of the way to Hollywood, it's critical we advocate for more women at the table and more accurate, nuanced portrayals of our realities. Women of all backgrounds and walks of life deserve to see themselves reflected on screen and have their stories told in fair and accurate ways.
We need Hollywood to destigmatize abortion and portray it as the normal part of life that it is. And by changing the stories we tell, we can change the culture around abortion, the policies that affect our real lives, and even the leadership that is supposed to represent us. The Constitutional right to choose is about everyone's right to make decisions about their own lives, their own bodies, and their own futures so they can realize their full human potential. If you agree, share this piece to commemorate the 45th anniversary of Roe v. Wade and demand that we #RepresentHer everywhere from Hollywood to the Hill.
Share your opinion
Do you think media representations of abortion need to improve?