Lego's New Campaign Is An Awesome Step For Women
July 2nd 2015
By:
Two years ago, Legos made headlines for introducing a female scientist figurine, seemingly encouraging more young girls to develop an interest in STEM careers (science, technology, engineering and mathematics). Soon enough, there were even more female scientist figurines thanks to Lego Ideas, which enables consumers to nominate new ideas for figurines. Each idea needs at least 10,000 supporters to be considered.
Maia Weinstock, a science editor and writer, wrote in a post for Scientific American when the first female scientist figurine came out, "Let us hope this is only the beginning."
Weinstock, a self-described "LEGO tinkerer" who went on to create Legal Justice League Legos earlier this year, was correct. Legos plans to add more STEM-themed female miniature figurines (minifigs) to its collection. You can expect to see female deep sea explorers, mechanics, veterinarians, aerospace engineers, and pit crew members in the minifig set.
Though pleased with the new Legos, Weinstock noted in a blog post that the Friends and Elves lines, which are geared towards young girls, could still be better.
"To be sure, significant room for improvement remains in overall representation of girls and women across LEGO's offerings," Weinstock wrote. "For example, I and many others would very much like to see more female characters in leading roles outside of Friends and Elves — STEM careers or otherwise. Because the reality is, despite recent improvements, LEGO is still overwhelmingly marketed to boys: When it comes to the main LEGO lines, male remains the default. There are far more male characters than female in any given set, and it is almost impossible to purchase a set containing only one minifigure where that minifig is female."
Lego recently turned down Weinstock's "Legal Justice Team" Lego set for failing the contest's "no politics" guidelines.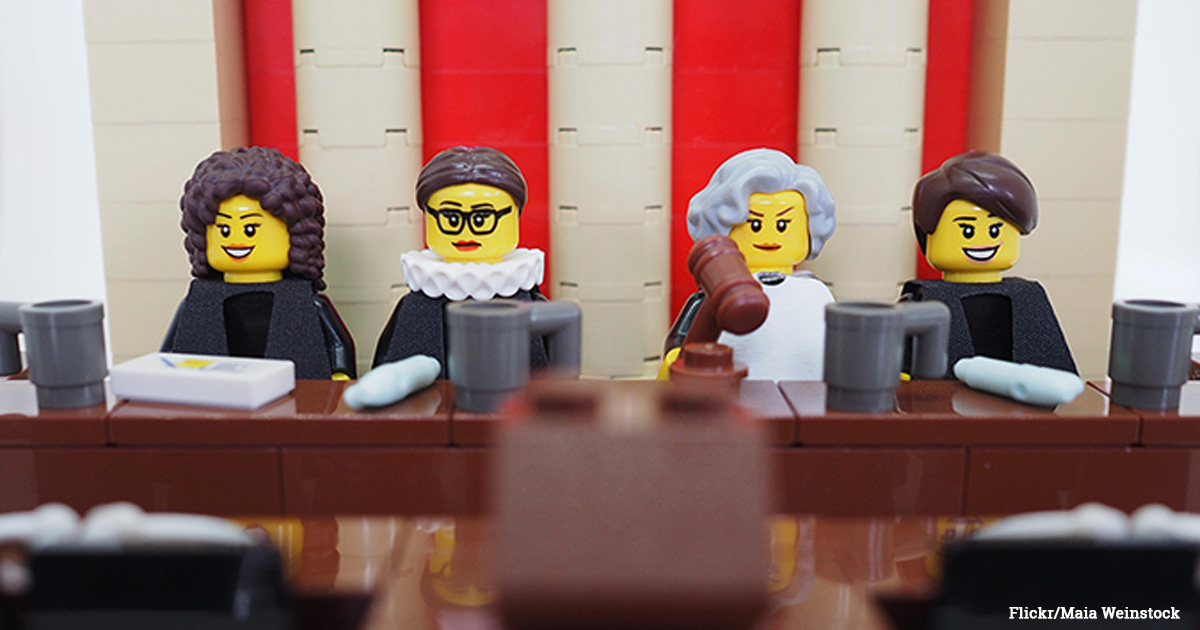 Flickr/Maia Weinstock - maiaw.com
Weinstock resubmitted a generic Legal Justice Team Lego set that is now up for consideration on Lego Ideas.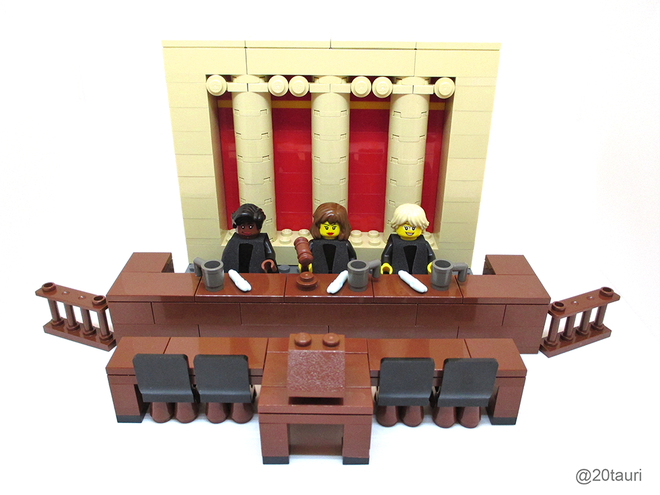 Maia Weinstock on Lego Ideas - lego.com
Following the Supreme Court's historic week in late June, Weinstock tweeted this out:
The growing collection of STEM-themed female figurines comes at a time when there are few women in STEM careers. Last year, freelance writer Kelly J. Baker noted in an article that 71 percent of female scientists have reported sexual harassment and assault. Women were much more likely to be assaulted on site as well. Just last month, Tim Hunt resigned in shame from his position as Honorary Professor with the University College London Faculty of Life Science following comments he made about women scientists posing distractions to men in labs.
"Let me tell you about my trouble with girls," Hunt said at the World Conference of Science Journalists. "Three things happen when they are in the lab … You fall in love with them, they fall in love with you, and when you criticize them, they cry."
His remarks were poor-received online, prompting the UCL to explain in a statement that Hunt's views do not reflect those of the academic institution.
"UCL can confirm that Sir Tim Hunt FRS has today resigned from his position as Honorary Professor with the UCL Faculty of Life Sciences, following comments he made about women in science at the World Conference of Science Journalists on 9 June," UCL's website reads. "UCL was the first university in England to admit women students on equal terms to men, and the university believes that this outcome is compatible with our commitment to gender equality."
Hunt's comments sparked the viral hashtag #distractinglysexy, which many female scientists used to mock his beliefs:
Share your opinion
Should we do more to encourage women in science and engineering?