TopShop To Ditch "Tiny" Mannequin After Customer Voices Concern
July 28th 2015
By:
Topshop customer Laura Kate Berry from London convinced the brand to stop using a "ridiculously tiny mannequin" after she complained about it in a Facebook post several days ago.
Last week, Berry was shopping at Topshop and was disturbed by the small mannequin on display:
Laura Kate Berry - facebook.com
"Every day I am surrounded by strong women and men who struggle with the daily battle of body image," Berry wrote on Facebook. "A subject which is now even covered by schools nationwide, educating the young on the reality of a human body and how unrealistic many photoshopped images are. So let me get to the point, I'd love to hear how you can justify the ridiculously tiny mannequin in your Bristol Cribbs Causeway store?"
"We come in all shapes and sizes," Berry continued. "There is absolutely nothing wrong with being the size you naturally are. I believe we should all feel comfortable in our own skin. Having said that, this mannequin is quite frankly ridiculously shaped. Young women aspire to the somewhat cult image your store offers. Which I'm sure you're aware by your sales figures and hashtags on Instagram. Yet not one mannequin in your store showed anything bigger than a size 6 ...& I'm not even sure the one in the picture is even that. So today, I'm calling you out Topshop, on your lack of concern for a generation of extremely body conscious youth."
Berry added that Topshop is perpetuating a deep-rooted problem in the fashion industry of championing impossible expectations for the female body.
"Perhaps it's about time you became responsible for the impression you have on women and young girls and helped them feel good about themselves rather than impose these ridiculous standards," Berry wrote. "Be comfortable in your skin ladies, and may any changes you choose to make be your choice, for the reason of good health rather than what is perceived as fashion ... [and] just so you know, after taking this picture I used my size 10/12 legs to walk straight out of [Topshop]."
The post received thousands of "likes," and Topshop was responsive to Berry's wishes: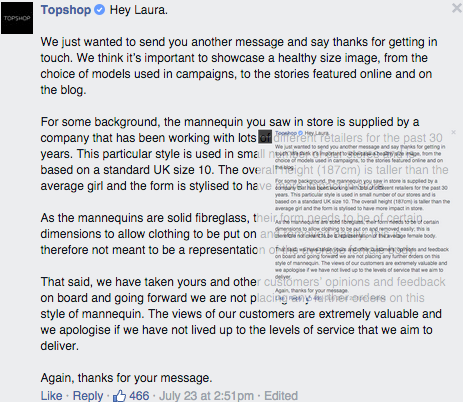 Topshop
Berry went on to discuss the incident on BBC Points West:
But Berry's work didn't end there. She started a Change.org petition to spark the entire fashion industry to embrace more than just the thin body type.
"Currently in many retail stores only one 'model' of the human body is used," she wrote. "Whilst some promote and use other body shapes in their marketing, this is minimal compared to the number of companies selling clothing. Following the feedback my open letter received, I would like to see this petition reach those with the ability to change legislation. I and many others would like to see a standardised [sic] sizing category recognised [sic] and used universally throughout the clothing industry. Leading to all retailers promoting their variety of sizes across all advertising platforms from mannequins to campaigns ... If we can change the way we experience shopping, perhaps we can change the media representation too."
An economic opportunity?
Retailers are also missing out on a major money-making opportunity by failing to serve all body types. The market for plus-size women's clothing was worth $9 billion last year, according to a report from IBIS World, and previous findings from market research firm the NPD Group revealed even higher figures for the plus-size market, reporting it made $17.5 billion in sales from May 2013 and April 2014. Mariah Chase, CEO of plus-size seller Eloquii, told CNBC that she estimates around 65 percent of American females are plus sized, but plus sized apparel constitutes less than 20 percent of all clothes sales.
"The opportunity is right here in front of us," Chase said. "We want more players in the market because it will help adjust her mindset and encourage her to play in fashion. If we have the potential to democratize size, it's a fantastic opportunity for retail."
American Eagle's lingerie line Aerie, however, has tried to promote all types of women, and this move has benefited the brand and consumers alike. Earlier this month, ATTN: reported on the success of the brand's #AerieREAL campaign, which features non-airbrushed images. Since the change went into effect last year, consumers have responded favorably. A conference call last year revealed that sales climbed almost 10 percent following Aerie's decision to stop using retouched images in ads.
"The purpose of 'Aerie Real' is to communicate there is no need to retouch beauty, and to give young women of all shapes and sizes the chance to discover amazing styles that work best for them," Aerie's Chief Merchandising Officer Jennifer Foyle said in a statement last year. "We want to help empower young women to be confident in themselves and their bodies."
Aerie's Instagram page features women of all body types:
Share your opinion
Is the fashion industry doing a better job serving all body types?