Caitlyn Jenner Just Confronted a Harsh Reality About the Trans Community
The second episode of "I Am Cait," the E! reality show documenting the life of Caitlyn Jenner aired on Sunday. The episode included other trans voices including Trans Tech Social CEO Angelica Ross.
Sitting in the Human Rights Campaign's San Francisco office near the end of the second episode of E!'s "I Am Cait," Ross responds to Caitlyn Jenner's unusually fast medical transition with the words that I imagine many trans individuals have wanted to say since the Vanity Fair cover: "I've been transitioning since I was 19. I still haven't been able to access what you've been able to access so quickly."
I applauded.
ATTN: has talked about the privilege of Jenner's rapid transition before—something only accomplished through the convergence of a particular combination of celebrity, whiteness, and sexism. But her socio-economic status was truly on display—and under the repeated verbal scrutiny of other trans women on the show—during the most recent installment of the series. It was clear from the second episode of "I Am Cait," that Jenner still has a lot to learn about the greater trans community.
Over and over, we hear from various sources who say that Jenner's transition is atypical: Jenner is far removed from the average trans narrative.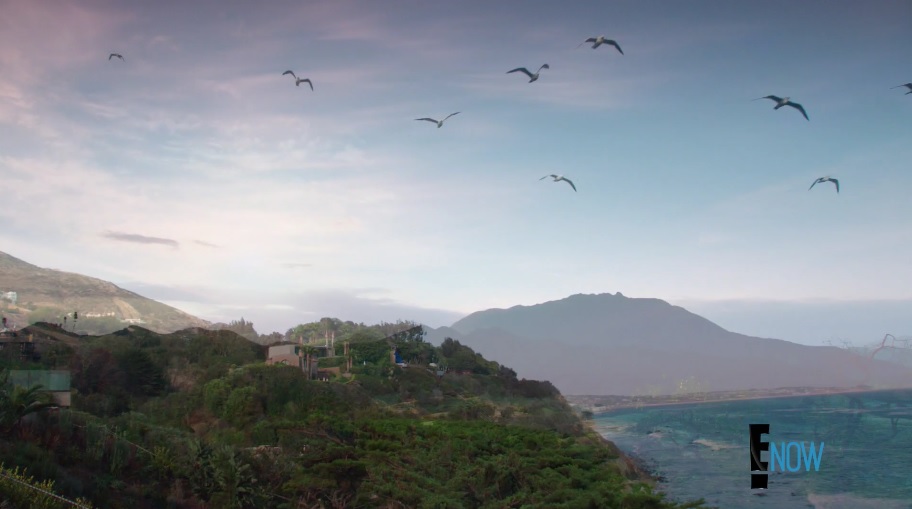 E!'s I Am Cait - google.com
Case in point? When actor and model Candis Cayne related the difficulties that she's had maintaining access to hormone therapy, Jenner expressed shock.
"Really? That happened to you?" said a surprised Jenner in response to Cayne's story about being turned away from the doctor just this year as "one of those people."
"Yes, Cait, that happens all the time. A day in the life of being trans," quips another trans woman, Chandi Moore. Moore expressed the touch of aggravation that I too shared throughout many of Jenner's responses in the second episode. (That this still happens to Cayne despite her celebrity from shows like "Dirty Sexy Money" and "Nip/Tuck" should be alarming. It indicates the precarious position that most transgender people are forced to occupy due to inadequate legal protections in the U.S.)
But what does it mean to say that Jenner's experience is different from the majority of transgender Americans? To get a better idea, let's quantify it by looking at some numbers.
Trans America vs. Caitlyn Jenner by the numbers
According to some sources, Jenner's estimated net worth is valued at $100 million; she was reportedly paid $5 million by E! for "I Am Cait," the largest payout to a solo star of a reality show in U.S. television history.
The vast majority of transgender Americans have the opposite financial story. In a February 2015 study, the Movement Advancement Project found that nearly 1 in 4 trans people live in poverty. Transgender Americans are also four times more likely (15 percent vs. 4 percent) to have an annual household income under $10,000 when compared to their cisgender (non-transgender) counterparts. The current federal poverty line is $11,770.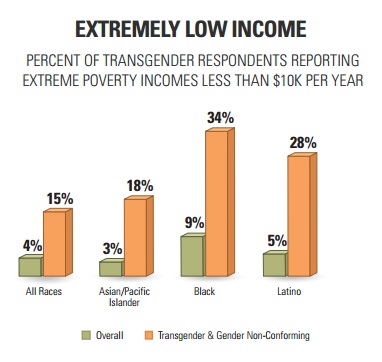 Movement Advancement Project - lgbtmap.org
For those at the intersection of race and trans identity, the number living in poverty skyrockets—with as high as 34 percent of Black trans and gender non-conforming Americans making under $10,000 per year. This may be why Blossom Brown, a people-of-color trans health advocate, told Jenner during the recent episode of "I Am Cait" to "[c]ome down and see [about] everybody else."
I wholeheartedly agree.
Extreme poverty has myriad negative impacts, but a key issue for the trans community is the inability to access competent, quality health care. If Cayne's brief story didn't move you, take a look at the hashtag #transhealthfail on Twitter for some quick insight into the community's medical struggles:
Not only is affording care out of reach for many—since it's often paid for out-of-pocket because insurance companies choose to not cover transition-related medicine—but the knowledge level of those providing the care is often substandard as well. Clearly, we have work to do.
Movement Advancement Project - lgbtmap.org
Why I'm okay with Caitlyn Jenner's ignorance (for now)
It may be obvious at this point that Jenner is unaware of the day-to-day reality of most of the transgender community. Her particularly tone deaf comments about the issues facing trans youth still ring in my ears from the second episode. ("[Can't they] make more not working with social programs than they actually can with an entry-level job? [...] You don't want people to get totally dependent on it," Jenner says blithely unaware of the struggles of homeless LGBTQ kids.) So does her response to the group when discussing the prevalence of sex work to pay for transition care and other basic expenses.
But applauding the show's producers while booing Jenner is really applauding the 65-year-old athlete and reality star.
Jenner is very much in control of the content of the show. Whereas the average reality show dictates what the cast does and does not do, Jenner is a co-executive producer of "I Am Cait" and has the ability to direct what happens. Bunim/Murray Productions' Jeff Jenkins, who is behind both "Keeping Up With the Kardashians" and Jenner's new show told The New York Times:
"With 'Keeping Up,' if a cast member says, 'No, I don't want to shoot that,' I say, 'Well you need to shoot that, you need to share that, that's what you signed up for, this is a reality show, that's your job.' With Caitlyn? No, she's in the driver's seat."
If Jenner is in control of the content, Jenner is choosing to be schooled on camera about the realities of the transgender community. With the mixed reaction that she's received from trans advocates on social media and the growing public critique of her privilege, it's both brave and highly praiseworthy to see someone consciously taking knocks for the greater good. In a sense she acts as the potential viewer, who may be just as naive to the struggle of the trans community, and who may be asking these same questions at home.
While it would have been easier to take a less rigorous approach to her trans identity, particularly when that growth process is on display for millions of TV viewers, she's actively chosen to publicly broadcast these challenging conversations (and sometimes look unaware or heartless in the process). Hopefully, her risks will allow viewers to grow with her in their understanding of the trans community as well as other intersectional issues like race, class, and queerness. As Laverne Cox has eloquently pointed out on Tumblr, what "is most beautiful about [Jenner] is her heart and soul, the ways she has allowed the world into her vulnerabilities [...] Her courage to move past denial into her truth so publicly."
For now, I'll continue to follow "I Am Cait" guest star and author Jen Richards' sound advice, which she expressed early in episode two:
"We can support an individual trans person and celebrate their authenticity [...] while still calling into question a system that makes this particular story the one that we finally listen to while we've been ignoring the stories of black and latina trans women and poor trans women."
I'm committed to holding both narratives simultaneously as we approach episode three.
Share your opinion
Do you think that Caitlyn Jenner's reality show is important for the trans community?